Trae Young (born September 19, 1998) is an American professional basketball player for the National Basketball Association's Atlanta Hawks (NBA). This article provides a summary of this player's injury history.
Latest Injury Reports Hawks' Trae Young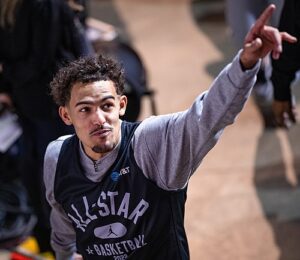 Injury: Calf
Injury Status: Game Time Decision
UPDATE (Mar. 25):
According to Brad Rowland of the Locked On Podcast Network, Trae Young's status for Saturday's game against the Pacers is in doubt due to a calf contusion.
It's possible that Young will miss his first game since February 4 due to a maintenance day, as the Hawks have a back-to-back this weekend.
The severity of the calf issue remains unclear, but he appeared fine.
UPDATE (Mar. 22):
The Hawks (36-36) recently defeated the last-place Detroit Pistons (109-129) in their home court.
Trae Young scored 30 points and added 12 assists at Detroit for his 35th double-double. It was his 24th game with 30-plus points.
UPDATE (Mar. 19):
According to Lauren L. Williams of The Atlanta Journal-Constitution, Trae Young's status for Sunday's game against the Spurs is in doubt because of a bruised right knee.
Young has been on fire recently, scoring at least 25 points and dishing out seven assists in six consecutive games.
UPDATE (Mar. 17):
In Monday's 136-115 loss to the Timberwolves, Young went for 41 points (15-25 FG, 1-4 3Pt, 10-10 FT) along with 7 assists, 6 rebounds, and 1 steal in 34 minutes of action.
The Hawks' night was otherwise forgettable, with Young being the only bright spot. The point guard is on fire as of late, averaging 31.4 points per game over the last five games and scoring at least 30 points in each of the last two.
Young's assist total was lower than usual because his team had a rough night shooting the three-pointer on Monday (they made only four of 22 attempts).
UPDATE (Mar. 13):
On Saturday, in a 134-125 loss to the Celtics, Young scored 35 points (12-27 FG, 4-11 3Pt, 7-7 FT), dished out 13 assists, and pulled down three rebounds in 34 minutes of action.
Because of his poor shooting (44.4 percent on high volume) and lack of defensive contributions, Young's fantasy line was more valued in points leagues, but point guard owners in category leagues still had to be satisfied with the high output in points and assists.
Young had been on a tear lately, averaging 2.6 steals per game over his previous five games before to Saturday. But, his season average of 1.1 steals per game belies his true potential.
UPDATE (Mar. 10):
Trae Young registered 28 points (11-14 FG, 3-4 3Pt, 3-4 FT), 10 assists, four rebounds and three steals in 33 minutes during Wednesday's 122-120 win over the Wizards.
UPDATE (Mar. 06):
Although Trae Young has still been productive, he has slowed down recently, scoring only 23 and 8 points in his last two games. The 24-year-old point guard is averaging 26.7 PPG and 10.1 APG so far this season.
UPDATE (Mar. 04):
Before Friday's game, Trae Young had some trouble with his groin, but it looks like he'll be fine for today's game.
UPDATE (Mar. 03):
Brad Rowland of the Locked On Podcast Network says that Trae Young might play against the Trail Blazers on Friday, even though his right groin is hurting.