How and where to play Heardle?
The game is only available on its official Heardle website. There is no special app for it. The website posts a new song every day at midnight, just like Wordle, and everyone predicts the same song every day.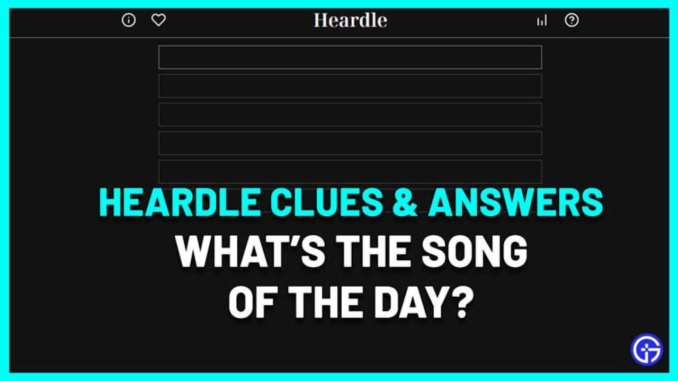 Today's Heardle Clues #172 : August 15
Hint 1: Released in 2006
Hint 2: From the album Writer's Block
Hint 3: Genre – Indiepop
Hint 4: Two words in the song's name
Hint 5: Single by Peter Bjorn and John
Hint 6: Begins with a Y and ends with an S.
Today's Heardle Answer #172
Heardle August 15 : Young Folks by Peter Bjorn and John
You can find All Heardle Answers :
#171 August 14 — Bitter Sweet Symphony – The Verve
#170 August 13 — Sunshine Of Your Love by Cream
#169 August 12 — Chocolate – The 1975
#168 August 11 — Wonderful Tonight by Eric Clapton
#167 August 10 — Basket Case – Green Day
#166 August 9 — Misery Business – Paramore
#165 August 8 — Riptide – Vance Joy
#164 August 7 — Somebody That I Used To Know – Gotye
#163 August 6 — Sympathy For The Devil – The Rolling Stones
#162 August 5 — Escape (The Pina Colada Song) – Rupert Holmes
#161 August 4 — Blue (Da Ba Dee) – Eiffel 65
#160 August 3 — Do I Wanna Know? by Artic Monkeys
#159 August 2 — Raise your glass by Pink
#158 August 1 — Would? By Alice in Chains
#157 July 31 — Say So – Doja Cat
#156 July 30 — When I Come Around – Green Day
#155 July 29 — Ex's and Oh's by Elle King
#154 July 28 — Hungry Like the Wolf by Duran Duran
#153 July 27 — Before He Cheats by Carrie Underwood
#152 July 26 — White Wedding – Pt. 1 by Billy Idol
#151 July 25 — The Bones by Maren Morris
#150 July 24 — Interstate Love Song – Stone Temple Pilots
#149 July 23 — Take Your Mama – Scissor Sisters
#148 July 22 — Joker and the Thief
#147 July 21 — Make Me Feel – Janelle Monae
#146 July 20 — Paradise by the Dashboard Light by Meat Loaf
#145 July 19 — Lisztomania – Phoenix
#144 July 18 — Island in the Sun by Weezer
#143 July 17 — Modern Love – David Bowie
#142 July 16 — Cheap Thrills – Sia
#141 July 15 — La Grange – ZZ Top
#140 July 14 — High and Dry – Radiohead
#139 July 13 — My Chemical Romance
#138 July 12 — We Are Young – Fun
#137 July 11 — Seconds – So Solid Crew
#136 July 10 — Smooth Operator – Sade
#135 July 9 — Turn Me On – Kevin Lyttle
#134 July 8 — Praise The Lord – ASAP Rocky
#133 July 7 — Rewind – Craig David
#132 July 6 — If You Had My Love – Jennifer Lopez
#131 July 5 — Hungry Eyes – Eric Carmen
#130 July 4 — Stressed Out – Twenty One Pilots
#129 July 3 — Straight Up – Paula Abdul
#128 July 2— Dead or Alive – You Spin Me Round
#124 June 28— Don't Stop Believin' – Journey
#123 June 27— For The Love Of Money – The O Jays
#122 June 26— Groove Is In The Heart – Deee-Lite
#121 June 25— Rock With You – Michael Jackson
#120 June 24— Pony – Ginuwine
#119 June 23—The Smiths—There is a Light That Never Goes Out
#118 June 22—Chic—Good Times
#117 June 21—The Foundations—Good Times
#116 June 20—Goo Goo Dolls—Iris
#115 June 19—Aretha Franklin—Respect
#114 June 18—Christina Aguilera—Genie in a Bottle
#113 June 17—Usher—Yeah! (ft. Lil Jon & Ludacris)
#112 June 16—David Bowie—Let's Dance
#111 June 15—One Direction—What Makes You Beautiful
#110 June 14—Simon & Garfunkel—Bridge Over Troubled Water
#109 June 13—Tracy Chapman—Fast Car
#108 June 12—Green Day—Good Riddance (Time of Your Life)
#107 June 11—Calvin Harris and Disciples—How Deep is Your Love
#106 June 10—The Emotions—Best of My Love
#105 June 9—Wu-Tang Clan—CREAM (Cash Rules Everything Around Me)
#104 June 8—The Temper Trap—Sweet Disposition
#103 June 7—Prince—When Doves Cry
#102 June 6—Roy Orbison—Oh, Pretty Woman
#99 June 5—Marvin Gaye—Sexual Healing
#98 June 4—Mariah Carey—Fantasy
#97 June 3—MGMT—Electric Feel
#96 June 2—Eagles—Hotel California
#95 June 1—Alanis Morissette—Ironic
#94 May 31—Pharrell Williams—Frontin'
#93 May 30—AC/DC—Back in Black
#92 May 29—Elvis Presley—Can't Help Falling in Love
#91 May 28—Britney Spears—Toxic
#90 May 27—Robin S—Show Me Love
#89 May 26—Depeche Mode—Personal Jesus
#88 May 25—Backstreet Boys—I Want it That Way
#87 May 24—Bob Dylan—Like a Rolling Stone
#86 May 23—Alicia Keys—If I Ain't Got You
#85 May 22—Joy Division—Love Will Tear Us Apart
#84 May 21—The Notorious Big—Juicy
#83 May 20—Justin Timberlake—Like I Love You
#82 May 19—Miley Cyrus—Wrecking Ball
#81 May 18—Deep Purple—Smoke on Water
#80 May 17—George Michael—Freedom '90