How and where to play Heardle?
The game is only available on its official Heardle website. There is no special app for it. The website posts a new song every day at midnight, just like Wordle, and everyone predicts the same song every day.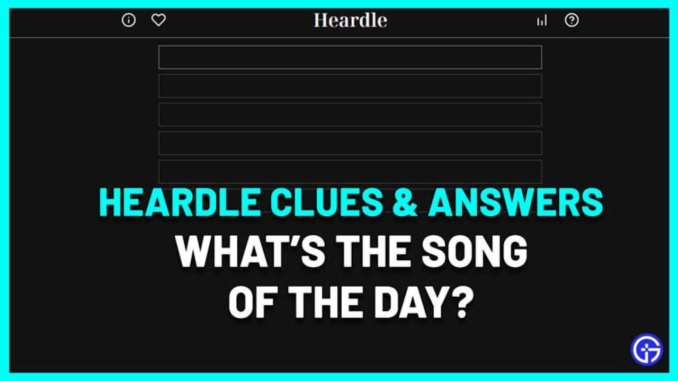 Heardle Clues #126: July 1
Hint 1: Released in 1979
Hint 2: Genre – Progressive Rock
Hint 3: Single by Pink Floyd
Hint 4: Five words
Hint 5: [blank] Brick In The Wall
Heardle Answer #126: July 1
Heardle July 1 : Pink Floyd – Another Brick In The Wall, Pt. 2
Today's Heardle Clues and Answer  | All Heardle Answers.
You can find All Heardle Answers :
#123 June 28— Don't Stop Believin' – Journey
#122 June 27— For The Love Of Money – The O Jays
#121 June 26— Groove Is In The Heart – Deee-Lite
#120 June 25— Rock With You – Michael Jackson
#119 June 24— Pony – Ginuwine
#118 June 23—The Smiths—There is a Light That Never Goes Out
#117 June 22—Chic—Good Times
#116 June 21—The Foundations—Good Times
#115 June 20—Goo Goo Dolls—Iris
#114 June 19—Aretha Franklin—Respect
#113 June 18—Christina Aguilera—Genie in a Bottle
#112 June 17—Usher—Yeah! (ft. Lil Jon & Ludacris)
#111 June 16—David Bowie—Let's Dance
#110 June 15—One Direction—What Makes You Beautiful
#109 June 14—Simon & Garfunkel—Bridge Over Troubled Water
#108 June 13—Tracy Chapman—Fast Car
#107 June 12—Green Day—Good Riddance (Time of Your Life)
#106 June 11—Calvin Harris and Disciples—How Deep is Your Love
#105 June 10—The Emotions—Best of My Love
#104 June 9—Wu-Tang Clan—CREAM (Cash Rules Everything Around Me)
#103 June 8—The Temper Trap—Sweet Disposition
#102 June 7—Prince—When Doves Cry
#101 June 6—Roy Orbison—Oh, Pretty Woman
#100 June 5—Marvin Gaye—Sexual Healing
#99 June 4—Mariah Carey—Fantasy
#98 June 3—MGMT—Electric Feel
#97 June 2—Eagles—Hotel California
#96 June 1—Alanis Morissette—Ironic