Winnie The Pooh: Blood And Honey, the first Pooh movie released since lapsed copyright brought A.A. Milne's characters into the public domain, becomes realer by the day, and now has a delightfully bonkers first teaser.
The Winnie the Pooh: Blood and Honey trailer screams public domain
If the title doesn't give it away, Winnie the Pooh: Blood and Honey is a horror film. The plot follows an adult Christopher Robin as he returns to the 100 Acre Wood where he abandoned Pooh and Piglet, who have since grown into murderous psychopaths out for his blood. As the trailer quickly reveals, Christopher hasn't guessed anything. Instead, he's brought his fianceé on his first trip back to his childhood haunts, where he's certain the friends he abandoned are eagerly awaiting his return.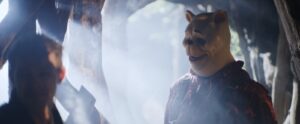 When Christopher is first seen by Pooh and Piglet in their adult forms, it's clear that their primary concern is killing Christopher, his fiance, and an unrelated group of girls who were introduced in the middle of the trailer. Pooh, armed with an ax and a penchant for slowly wading towards his victims in pools, takes the lead with the slashing, though the reimagined Piglet's boar-like tusks appear to be a better weapon. This detail, however, may be the most faithful to the book—Piglet is canonically shy.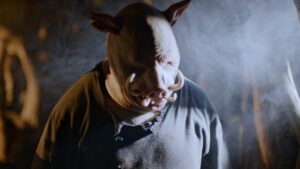 The trailer ends with a shot of evil Pooh and Piglet pouring blood and, you guessed it, honey into a large vat for unknown reasons. It's par for the course, though, as Pooh and Piglet's motivations are murky at best and nonexistent at worst throughout the trailer slasher. Why are they bothering with these other girls if they're so upset with Christopher and he's right there? At the end of the day, the only thing more difficult than growing up is growing up alone in the woods, abandoned by your human companion. It's great that Pooh and Piglet found something they care about.
About The Movie
Winnie the Pooh: Blood and Honey
Directed by
Rhys Frake-Waterfield
Screenplay by
Rhys Frake-Waterfield
Based on
Winnie-the-Pooh
by A. A. Milne
Produced by
Scott Jeffrey
Starring

Amber Doig-Thorne
Maria Taylor
Danielle Ronald
Natasha Tosini
May Kelly
Paula Coiz
Natasha Rose Mills
Chris Cordell

Music by
Andrew Scott Bell

Production
company

Jagged Edge Productions

Distributed by
Countries

United States
United Kingdom

Language
English