After defensive back Damar Hamlin collapsed on the field, the Buffalo Bills and Cincinnati Bengals were unable to finish their game on Monday night. It is unclear how the NFL intends to proceed, but multiple options are said to be under consideration.
The executives of NFL are considering a number of scenarios for the Bills-Bengals game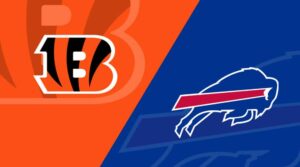 In the first quarter, Hamlin tackled Bengals wide receiver Tee Higgins and quickly got to his feet. He then collapsed and was revived by medical personnel on the scene. The 24-year-old man was still in critical condition at the University of Cincinnati Medical Center.
The league was chastised by fans and the media for how it handled the postponement, but a decision had to be made one way or the other. There are a few options, one of which is to push back the entire season by one week.
The NFL has the option of canceling the Bills-Bengals game entirely.
The winning percentage could then be used to determine playoff seeding, with Buffalo and Cincinnati having played one fewer game than the other 30 teams. Florio claims that the NFL was ready to take that approach in 2020, when there was a chance that games would be canceled due to the pandemic.
One option for the NFL would be to move the Bills-Bengals game to this weekend and move Week 18 and the rest of the NFL schedule back a week, except for the Super Bowl.
According to Mike Florio of Pro Football Talk: Following the terrorist attacks of September 11, 2001, the NFL postponed its entire season by one week. The bye week between conference championship games and the Super Bowl was traditionally eliminated in 2001.
Before making a decision, league officials will most likely consult with the NFL Players Association, the Bills, and the Bengals.