If you tuned in for a worthless Yankees-Orioles game on Sunday afternoon hoping to see Aaron Judge rewrite history, we hope you enjoyed your consolation prize: another Aroldis Chapman meltdown in what his final appearance in Yankee Stadium could be! The latest injury update from Ron Marinaccio suggests that Aroldis Chapman will not make the Yankees' playoff roster.
According to Ron Marinaccio's most recent injury report, Aroldis Chapman will not make the Yankees' playoff roster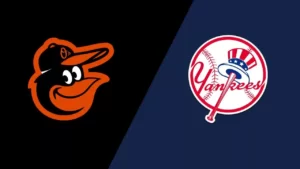 Chapman joined in the seventh inning of a tie game, amidst a rainy, windy recipe for disaster, and immediately undid all of Chi Chi González's hard work, retiring a single batter, walking three, and allowing two earned runs.
Never say never, but after a string of "encouraging" performances that seemed poised to fool Aaron Boone and company (he's changed, he's really changed!), Chapman's final blunder in the Bronx appeared to be the final nail in the coffin of his postseason roster pursuit.
The 34-year-old delivered all the big hits: airmailing fastballs, losing command from the start and never regaining it, failing to recover from a leadoff single… With the three-batter rule in place, the man is effectively useless in one-third of his appearances (at least).
He won't be able to carry the team in the postseason. Simply put, I cannot. And yet… after Ron Marinaccio was called in to put out Chapman's walk-filled, slow-moving fire (imagine this guy with a pitch clock next year), the sturdy right-hander left with a trainer in the eighth, leaving Yankees fans with a lump in their throats.
Was Chapman back… on the playoff roster, just seconds after committing suicide? Why are the Yankees stuck in this never-ending cycle that inevitably leads to postseason ugliness?
Marinaccio and the team revealed after the 3-1 loss that his issue was not arm-related, but rather shin soreness that had sapped him a few times this season.
He'll have an MRI in the days ahead. All of this is still nerve-racking, but not to the same extent as a barking elbow that push Chapman back into the spotlight.
As ruminated, Marinaccio has a sore shin. Yankees removed him to be cautious. That'a a relief for Yankees that it's not an arm-related issue.

— Jack Curry (@JackCurryYES) October 2, 2022
With Ron Marinaccio's injury update, the Yankees may have avoided Aroldis Chapman trouble.
Anyone would like to see more Chapman during the four-game series in Texas? Is there anything else you think you could "learn" from another Chapman outing? Is there anything else those front-office brain-busters need to look at? Or does everyone just recognize that he's bad news in quantifiable and unquantifiable ways?
Marinaccio's availability appears to be safer than Clay Holmes' availability for the ALDS, he's currently out with a minor shoulder strain and has another eight days to recover.
Wandy Peralta is hanging out at Somerset's phony "Alternate Site," tossing to a rehabbing Matt Carpenter.
If the MRI reveals nothing and Marinaccio only has a strange nag in his leg, that will most likely be Chapman's final straw.
However, given the Yankees' luck, it's likely that Marinaccio's leg fell off 50 years ago, leaving Chapman to save the day.