Luka Doncic (born February 28, 1999) is a Slovenian professional basketball player for the National Basketball Association's Dallas Mavericks (NBA). He also plays for Slovenia's national team.
Injury Reports Dallas Mavericks star Luka Doncic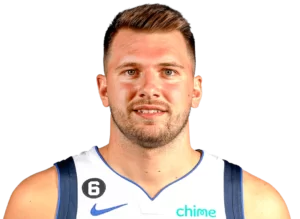 Injury: Thigh
Injury Status: Game Time Decision
UPDATE (Mar. 22):
Doncic (thigh) might not be able to play against the Warriors on Wednesday.
Doncic has missed five straight games because of a strain in his left thigh, and he may be out for a sixth straight game as well. He was also listed as questionable before Monday's loss to Memphis before being downgraded to out, so Doncic's Wednesday status doesn't tell us anything new about his health.
UPDATE (Mar. 20):
Doncic (thigh) might not be able to play against Memphis on Monday.
Doncic has missed the last four games because of his thigh injury, but since he fully practiced on Thursday, he has made good progress. But it's not clear yet if he'll be able to play in Monday's game.
If the 24-year-old stays out, the Mavericks will rotate their backcourt players based on whether or not Kyrie Irving (foot) is available.
UPDATE (Mar. 17):
Luka Doncic (thigh) will not play in Friday's game against the Lakers despite logging a full practice Thursday.
The Mavericks' initial injury report lists Doncic as out, which is a bit of a surprise since he was able to practice on Thursday. But since the Mavericks have a few days off before their next game, it's possible that Dallas is just being safe with their star guard.
UPDATE (Mar. 15):
As a result of his thigh injury, Doncic will miss Wednesday's game in San Antonio.
The backstory is that Doncic will miss his third straight game on Wednesday due to a foot injury, and with Kyrie Irving (foot), Christian Wood (foot), and Tim Hardaway (calf) all being questionable, it could once again be the Jaden Hardy show. Doncic's next shot to play will come Friday against the Lakers, but it's not a great omen that he's still getting ruled out a full 24 hours in ahead of tip-off.
UPDATE (Mar. 13):
Doncic (thigh) will miss Monday's matchup with the Grizzlies.
Doncic will miss his second straight game due to a left thigh injury he suffered on Wednesday against the Pelicans. He is listed as day-to-day at this time. Even if Kyrie Irving (foot) returns for Monday's game with Memphis, his absence on Saturday meant more playing time for Tim Hardaway and Jaden Hardy. On Wednesday, the Mavericks will play the Spurs, and that will be Doncic's next opportunity to return.
UPDATE (Mar. 11):
Callie Caplan of The Dallas Morning News reports that Luka Doncic is day-to-day with a left thigh strain and will miss Saturday's game against the Grizzlies.
Reportedly avoiding serious injury, Doncic will sit out Saturday's game against the Grizzlies after suffering a left thigh strain in Wednesday's loss to the Pelicans in New Orleans. Doncic's next chance to suit up is Monday's rematch with the Grizzlies.
UPDATE (Mar. 05):
On Thursday, when they beat the Philadelphia 76ers 133-126, it seemed like they figured out some things because both Doncic and Irving had big games.
The Mavericks got a much-needed win because both Doncic and Kyrie Irving scored at least 40 points.
Luka Doncic was great in the win. He had a game-high 42 points and 12 assists.
Update (Mar. 02):
In 38 minutes of action against the Pacers on Tuesday, Doncic scored 39 points (14-25 FG, 3-9 3Pt, 8-12 FT), grabbed eight boards, dished out six assists, and blocked a shot.
With 39 points, Doncic still hasn't had a stretch of three games without a 30-point performance. When it comes to defensive rating, the Pacers are 24th in the NBA, making them the ideal opponent to help Doncic get back on track.