Nikola Jokic (born February 19, 1995) is a Serbian professional basketball player for the National Basketball Association's Denver Nuggets. He was named to the All-NBA Team four times and won the NBA Most Valuable Player Award in 2020-21 and 2021-22.
What injuries did Nikola Jokic experience during his NBA career?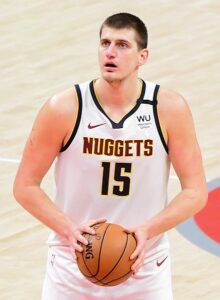 Injury: Hamstring
Injury status: Game Time Decision
UPDATE (Feb. 05):
On Sunday, Jokic (hamstring) continues to deal with a persistent hamstring issue but will appear in a 5 straight game.
UPDATE (Feb. 04):
Due to tightness in his left hamstring, Jokic's status for Saturday's game against the Hawks is in doubt.
Although he has played in the last three games, Jokic's left hamstring remains tight. However, the Nuggets have a back-to-back this weekend (Saturday and Sunday), so the two-time MVP might have to sit out one of the games.
In the event that Jokic does not suit up, Zeke Nnaji will start at center and DeAndre Jordan may see additional minutes.
UPDATE (Feb. 02):
Jokic helped Denver beat New Orleans 122-113 on Tuesday. He had 26 points (10-14 FG, 1-3 3Pt, 5-5 FT), 18 rebounds, 15 assists, one block, and one steal in 38 minutes.
On Tuesday, Jokic and Jamal Murray had great stat lines that helped the Nuggets win, and the perennial MVP candidate doesn't seem to be slowing down.
Jokic's production is hard to beat, and even though he's not grabbing as many boards as he did in 2021-22 (11.1 per game), he's still averaging a triple-double with 25.1 points and 10 assists per game.
UPDATE (Jan. 31):
Over the course of Saturday's 126-119 loss to the 76ers, Jokic played 38 minutes and tallied 24 points (8-12 FG, 2-2 3Pt, 6-6 FT), eight rebounds, nine assists, and two blocks.
Jokic, a perennial MVP candidate, had missed three of the previous four games due to hamstring soreness, but he wasn't going to be sitting on the bench for a showdown with Joel Embiid. Despite a four-game streak of triple-doubles, the Nuggets' center saw it snapped as Embiid exploded for 47 points. Jokic will have a few more days off before Tuesday's game against New Orleans, which Denver will host.
UPDATE (Jan. 28):
Jokic is questionable to play on Saturday against Philadelphia due to a hamstring injury.
The Nuggets star has been sidelined by a hamstring injury for the last three of the team's last four contests, but it is anticipated that he will return for Saturday's game.
He has recorded a triple-double in six of his last seven games, averaging 24.6 points, 12.6 rebounds, 11.7 assists, and 1.3 steals per game while playing 33.4 minutes per contest on average.
UPDATE (Jan. 25):
During Tuesday's 99-98 victory over the Pelicans, Nikola Jokic contributed 25 points (11-15 from the field, 2-4 from beyond the arc, and 1-2 from the free throw line), 11 rebounds, 10 assists, and one steal in 36 minutes of action.
The star player for the Nuggets continued right where he left off in the victory, registering another triple-double, which has almost come to be regarded as an expectation for him at this point. Despite the fact that his wrist and hamstring concerns don't appear to be serious, it does appear as though he could benefit from some additional rest as the season continues. The Nuggets are now second in the league in terms of record, one win behind the Celtics who currently hold the top spot.
UPDATE (Jan. 24):
For Tuesday's game against the Pelicans, Jokic's status is in doubt due to a hamstring injury.
It is unclear if Jokic will play against New Orleans after missing the last two games with left hamstring tightness. Before his absence, he was on fire, averaging 24.5 points, 12.8 rebounds, and 12.0 assists in 33.0 minutes across his previous six games played. If he can't go again, Zeke Nnaji and Jeff Green will get more playing time.
UPDATE (Jan. 22):
Jokic's status for Sunday's game against the Thunder is in doubt due to a hamstring injury.
The star center did not play in Friday's game against the Pacers because of hamstring tightness, and it is not known if he will be able to return. Jokic's coaching and medical staff will likely take all necessary measures to prevent his hamstring injury from becoming a long-term setback.
UPDATE (Jan. 20):
Nikola Jokic is fine and ready to play against the Pacers on Friday.
UPDATE (Jan. 17):
Nikola Jokic (wrist) is active for Tuesday' game against the Blazers.
UPDATE (Jan. 13):
As a result of a wrist injury, Nikola Jokic will sit out Friday's matchup with the Clippers. He has been downgraded from questionable to out. Jokic will have another opportunity to play this coming Sunday against the Magic.
UPDATE (Jan. 11):
Jokic is ready for Wednesday's game against the Suns.
With 11 triple-doubles this season, Jokic has surpassed Luka Doncic by two for the NBA lead. On a final note, The Joker ranks third among active players and sixth all-time with 87 career triple-doubles, behind only Russell Westbrook (197) and LeBron James (88). (105).
As his recent dominant all-around play shows, Jokic was a popular first overall pick in fantasy leagues this year, and he has more than lived up to that billing.
UPDATE (Dec. 20):
Jokic is probable for Tuesday's matchup against the Grizzlies due to a right knee contusion.
About Nikola Jokic
No. 15 – Denver Nuggets

Position

Center

League

NBA

Personal information

Born

February 19, 1995
Sombor, Serbia, FR Yugoslavia

Nationality

Serbian

Listed height

6 ft 11 in (2.11 m)

Listed weight

284 lb (129 kg)

Career information

NBA draft

2014 / Round: 2 / Pick: 41st overall
Selected by the Denver Nuggets

Playing career

2012–present

Career history

2012–2015

Mega Basket

2015–present

Denver Nuggets