Pascal Siakam (born 2 April 1994) is a Cameroonian professional basketball player for the Toronto Raptors of the National Basketball Association (NBA).
How about injury status of Pascal Siakam?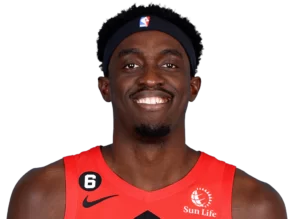 Injury:
Injury status: Active
UPDATE (Mar. 19):
The Toronto Raptors beat the Minnesota Timberwolves 122-107 on Saturday night to extend their season-high home win streak to seven.
Siakam scored 27 points and grabbed 10 boards. Siakam only made one of six 3-point shots on Saturday, but he made 10 of 16 shots from inside the arc.
UPDATE (Mar. 18):
Siakam is planning to participate on Saturday's match against the Timberwolves.
UPDATE (Mar. 16):
Pascal Siakam will play against the Thunder on Thursday.
In the 125-110 win over the Nuggets on Tuesday, Pascal Siakam finished with 12 points (6-16 FG, 0-3 3Pt, 0-1 FT), 8 rebounds, 4 assists, and 1 steal in 39 minutes.
Siakam didn't score more than 15 points for the second game in a row on Tuesday, but he got more rebounds in the easy win.
The 28-year-old has kept getting a lot of playing time in March, but his scoring hasn't been as good. In six games this month, he has averaged 15.2 points, 6.2 rebounds, and 4.8 assists in 38.3 minutes per game.
UPDATE (Mar. 04):
Before Thursday, Siakam had scored at least 20 points in eight straight games, but he only made six of his shots, which was a bad scoring night. He didn't try a free throw for the first time this season.
But the two-time All-Star still had a good night, and it's the third straight game in which he's grabbed eight or more boards. He had six assists, which was the same as his season average, and he even blocked a shot.
Siakam will have better offensive games, and on Saturday, he will get a second chance against Washington.
UPDATE (Mar. 02):
In Tuesday's 104-98 win over the Bulls, Siakam had 20 points (7-18 FG, 1-4 3Pt, 5-6 FT), eight rebounds, three assists, and one steal in 34 minutes.
Siakam led the Raptors to victory on Tuesday by scoring the most points and getting the most rebounds. He missed getting a double-double by two rebounds. Siakam has won three straight games with at least 20 points and eight rebounds.