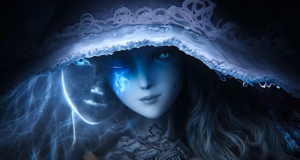 There have been leaks of new Elden Ring DLC being revealed at the Taipei Game Show next month, but these are likely fake.
The latest Elden Ring DLC leaks are likely fake
There is an Elden Ring DLC "Leak" going around now and here are some notes about it.
1. These are out-of-bounds spots
2. The area name isn't parallel to the screen
3. If this were real, it would be watermarked all over
4. The armor is a cut set for the Rico NPC
It is 99% fake pic.twitter.com/g0TMj2QX5J

— Ziostorm (@Ziostorm1) January 24, 2023
The leaks, which seem to have come from 4chan, show what looks like new content for the Elden Ring, such as a new area and a new axe, but upon closer inspection, they don't look very real. Two prominent Elden Ring fan accounts on Twitter have pointed out that the leaks appear to have been manufactured using a combination of cut content, mods, and inaccessible areas of the map.
"Don't be fooled by the new Elden Ring DLC leaks going around. While I can't prove it's fake, pic1 & 2 is Rico's armor," said Elden Ring dataminer Sekiro Dubi(opens in new tab), referring to an NPC that was cut from the game before release. "That's an out of bounds area at the edge of map collision. The axe one? no idea about the wp, but the far away lands is part of today's map."
Even though it's possible that these extremely shady "leaks" are legit, the odds are about the same as me beating Malenia while blindfolded.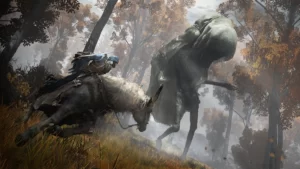 Elden Ring developer From Software has confirmed its attendance at the Taipei Game Show, albeit solely to showcase Armored Core 6. There has been no word on whether or not the studio will be discussing Elden Ring, and given that they appear to be reducing their presence at the show, we shouldn't expect any new information about the game any time soon.
About Elden Ring
Elden Ring
Developer(s)
FromSoftware
Publisher(s)
Bandai Namco Entertainment
Director(s)
Producer(s)
Yuzo Kojima
Programmer(s)
Writer(s)

Hidetaka Miyazaki
George R. R. Martin

Composer(s)

Tsukasa Saitoh
Shoi Miyazawa
Tai Tomisawa
Yuka Kitamura
Yoshimi Kudo

Platform(s)

PlayStation 4
PlayStation 5
Windows
Xbox One
Xbox Series X/S

Release
February 25, 2022
Genre(s)
Action role-playing
Mode(s)
Single-player, multiplayer