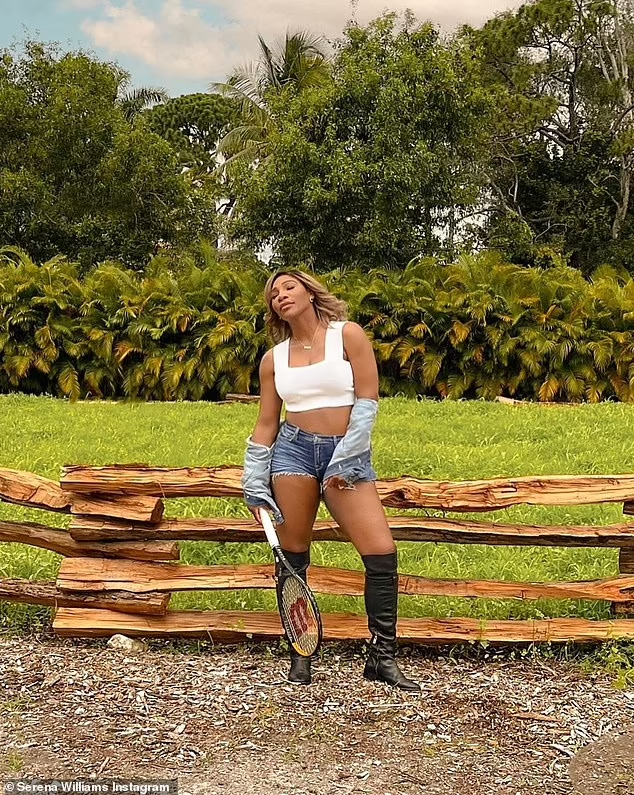 On Friday, tennis superstar Serena Williams, 41, posted an Instagram photo in which she appeared to be in excellent physical condition.
Serena Williams stuns with cutoff shorts and a tennis racquet, revealing her impressively toned abs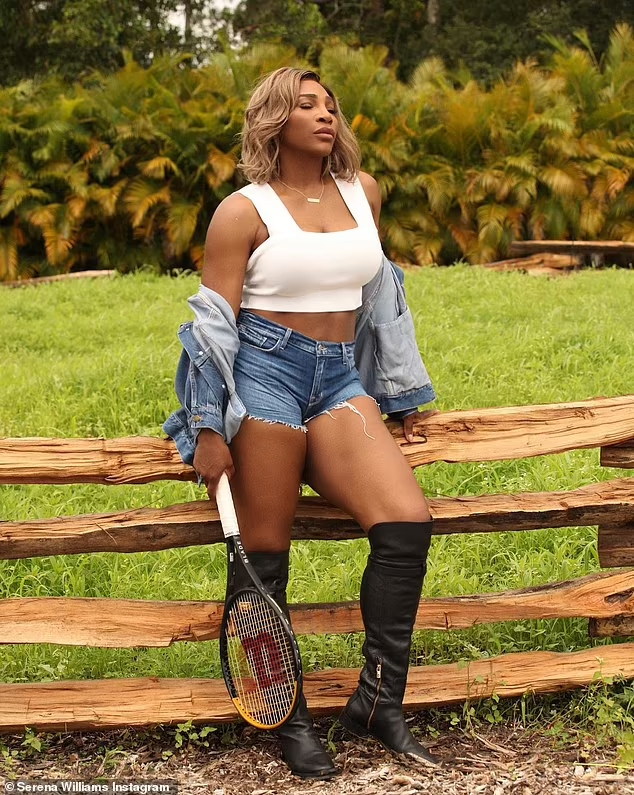 She was standing in a green field in front of a rustic wood fence, her abs on display in a white tank top with a square neckline that had been trimmed.
The 23-time Grand Slam champion wore the skintight top with very short denim shorts and a denim blazer that was cut in half and hung loosely around her lower arms.
She wore a tennis racket and a pair of black over-the-knee boots to finish off her ensemble.
'I picked up my racket, but I didn't make it out,' she captioned the post.
The wife of Alexis Ohanian, and mother of Alexis, five, wore her hair in light brown waves that hung just below the shoulders.
With the help of makeup, she had a radiant complexion, complete with flushed cheeks and matte neutral lips.
The former world no. 1 ranked tennis player was adorned with a fine gold necklace.
In September 2022, Serena played her final match at the U.S. Open and was knocked out in the third round.
Shortly after her retirement, Serena appeared on The Drew Barrymore Show, where she told the touching story of the one occasion her small daughter got to see her play in a tournament.
'Apparently she was saying like, 'Go, Momma, I'm so proud of you,' and I was like, 'What?" So then she comes back after I had lost in Cincinnati, she came back and she's like, 'It's OK, Momma, you just have to do what you feel.'
And Rick Macci, Serena and Venus' childhood coach, doesn't believe the G.O.A.T. is done with professional tennis.
Serena, he believes, will return to the courts to play doubles with Venus.
'I think it's difficult for Venus Williams. When I had Venus and Serena, it was more about Venus. Because she was older as you saw in the King Richard movie. Venus was really, really like my daughter and we had an amazing bond,' Tennis World revealed.
He continued, 'In my opinion and, I don't have any insight, I think she'll retire at the US Open. I think that she'll play doubles with Serena. And I think they're going to exit the stage left at the US Open.'
'But obviously if she still plays. It's good for the name. It's good for the brand. She has a platform. I get all that stuff, but I think she could still play doubles with Serena and, believe it or not, I think they could still win tournaments.'
For what it's worth, Serena hasn't officially retired; she's simply 'evolved away from tennis,' as she stated in August 2022.
During a TechCrunch Disrupt panel in October in San Francisco, she specifically stated that she was "not retired" and hinted that she was "bored" of not being on the WTA tour.
When asked if she would return to the court, she told the audience, "The chances are very high."
READ ALSO: