Style varies from person to person, but if there was something that we could all agree on, it's closet basics. Described as timeless, essential, and the building blocks of our wardrobes, the key items that should be found in every woman's closet include the likes of the perfect blue jeans and a good quality white tee, which together composes one of the most classic pairings of garments that every one of us has worn at some point in our lives.
As boring as the outfit sounds, it's one of the most important ensembles that you must know how to accessorize. Looking at the models and actresses revolutionizing the fashion world, celebrities are teaching us that the simple getup is just as easy to upgrade as it is to put on.
Sporting a variety of cuts and washes, you can always count on fashion boutiques or the Hollywood A-Listers to take a basic ensemble and turn it into something that you would see in street style spotlights in Vogue and Harper's Bazaar.
To revamp your regular old jeans-and-tee look, get some style inspiration from these celebrities:
Kendall Jenner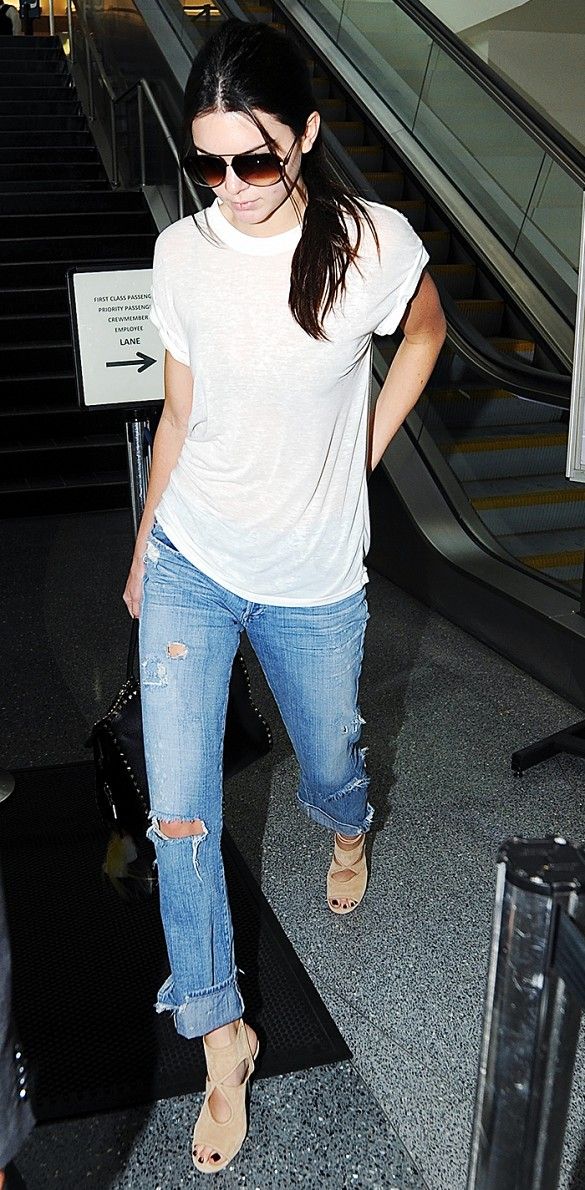 A baggy tee and distressed straight-leg jeans don't exactly sound like the most refined of outfits, but if you take cue from Kendall Jenner and pair it with statement heels and aviators while pulling your hair back in a sleek ponytail, you'll have that perfect blend of masculinity and femininity that fashionistas love to experiment with.
Chrissy Teigen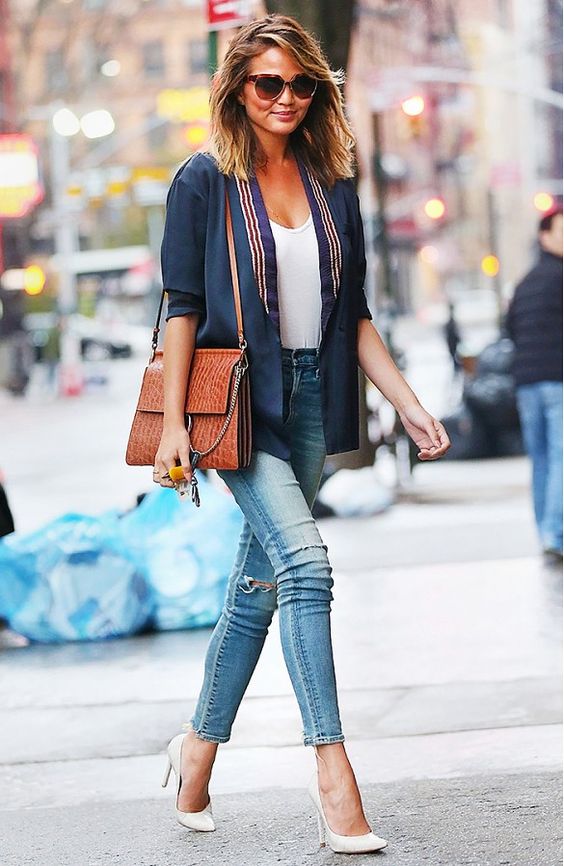 The model/TV personality just how sophisticated the denim and white t-shirt combo can be by opting for a cropped skinny jean, a tucked-in white tee and white pumps to match, accessorized with a navy blue blazer and a leather messenger bag—an ideal outfit for the office or brunch with the girls.
Gigi Hadid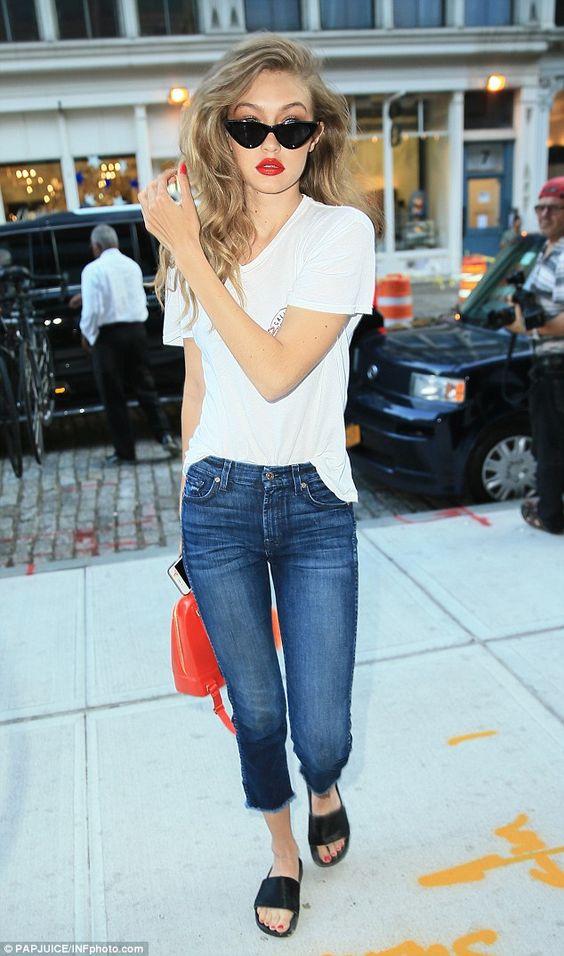 Don't feel like wearing heels? Go for something more comfortable, such as slipper sandals and wear them with a loose v-neck and darker denim. To avoid looking too casual or comfy out in public, tuck the tee in just the front, wear sassy sunglasses and slab on some hot red lipstick, just like Gigi.
Karlie Kloss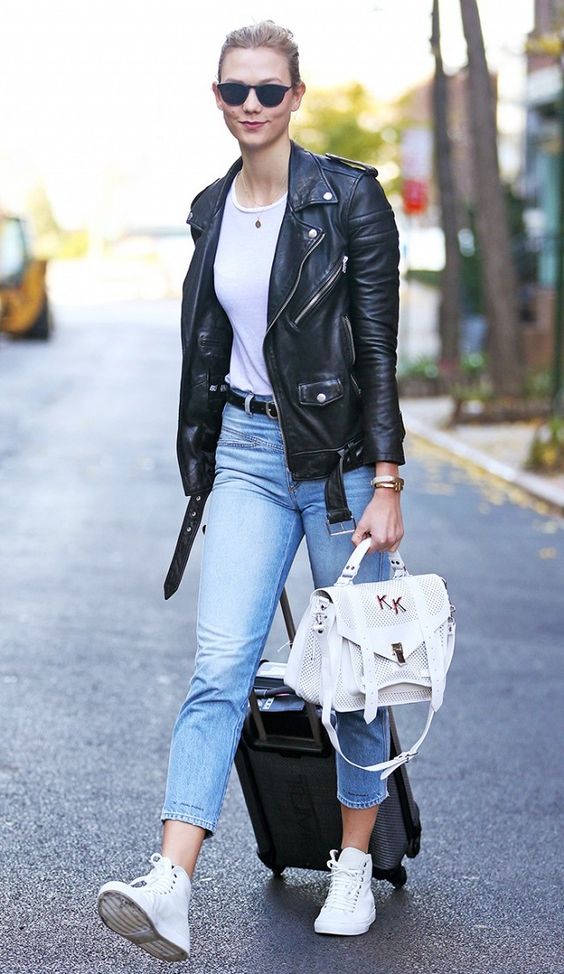 Soften up the tough girl vibe by matching your leather jacket with a white tee, light colored jeans and white hightops. Karlie Kloss is the ultimate style icon for the off-duty model look, as she makes everyday wardrobe essentials look so chic.
Rosie Huntington-Whiteley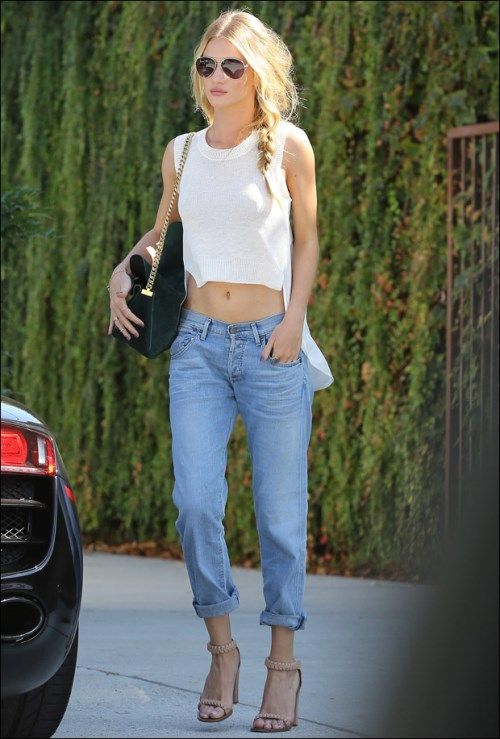 Boyfriend jeans may influence you to choose a more feminine top to prevent others from thinking you raided your boyfriend's closet. Help yourself out by following Rosie's outfit choices, going for a white crop top, nude strappy sandals, and wearing a loose braid to finish the overall look.