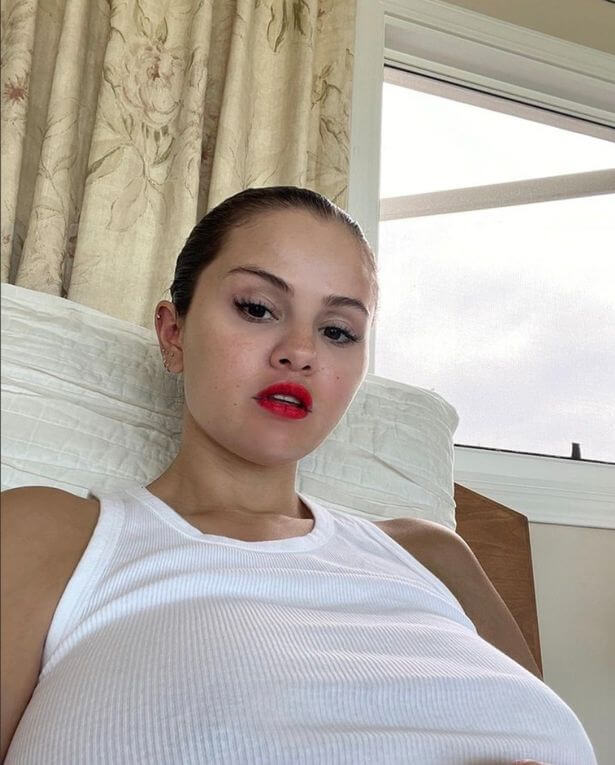 Selena Gomez is a fantastic hairstyle role model because she is always trying new things with her hair. Her hair is always simple but never dull, whether it's a light blonde or a dark brunette.
In this post, we will take a look back at some of Selena Gomez's most stylish hairdos.
Here are 20 of Selena Gomez's best hairstyles
Long curly dark brunette updo hairstyle
This is a great look for any occasion, day or night.
These naturally long wavy locks are pulled up and pinned behind the head, with the front strands left out to soften the overall look. This look will require time to create as well as product to hold and shine.
Long wavy brunette hairstyle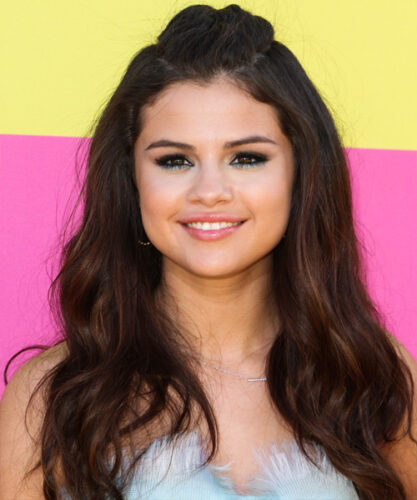 This carefree style is allowed to cascade over the shoulders, showcasing the jaggedly cut edges of the long layers. If you have a round face, this is a great style for you because pulling back the top and pinning it to the head creates instant height.
This understated look is perfect for everyday wear.
Long straight dark mocha brunette hairstyle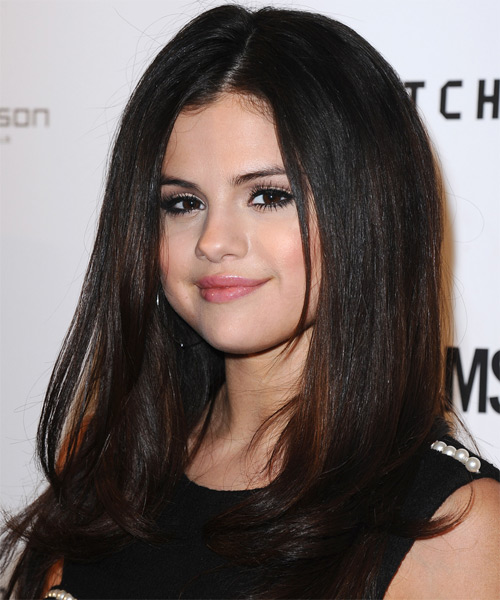 This gorgeous hairdo is ideal for framing a round face, and it's simple to recreate with the right blow-wave and some hold and shine spray.
Beautiful dark brown locks with front and side layers to shorten the overall length and provide definition at the jawline.
Long straight braided updo hairstyle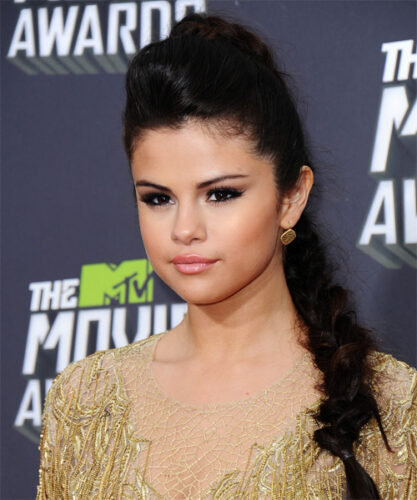 Selena's beautiful updo that she wore to the 2013 MTV Movie Awards was created by teasing the roots of her brown locks and then braiding them in the back to provide height and lift.
You'll need a hold and shine product to maintain this daring style, which is perfect for drawing attention at any formal event.
Long wavy dark mocha brunette hairstyle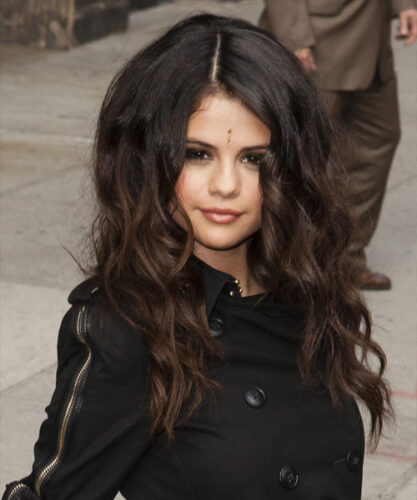 This thick mane has had lengthy layers cut into it around the perimeter to make it appear lighter and to promote body and bounce.
This style works particularly well to frame a long face and showcases thick hair. You need a hold and shine product.
Long straight dark brunette hairstyle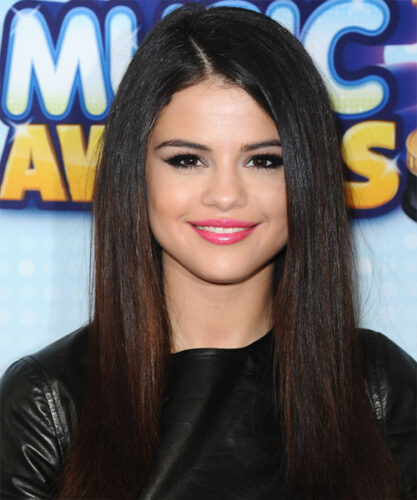 You only need a few minutes and some shine product to replicate this look at home.
Over the shoulders, these dark brunette locks are blow-waved smooth from root to tip for a sleek and seductive appearance.
Split ends can be avoided with regular trims every 4 to 6 weeks.
Long wavy mahogany brunette hairstyle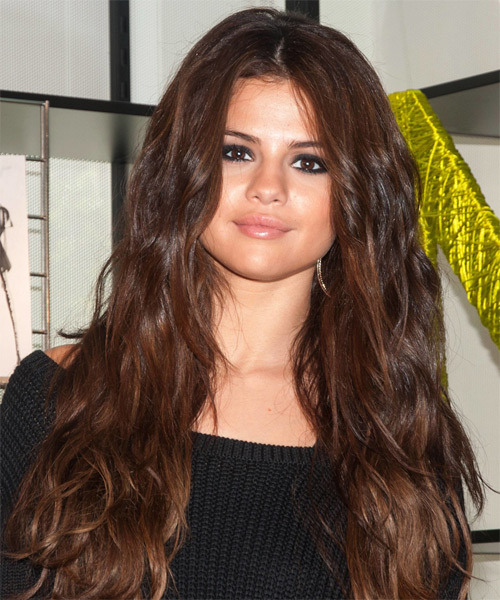 Only long layers are cut around the sides and back to lighten the length and encourage natural wave movement.
This low-maintenance hairstyle is best suited for those with naturally wavy hair and will require regular trims to avoid split ends and maintain a healthy look and feel.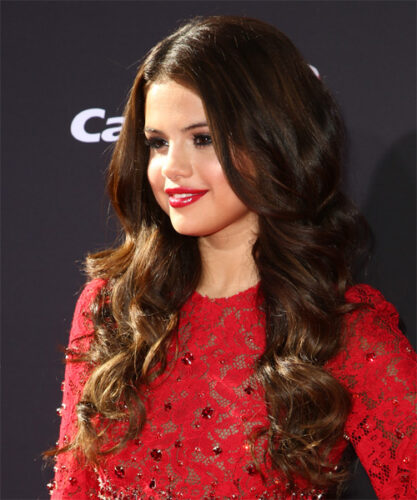 This polished look works for any formal event, and it's simple to do at home with the correct styling products and equipment.
These long, luscious locks have been styled with gorgeous waves from the mid-lengths to the ends. The lengthy face is well framed by the deep side part.
Long wavy mocha hairstyle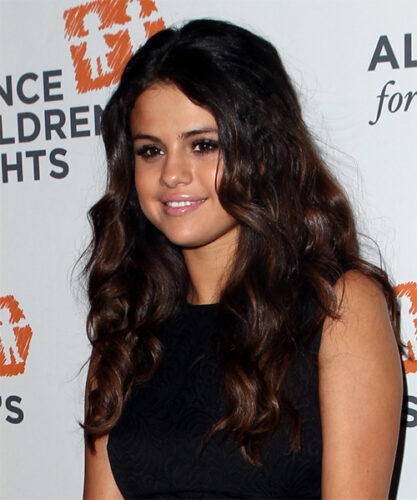 This naturally thick mane is given body and volume by loose waves styled through the sides and back. This is a terrific casual style for shortening the appearance of a long face.
If you have medium to thick hair and require a solution to tame flyaways, this low-maintenance style is for you.
Long straight black hairstyle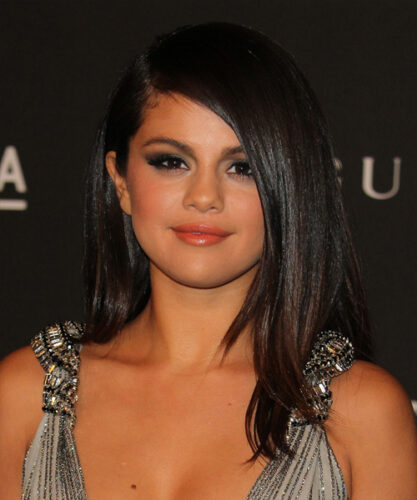 This sleek and shiny haircut, great for framing a long face, is achieved by blow-wave styling and a side part.
This polished look requires little in the way of upkeep beyond frequent trims to avoid split ends and a dab of product to tame stray strands.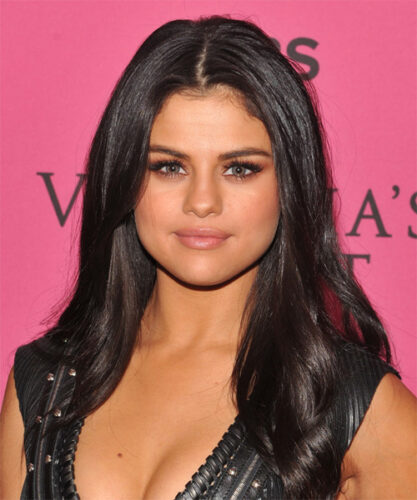 With her long, lustrous hair, Selena Gomez aims for an elegant and refined appearance.
For a luscious and sensual look, these black locks are blow-waved nicely before being placed over the shoulders. This hairstyle is great for framing a round face because of the middle part, but it requires product to achieve the desired shine and hold.
The best way to avoid split ends is to get regular trims.
Long straight dark mahogany brunette hairstyle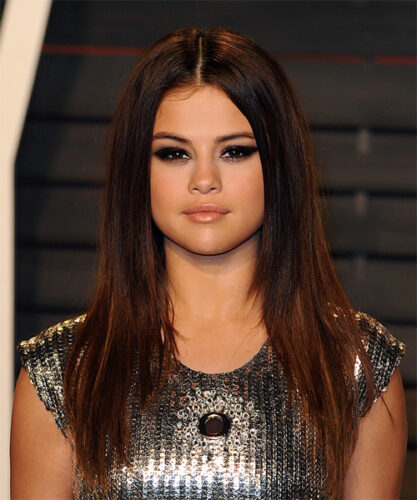 Selena Gomez's thick locks are styled in a straight †do that is a great match for her round face.
This design is all about sleekness and shine. This sleek and easy style is achieved by blow-drying the brunette locks straight. The bangs are sleeked down to create a beautiful frame around the face.
Long wavy dark brunette hairstyle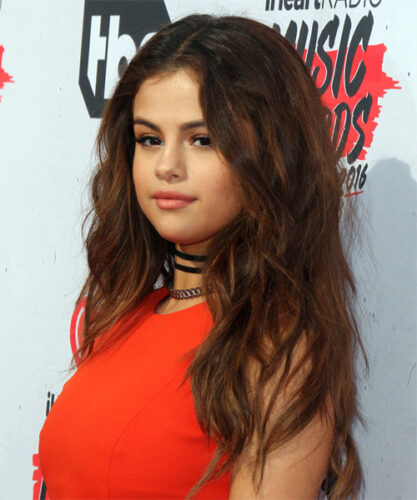 Here, Selena Gomez sports a laid-back haircut that complements her beauty.
These chocolate locks have substance and movement thanks to the edgy kinks that have been styled through the lengths and ends.
With the correct products and styling equipment, you can recreate this laid-back look in your own bathroom. Split ends can be avoided with regular trims.
Medium straight sark brunette bob haircut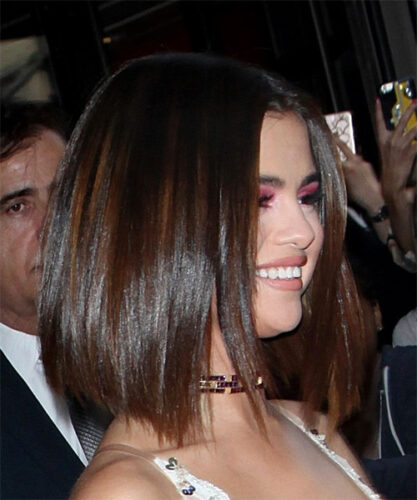 Although Selena Gomez is used to sporting big, voluminous hairstyles, she is always game to try something new.
This haircut is not only a stylish option, but it also complements Selena's heart-shaped face and helps to tame her naturally thick hair.
These shoulder-length, shoulder-width layers are cut from the ends of thick, dark hair to frame the face. This eye-catching hairdo is simple to replicate at home and is a great choice for anyone with an oval or oblong facial shape.
Medium straight dark brunette half up half down hairstyle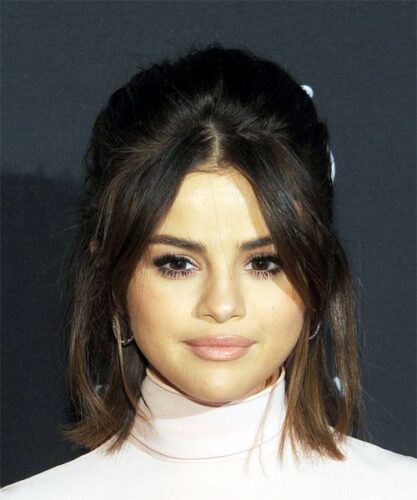 The Sixties-inspired hairstyle is ideal for people with round faces and is simple to replicate at home.
This stunning 'do is pulled back and pinned in the back to create a half-updo that will turn heads at any event. It requires a strong hold product to keep it in place throughout the day or night.
Medium wavy light blonde bob haircut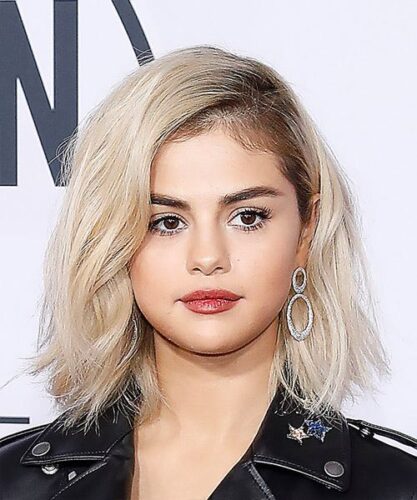 Selena Gomez looks stunning with a soft wavy bob. To add movement and shape to this style, loose curls are added to the sides and back.
This easy-to-recreate 'do requires product to tame fly-away hair and is easy to recreate with the right tools. Regular trims will also aid in the maintenance of a healthy appearance and feel by preventing split ends.
Medium straight dark copper brunette bob haircut with blunt cut bangs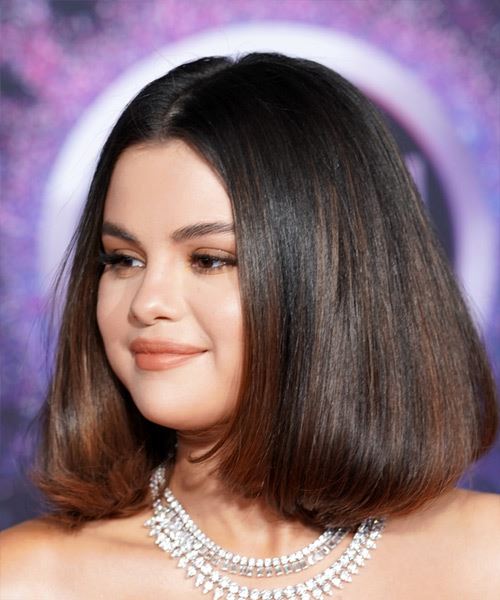 This hairdo is perfect for the Oscars. The extra length complements her beautiful features.
The ends of her hair elegantly flick in toward her neck, giving her a beautiful oval face. Her ends, which are coppery and understated, add much-needed depth to the style.
To maintain healthy hair and the bob's intended form, a trim should be performed every four to six weeks.
Medium wavy black updo hairstyle with layered bangs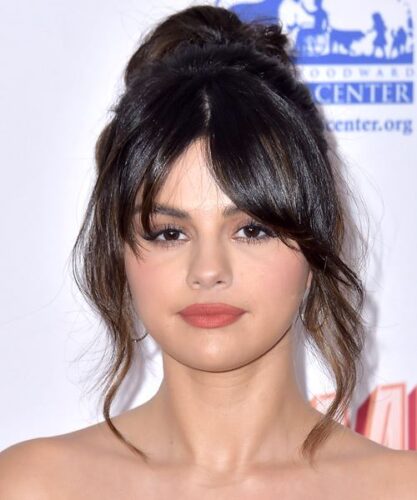 This hairstyle may appear difficult to style, but it is not. All you have to do is put your hair up in a messy bun. After that, pull a few front pieces out of the bun and curl them.
Curls will help to frame your face and neck. Make your bangs forward-facing and slightly split down the middle to help open up your forehead area. After that, spritz your hair with hairspray and you're ready to go.
This style is ideal for hot summer days when you want to wear your hair up but still want it to frame your face and look fabulous.
Medium wavy dark mocha brunette hairstyle with brunette highlights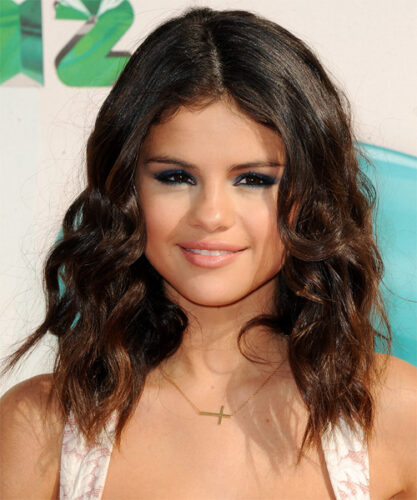 With summer's arrival quickly approaching, now is the perfect time to experiment with some hot new hairdos. Here, Ms. Selena Gomez ushers in the spirit of summer with her hair styled in a carefree, beachy wave.
This look is excellent for summer days because it is easygoing and adorable, and it can easily be transitioned to an evening out on the town.
These full tresses have been given movement and shape by being curled into delicate waves from the mid-lengths to the ends. They're the perfect choice for framing a round face.
Long curly dark brunette half up half down hairstyle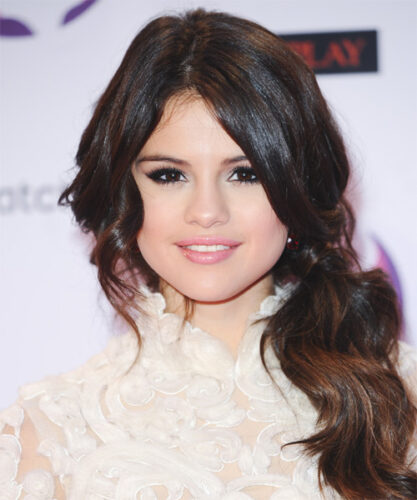 Selena's long locks are tied into a perfectly messy low side ponytail in this photo, which is ideal for girls with thick hair like her. Her loose waves have a lot of body; this is one way to make the most of it while keeping it from becoming too wild.
This long brown mane is styled to one side and allowed to fall over the shoulder, highlighting the soft wave added for movement. To soften the overall style, the front and side layers are left out for a magnificent finish. This look is appropriate for any occasion.
READ ALSO: