Rihanna, originally from Barbados, is a multi-talented performer. She's a style icon, a red carpet diva, and a trendsetter thanks to her unique sense of fashion.
What makes her such a fashion icon is her uniqueness. She frequently switches up her look, often setting the trend with daring, one-of-a-kind hairdos.
Take a look at your self in a Rihanna cut. We tell you which hairstyles work best with your facial shape, hair type, and hair density, and provide you simple instructions on "How to style."
Here are 15 of Rihanna's favorite hairstyles
Long smooth red hairstyle with side swept bangs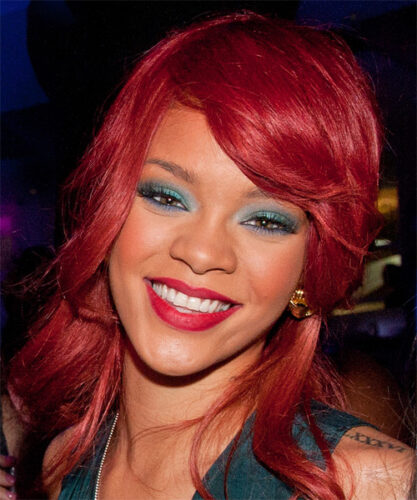 The blow-waved ends of this sensual hairstyle provide a touch of movement and contour.
The lively and stylish look is finished off perfectly by the side-swept bangs that frame the top of the face.
Maintaining this style requires frequent cuts.
Mid-length golden blonde shaggy waves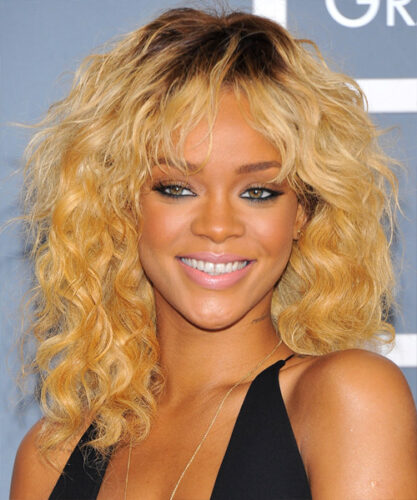 Back 2012, Rihanna's new golden locks left out to show off the waves from root to tip astonished guests and spectators at the Grammy Awards, giving the whole style plenty of bounce and fullness.
Its laid-back cut is perfect for framing a long face because to its allover layering.
Long glamorous black waves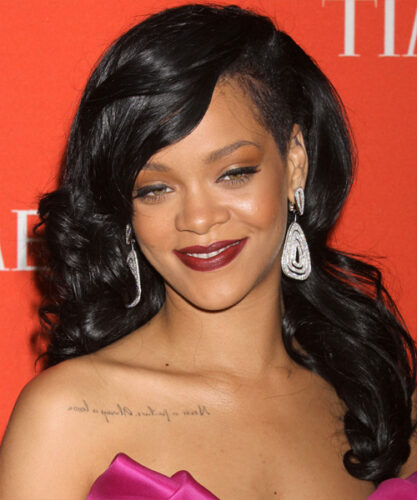 This long, glitzy hairstyle is great for women with long faces because the waves that go down the sides and back provide the perfect amount of structure and movement.
This elegant hairstyle can be recreated with the correct styling tools and products in no time.
Long black waves with sides shaved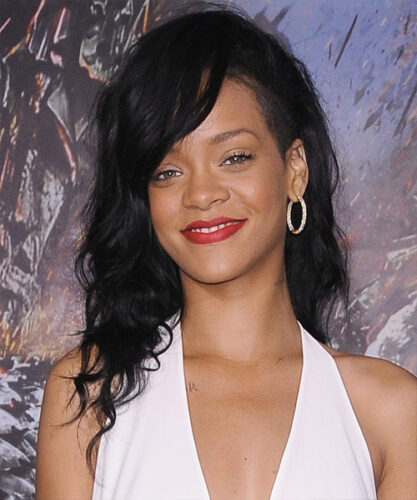 Rihanna's natural hair color is stunning: sleek, shiny, and raven black. The lengthy waves, which fall just past her shoulders, complement her round face.
This unfussy hairstyle features an undercut on one side, achieved by using a clipper. This allows the opposite side to spill out over the shoulders, highlighting the medium-to-long layers that have been cut jaggedly through to create a symmetrical silhouette.
To maintain this style without split ends, regular trims and the use of a hold and shine product are required.
Rihanna's pixie cut is black and feminine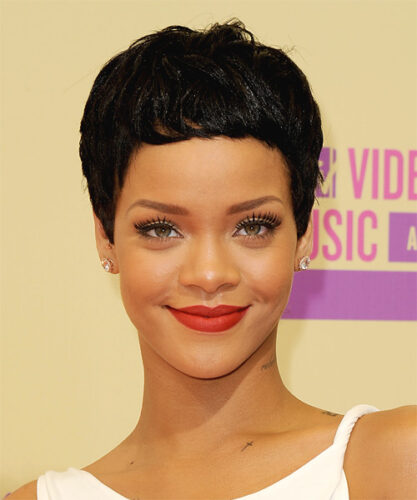 Her natural black hair color complements her latte skin and green eyes beautifully, and the short, feminine pixie cut is a fantastic choice for her.
This short hairstyle features a short back and sides that are cut close to the head for a clean look. The top length is long enough to be worn flat for a smooth and sensual finish, and the back and sides have been blended in.
Holding and shining products, in addition to frequent trims, are essential for keeping the desired look.
Layered bangs and casual dark brunette pixie haircut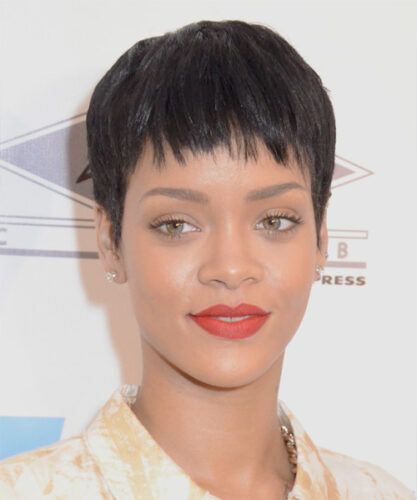 This short, casual haircut achieves its edgy vibe by a tapered back and sides that meld into two jaggedly cut layers.
Regular cuts (every 4 to 6 weeks) and the use of a good hold and shine product make this a low-maintenance haircut.
Long brunette two-tone waves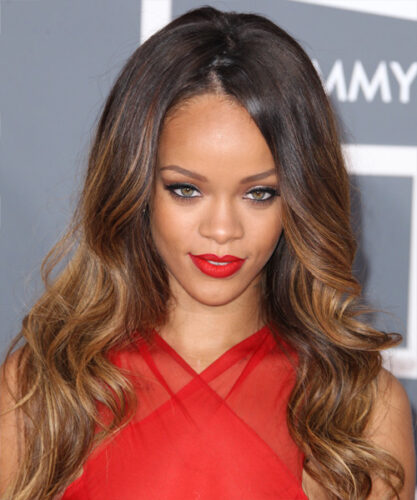 The mid-lengths and ends of her hair were given beautiful waves to lend movement and form to the overall look.
This gorgeous 'do is ideal for a round face because the roots are teased towards the top.
Rihanna's long black glossy updo features side swept bangs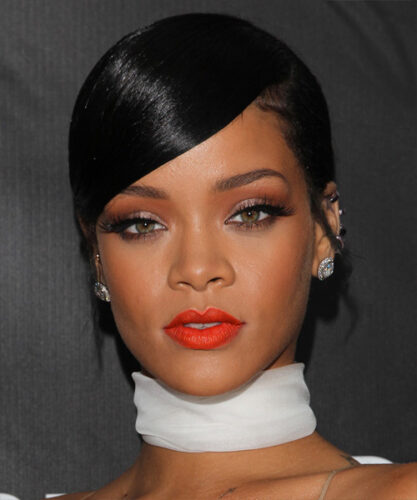 This chic do is appropriate for any event, and it only requires a little product to keep its shape and shine.
The luscious length is pulled back and knotted at the nape, while the glossy black mane is parted on the side and smoothed down to complement the face.
Straight dark mocha brunette updo with blunt cut bangs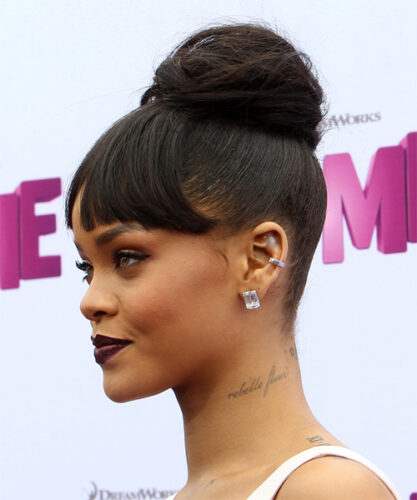 This untidy bun upstyle, in which the dark hair is pushed up, twisted, and pinned at the crown, is simple to replicate at home with the correct equipment. The heavy bangs are tamed in the front and frame the top of the face beautifully.
Rihanna large dark brunette curls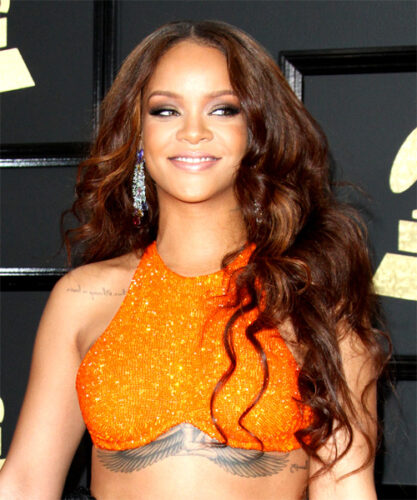 With her long, wavy hair, Rihanna is really stunning.
Beautiful, generous curls are styled all the way from the hair's center to its ends, giving the hair a lot of volume and motion.
This style can be replicated with the correct products and equipment. Trimming your hair every 4 to 6 weeks helps keep it looking thick and healthy and prevent split ends.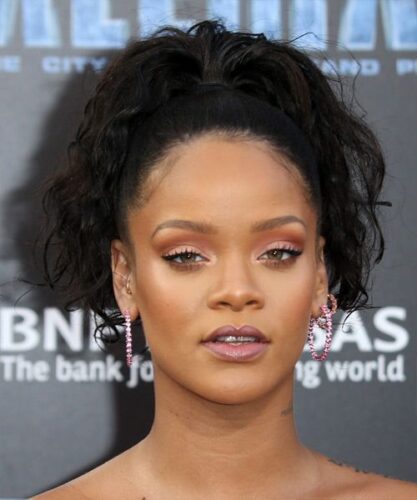 Rihanna has an oval face shape and expressive facial features which look great with most hairdos, especially up-dos like this one.
Her thick tresses have been loosely pulled back into a high ponytail, creating volume at the crown of the head. Her blunt cut ends are on show and her hair's natural texture is the main focus here.
Overall, these thick black locks are pulled back loosely and tied at the crown to create this casual up-do best suited to complement a square or oval face.
This look is easy to re-create at home with the tools and needs product for shine and hold.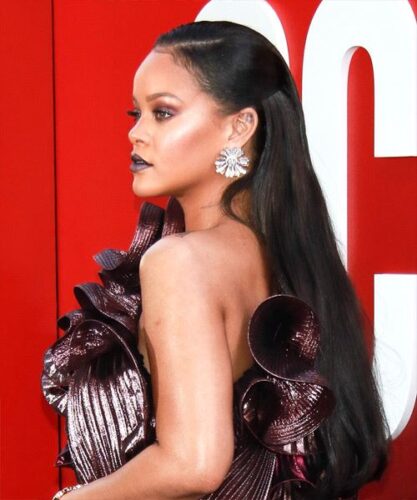 Here, Rihanna's hair is parted in the middle, pulled back, and fastened to the head, while the length is left loose in the back and falls beautifully.
This style works best on those who have thick, straight hair and can be worn by those with any facial structure.
Rihanna's voluminous black curls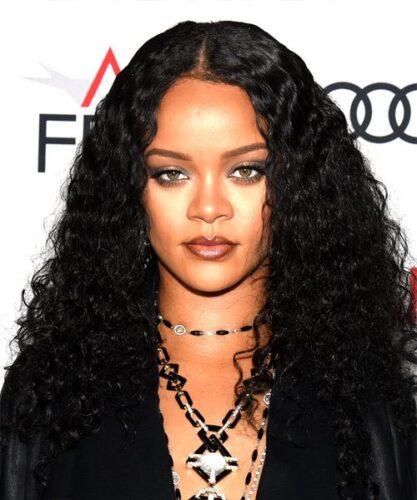 This style may appear to be time-consuming, but in reality, it can be achieved in only a few simple steps. Unlike with some other styles, you won't need to worry about your hair being exactly straight or getting away from you.
If you part your hair down the middle, it will frame your face beautifully on either side. Glasses won't work with this style because of the volume it creates.
To maintain healthy hair, you should have a haircut around every six weeks.
Everything about this haircut is perfect. First of all, your hair will stay exactly where it is supposed to be because the braids are so well-organized.
Second, the braiding pattern is fresh and intriguing. The good thing about this hairstyle is that after it's done, it can last for a few days if the braids are done as tightly as Rihanna's.
Rihanna's long black sleek hairstyle with side swept bangs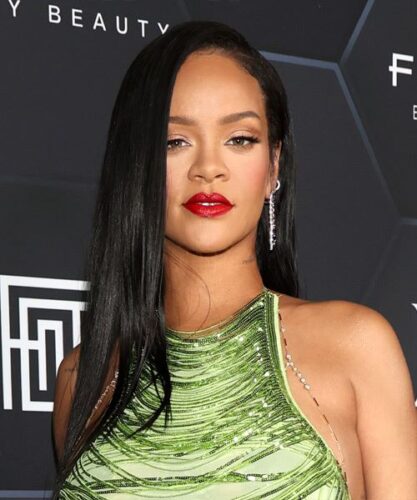 You're going to adore this hassle-free formal hairdo! You'll love this cut because it doesn't require much effort or time from you yet still looks great.
The finishing touch of having her hair tucked behind one ear is excellent. Tucking your hair behind your ears will draw attention to your beautiful cheekbones. If you part your hair to the side, it will draw attention to your jawline and cheekbones.
When you straighten your hair, make sure you apply a heat-protective serum. When you've styled your hair, you can use hairspray to help it last. Hairspray can also keep those pesky stray hairs at bay.
RELATED: