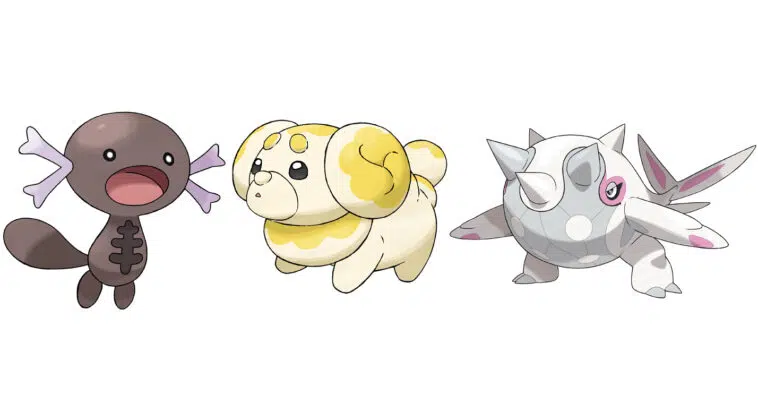 The Pokémon Company International has revealed that your pocket monsters can be terastalized into Pokémon Scarlet and Pokémon Violet. The Terastal phenomenon can only be found in the Paldea region.
It is confirmed that you can Terastalize a Pokémon once per battle and that the transformation will last until the battle ends. You will need a Tera Orb to Terastallize a Pokémon, which you must recharge after each use either "by touching crystals overflowing with Terastal energy or by going to a Pokémon Center."
Throughout Pokémon Scarlet and Violet's three stories are many Pokémon, new and old :
Cetitan
Fidough
Paldean Wooper
Here are the full details on these new Paldean Pokémon in Scarlet and Violet:
Fidough
Fidough is a small canine Pokémon that is primarily colored yellow and creamy white. Its ears, collar, and tail all resemble twisted dough. It has a short snout, two black eyes, and two yellow bumps above its eyes resembling eyebrows.
Category: Puppy Pokémon
Type: Fairy
Height: 1′
Weight: 24 lbs.
Ability: Own Tempo
Paldean Wooper
Wooper is a mostly blue, amphibious Pokémon that resembles an upright, armless axolotl. Wooper's head is large compared to its body, and it has small, round, black eyes. It has purple, branching gills on either side of its head; the males have more branches in its gills than the females. Wooper stands on two small, round feet, and it has a large, thick tail. On its belly are dark blue curved markings.
Category: Poison Fish Pokémon
Type: Poison/Ground
Height: 1'4″
Weight: 24.3 lbs.
Ability: Poison Point / Water Absorb
Cetitan
Cetitan is a white whale-like Pokémon. It has a spherical body with five horns protruding from it, two of which are on the top of its head and three of which come from the front of its face.
Category: Terra Whale Pokémon
Type: Ice
Height: 14'9″
Weight: 1,543.2 lbs.
Ability: Thick Fat / Slush Rush