Nintendo Switch Bundle  includes everything you need to get started, including an online membership, and makes the ideal gaming gift.
Nintendo Switch Black Friday Bundle Includes Console, Mario Kart 8 Deluxe, and More for $299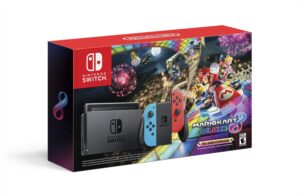 You can read also: Kanye West allegedly "showed explicit images of Kim Kardashian to Adidas employees"
Gaming consoles are always popular holiday presents, but they can be expensive. That is why Black Friday is a great time to find bargains or get some freebies.
The Nintendo Switch is a multi-purpose fan favorite. The handheld is an excellent choice for both new and experienced gamers.
The original Nintendo Switch costs $300, but you can get a Switch console, a digital copy of Mario Kart 8 Deluxe, and a three-month Switch Online individual membership for the price of a standard standalone Switch right now.
There is a newer OLED version of the Switch available, but for a good starter pack, this is a great option.
Most of the time, the console is sold without a game. With this bundle, you not only get a game that is ready to play right away, but it is also one of the best Nintendo Switch games available.
It's also a multiplayer game, and the Switch's Joy-Cons allow for two players (or four in a pinch), making it ideal for families.
In addition, the included three-month subscription to Nintendo Switch Online unlocks limitless gaming potential.
It has a lot of retro Nintendo games and allows you to play online with gamers from all over the world.