Tua Tagovailoa's serious injury during Thursday Night Football has the NFL world in uproar.
Tua Tagovailoa's serious injury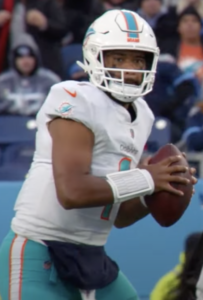 Tagovailoa was brutally sacked in the second quarter of Thursday's game between the Miami Dolphins and the Cincinnati Bengals, enduring head and neck injuries on the play.
The injury comes just four days after Tagovailoa appeared to be badly injured against the Buffalo Bills and had a terrifying moment where he looked extremely dizzy but returned to play.
NFL fans did not believe the explanation that it was a back injury at the time, and their fears were eventually realized in the worst possible way on Thursday.
Injury Update | Tua Tagovailoa is out of the game with head and neck injuries.

— Miami Dolphins (@MiamiDolphins) September 30, 2022
Tua Tagovailoa has been taken to a local hospital for further evaluation. He is conscious and has movement in all his extremities.

— Miami Dolphins (@MiamiDolphins) September 30, 2022
This apart from NFL fans wishing Tagovailoa well, many people wondered how Amazon solved the moment's publicity. Several slow-motion replays were shown, as well as still images of Tagovailoa in pain on the ground.
Besides that, Amazon did not properly relay to its viewers during halftime the full story of Tagovailoa's recent injury history.
If there were a professional NFL journalist or reporter on this Amazon halftime set, the full story here would be told and analyzed. And the public would be more informed for it. Unfortunately, that is not the case.

— Pat Leonard (@PLeonardNYDN) September 30, 2022
Amazon halftime show makes no mention of what happened to Tua on Sunday against Buffalo. No mention of Dolphins letting him play after he literally didn't know where he was.

— Jimmy Traina (@JimmyTraina) September 30, 2022
To have any credibility whatsoever, Amazon must have someone who will raise the obvious question of whether Tua should have been playing at all tonight, after what happened on Sunday.

— ProFootballTalk (@ProFootballTalk) September 30, 2022
Even Arizona Cardinals defensive end J.J. Watt took to Twitter to criticize Amazon's lack of coverage.
Stop showing the replays. Please.

— JJ Watt (@JJWatt) September 30, 2022
Following Tagovailoa's injury, NFL fans were quick to criticize Amazon.
It's impossible to look at what just happened tonight and not consider what happened four days ago.

— Lindsay Jones (@bylindsayhjones) September 30, 2022
Tua didn't need to play on Thursday.

Amazon didn't need to zoom in and replay it in slow motion.

Just an amazing amount of insensitivity from so many people.

— RJ Ochoa (@rjochoa) September 30, 2022
Amazon just did an entire halftime segment on Tua without mentioning that Tua was tested for a concussion 4 days ago or that the NFLPA requested an investigation.

— Gregg Rosenthal (@greggrosenthal) September 30, 2022
Also STOP showing the replay Amazon. And STOP showing him lying there on the ground — this doesn't need to be re-aired throughout the game either, nor should it be. https://t.co/AhOIxuXJ3W

— Jordan Schultz (@Schultz_Report) September 30, 2022
I'm mostly a Neanderthal when it comes to my football violence but Amazon for sure didn't need to keep running that fingers replay

— Eddie Gonzalez (@bansky) September 30, 2022
While Miami's handling of Tua's injury from last week will deservedly be scrutinized after the game, media columnists should also scrutinize Amazon's egregious showings of this replay tonight.

— Coley Harvey (@ColeyHarvey) September 30, 2022
Amazon should be ashamed with how they just handled the replay of that injury

— Jason Willis (@_JasonWillis) September 30, 2022
If it's serious fire McDaniel and the GM. Inexcusable that he was out there.

— CO (@CommenterOnline) September 30, 2022
Amazon, the NFL, and the TNF camera/replay crew should be ashamed of themselves. I've got many more thoughts, but I'm not going to say them. No one wants to watch a replay of that 5 or 6 times. We don't need a replay @NFLonPrime

— Joe Riechers (@JAR_MAN98) September 30, 2022
Yeah Amazon I could do without the 4K replay of Tuas awful spinal/neurological injury.

— Dain C (@DCB_KCK) September 30, 2022
Horrible, horrible stuff from the Amazon production crew with that prolonged shot of Tua in physical distress on the ground. And then they showed it again????

— Aram Leighton (@AramLeighton8) September 30, 2022
I've worked in the trucks and NBC had an adamant rule of not showing horrid injuries, not sure what Amazon was thinking with that. completely unnecessary.

— Jamie Lynch (@jelynchjr) September 30, 2022
Amazon's broadcast really didn't need to show that injury more than once, if that.

— William McFadden (@willmcfadden) September 30, 2022
The @MiamiDolphins just failed Tua. How could you let him on the field after last week? Especially on short week. Shame on everyone involved. And shame on @amazon for continually showing it.

— Justin Pugh (@JustinPugh) September 30, 2022
About
Tua Tagovailoa
No. 1 – 

Miami Dolphins

Position:
Quarterback
Personal information
Born:
March 2, 1998
Ewa Beach, Hawaii
Height:
6 ft 1 in (1.85 m)
Weight:
217 lb (98 kg)
Career information
High school:
Saint Louis School (Honolulu, Hawaii)
College:
Alabama (2017–2019)
NFL Draft:
2020 / Round: 1 / Pick: 5
Career history
Roster status:
Active
Career highlights and awards

CFP national champion (2017)
CFP National Championship Offensive MVP (2017)
Maxwell Award (2018)
Walter Camp Award (2018)
Sporting News College Football Player of the Year (2018)
SEC Offensive Player of the Year (2018)
Consensus All-American (2018)
First-team All-SEC (2018)
Second-team All-SEC (2019)

Career NFL statistics as of Week 4, 2022

| | |
| --- | --- |
| Passing attempts: | 793 |
| Passing completions: | 529 |
| Completion percentage: | 66.7% |
| TD–INT: | 35–18 |
| Passing yards: | 5,502 |
| Passer rating: | 91.8 |
| Rushing yards: | 238 |
| Rushing touchdowns: | 6 |