For a time, it seemed like we had broken the video game adaptation curse, thanks in part to Netflix. With the arrival of Netflix's new live-action Resident Evil show, we appear to be back in coinflip territory, with a deeply strange offering that I'm having trouble processing after binging it in one day.
Netflix's Resident Evil Show Is A Surreal Fever Dream That Defies Classification
The show chose to split the timeline from the beginning. In 2036, we meet Jade, an apocalypse survivor who is researching the behavior of "zeroes" (zombies) in order to learn more about them. Then we flash forward to 2022, when a 14-year-old Jade arrives in New Raccoon City, South Africa, with her sister Billie and father Albert Wesker.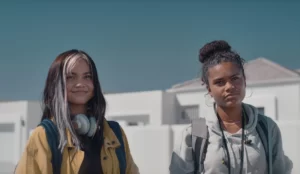 First and foremost, I despise this timeline split, even though I understand why it was implemented. If the show had solely focused on the "origin of the outbreak" plotline with the teens, there would have been zero zombies in a Resident Evil show. Can't do that, so we need this future storyline in which Jade just moves from one dangerous location to another so we can get our fill of zeroes, lickers, and giant, T-virus infected animals. This plot feels like a a sub-par variant of all the schlocky Milla Jovovich movies, and it doesn't become remotely interesting until the very end.
Meanwhile, the "flashback" timeline is essentially the main one, and it is strange on multiple levels. The tone of this show is all over the place, with pop culture references like Elon Musk, Spongebob Squarepants, and, uh, Zootopia porn intertwined. T-virus is compared to COVID several times.
Fortunately, the 2022 story gives us the show's best asset, Lance Reddick's Albert Wesker. He's great as Wesker in the first part of the show, but after a slow plot twist, he really widens his spectrum and answers the questions that Resident Evil fans had about why this version of the character exists.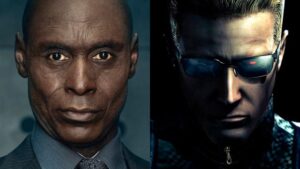 By the end, I had grown to like the main villain, Evelyn Marcus, who was played by Paola Nez with an unhinged glee that I wished the rest of the series portrayed. To me, she feels like the most game-true character, lest we forget how great most of the mainline Resident Evil games actually are.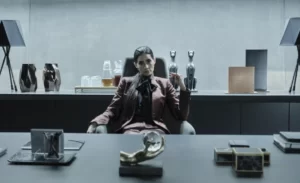 One major issue with Resident Evil is the ending. Without going into spoilers, you might expect the past and future storylines to converge, but the series ends with a clear indication that both of these separate time tracks will continue. It renders watching everything that has come before somewhat pointless.
I can't say this is a good show. I'm also hesitant to call this a "so bad it's good" show because, while it has those moments, there's so much filler in these eight hour-long episodes that it's more exhausting than anything else. While I appreciate the idea of a non-game storyline, I believe there must have been better options. We'll see how things play out in the show's ostensibly inevitable second season.
Resident Evil (TV series) Wiki
Resident Evil
Genre

Action horror
Biopunk
Science fiction
Zombie apocalypse

Based on
Resident Evil
by Capcom
Developed by
Andrew Dabb
Starring

Ella Balinska
Tamara Smart
Siena Agudong
Adeline Rudolph
Paola Núñez
Lance Reddick

Composer
Grégory Reveret
Country of origin
United States
Original language
English
No. of seasons
1
No. of episodes
8
Production
Executive producers

Andrew Dabb
Mary Leah Sutton
Oliver Berben
Robert Kulzer
Bronwen Hughes

Producer
Martin Moszkowicz
Production location
South Africa
Camera setup
Single-camera
Running time
46–63 minutes
Production companies

Amalgamated Nonsense
Constantin Television
Moonlighting Films

Distributor
Netflix Streaming Services
Release
Original network
Netflix
Original release
July 14, 2022