The stunning Maisie Smith came to Instagram in order to demonstrate to her admirers the natural beauty that she possesses.
Maisie Smith poses for a revealing photo in which she is dripping in perspiration after a hard exercise at the gym
Maisie Smith, formerly of EastEnders and currently of Strictly Come Dancing, recently flaunted her natural beauty in a series of social media posts in which she posed in a tight black gym top.
She posed in a black long-sleeved workout top and her signature ponytail.
Despite being drenched in sweat from her intense workout, Maisie shared a photo of herself on Instagram with the caption "U know gyms hitting different when you go in with makeup on and leave without it"  to her 1M followers.
Last week, Maisie made her admirers go wild when she wore a skintight dress out in New York City.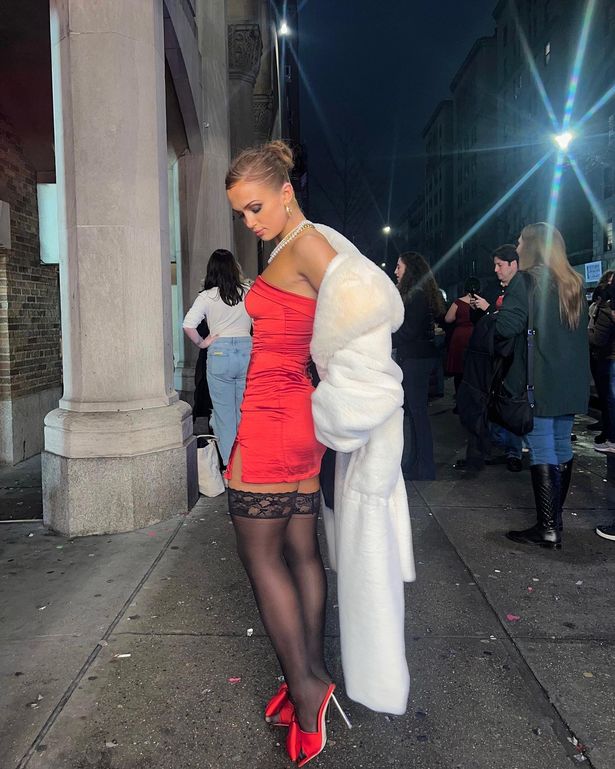 The ex-Strictly Come Dancing star, who is best known for her role as Tiffany Butcher on the BBC soap, looked absolutely stunning in the skintight red dress.
As Maisie stood for a series of jaw-dropping street photographs, the satin number cut at her thighs and accentuated her slender waist.
Maisie slung a white fur coat over her shoulders, accessorizing with pearls and a thick gold chain.
The soap star, wearing a full face of makeup and her hair pulled back into a tight bun, was off to see a musical on Broadway.
She wore black lace stockings and scarlet shoes with a big bow to make herself look taller.
The post had Maisie's fans utterly smitten, and they hurried to lavish praise on her.
Another person commented, "Wow wow wow, you look absolutely incredible," while a second said, "You are the definition of beauty."
Other people have said things like "Maisie you look amazing so beautiful" and "You look stunning and gorgeous legs."
It follows claims by Maisie that her relationship with Max George, 34, of the band The Wanted, is genuine despite their age difference.
Even though the couple has received hate mail from fans, the actress insists they are together forever.
"We're genuinely two best friends, in love and we're so happy. We still get negative comments.
In a recent interview, Maisie addressed the backlash, saying, "When you're in a new relationship, people have a lot to say. But we've been together a while now and we've proven our love isn't just for the cameras."
"Family and friends are so supportive and have never seen either of us so happy. I've never been in such a happy position.".