The 26-year-old villa veteran was undoubtedly the center of attention as she posed for photos in a Parisian street on her vacation.
In an effort to save space, Millie Court goes braless under an open shirt, which could be a fashion faux pas…
Millie Court, the former Love Island bombshell, has turned up the heat once again by posting a photo of herself seemingly braless.
Millie looked amazing in a mint green, diamond-encrusted, ultra-short outfit as she explored the chic streets of the French capital.
Millie's peppermint outfit consisted of shorts and a matching shirt, but she was missing a necklace as she ran amok in Paris at night.
Millie could be seen standing in the middle of the road, champagne glass in hand, smiling and laughing in one of the pictures she posted to her Instagram stories over the weekend.
Millie nearly committed a fashion faux pas when she raised her arm because she was not wearing a bra under her shirt.
She paired her pastel ensemble with baby pink accessories, including a handbag, heels, and a pair of sunglasses with thick pink frames.
In another photo that Millie posted, the reality TV starlet is seen walking away from the camera while giving the camera a seductive glance.
Millie had her blond hair up in a messy bun, and her side fringe was hanging down and framing her face.
She didn't hide her stunning features under layers of makeup, instead opting for a natural bronzed base and a nude lip.
It's comes after some of Millie Court's fans are questioning her choice of clothing after she stunned them with a stunning photo of her wearing a sheer corset.
Millie was sitting back with a milkshake from Five Guys in hand, posting furiously about the place on social media. She was seen donning a very revealing sheer corset top and grey cargo pants.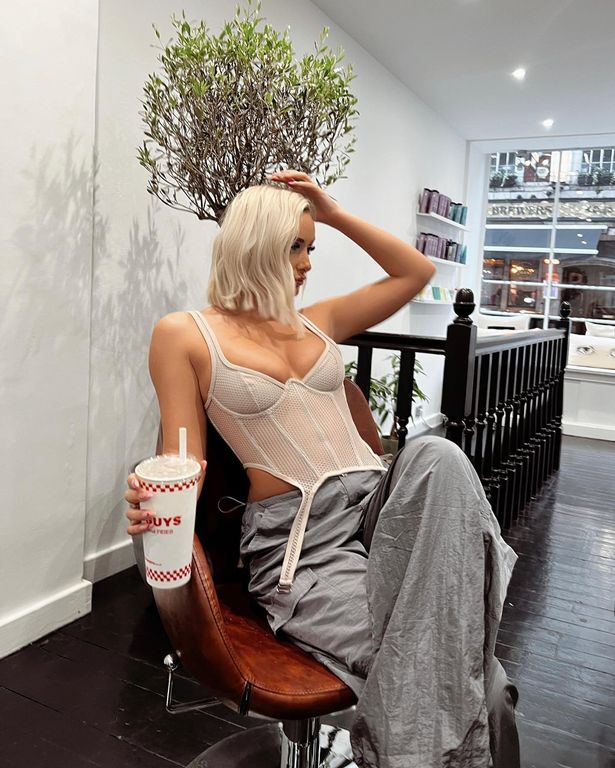 Blonde bombshell sat back in the chair, exposing her well-toned body, and fans went crazy.
The extremely see-through corset she wore showed off the boning that defined her curves, and the suspender straps dangled over and rested on top of her thighs.
The corset was a sheer light blush color, exposing Millie's skin and making her belly button visible.