Love Island star Olivia Hawkins debuts a new beauty routine and a brownie batter—glossy, chocolate brown—hair color that makes her resemble Kylie Jenner.
Olivia Hawkins of Love Island unveils a Kylie Jenner-like hairstyle.
We've certainly missed the daily dose of beauty inspo we came to expect from the glamorous star ever since Olivia Hawkins was evicted from the Love Island villa more than two weeks ago. Since she left the villa, however, she has been keeping us up to date with regular Instagram posts.
Her most recent Stories feature the actress getting ready for last night's London premiere of "Marlowe" at Vue.
Olivia dazzled everyone with her new, possibly cosmetically enhanced, appearance. Her neatly gathered ponytail had disappeared, replaced by a sleek cut with tucked-back fringe. The rest of her hair cascaded in soft waves down her back.
It's also worth noting that Olivia's hair, which is typically a medium brunette, appears to be much darker than usual, leading us to speculate that she may have recently visited a hair salon.
Her previously glossy locks have taken on new depth as a result of the dye job. Experts have dubbed this particular shade of brown, which has the appearance of rich, silky batter, a "brownie batter" brunette.
Liv updated her beauty look for the event and posted pictures of her getting ready, including ones of her having highlighter applied to her chest by her make-up artist.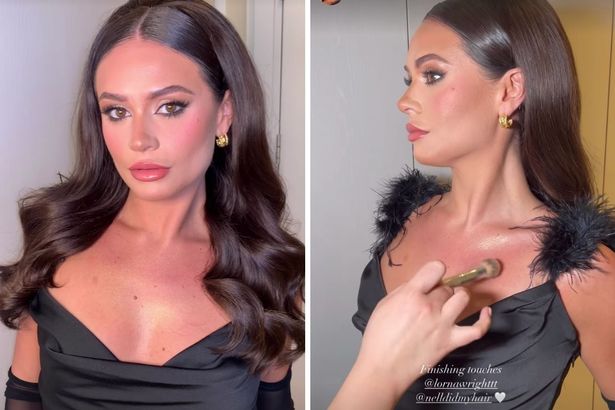 She also thanked her "glam team" for the outfit, mentioning that make-up artist Lorna Wright and hairstylist Nell were responsible for the look.
You could be forgiven for mistaking Liv for Kylie Jenner in these photos, what with her new dark hair and unusually heavy makeup.
We can't help but think that Liv took some cues from Kylie, the undisputed queen of contour, fluttery lashes, and a neutral lip, when putting together her red carpet ensemble.
Liv has been likened to famous people before. The internet was ablaze with comparisons between Liv and fellow actress Michelle Keegan as soon as it was announced that the actress was heading into the Love Island villa back in January.
Because of their striking resemblance, the Love Islander Liv is sometimes hired to act as a body double for the Brassic star Michelle. This certainly deserves to be noted.
Twitter users voiced their disapproval of Liv's hairstyle during the show, prompting the star to make a change.
READ MORE :