Malin Andersson, of Love Island, is standing up to trolls in her latest Instagram post, in which she poses in a pair of white knickers with her arm covering her chest.
Love Island's Malin Andersson post topless and sends a defiant message to trolls
The 30-year-old ex-Love Island star posted a steamy photo of herself posing in red-flower-adorned white lingerie on Instagram.
She crossed her arm over her chest and flashed her underboob to emphasize her incredible curves.
Malin posed for the mirror selfie in her bedroom, her damp brunette hair styled in loose waves that cascaded over her shoulders.
With no makeup on, she flaunted her natural beauty and revealed in the caption that she had been trolled for her lingerie photos.
Malin responded to the trolls by saying that she enjoys being able to do whatever she pleases and that she shared the photo to demonstrate her "love" for herself.
What she wrote was as follows: 'I sometimes get trolls saying I'm always in my underwear.
'Here I am. Minus a bra. In all ma glory. Loving myself. Doing what I want. Because I can. Being a mother, but also Malin.
'Being single cos I know I deserve more. Letting my skin glow cos I don't need to constantly wear makeup.
'Don't you just love doing what ya want?'
The reality star has previously discussed her recent health and fitness regime, as well as the importance of "self-love," and she has been open about her weight loss journey.
Malin took to Instagram in just her underwear to promote a positive message and display her "wonderful stretch marks."
She wrote a poem to her 712,000 followers in which she discussed her feelings toward her physical appearance.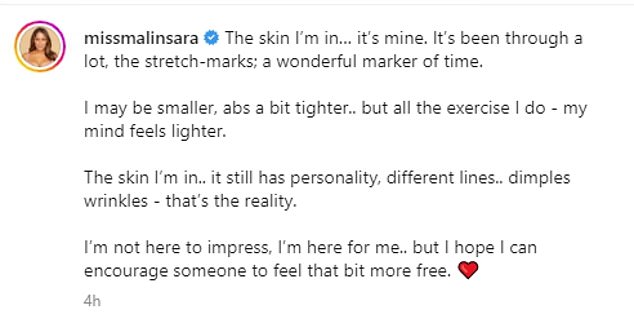 She penned: 'The skin I'm in… it's mine. It's been through a lot, the stretch-marks; a wonderful marker of time.
'I may be smaller, abs a bit tighter.. but all the exercise I do – my mind feels lighter.
'The skin I'm in.. it still has personality, different lines.. dimples wrinkles – that's the reality.
'I'm not here to impress, I'm here for me.. but I hope I can encourage someone to feel that bit more free.'
Malin has revealed that when she started a new fitness routine, some of her fans were not pleased.
The attractive woman shared a lengthy post in which she responded to haters who had mocked her for her weight loss after she adopted a "healthier lifestyle."
This is what she put in her writing: 'Let me note losing weight came with me opting for healthier lifestyle choices over a year long.
'Now I've always been an advocate for body positivity and that means embracing every part of you. Whatever size.
'But what I don't like seeing is people judging me for embarking on my fitness and health.. and saying I've lost weight and they don't like it.'
Malin shared her agonizing story of prenatal and postpartum depression last month.
The brave revelation that the influencer's relationship with her daughter's father Jared had broken down was prompted by the influencer's admission that she had suffered from "bad suicidal thoughts" at her lowest point.
She had 'bitter sweet' pregnancy with Xaya, despite suffering from post-traumatic stress disorder and depression following the 2019 loss of her daughter Consy.
Malin posted a photo collage and an essay-length caption to Instagram documenting her pregnancy.
She began: 'Hey everyone… I want to talk about a period of my life I haven't delved into too much.. I stayed quiet and had a lot of help from family and my closest & I hid a lot on social media.
'Jared was an absolute saving grace and it's one of the main reasons we broke up because it got too much for both of us and I needed to heal and get better mentally.'
Malin has recently shared a photo of herself on Instagram in which she is embracing her "stretch marks," which she calls a "wonderful marker of time."
The reality star stunned in her underwear for the camera in an unfiltered post she shared on Friday afternoon with her 714,000 followers.
Malin, who appeared on the second season of the popular ITV2 dating reality show in 2016, stripped down to her underwear to talk about her workout routine and emphasize that she is "not here to impress."