She never skips a week without posting a new sexy picture to her legion of Instagram followers.
For Paris Fashion Week, Kylie Jenner turned up the heat by posting a photo of herself in skintight latex underwear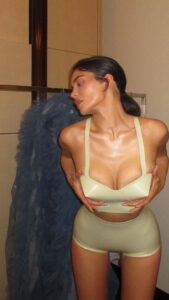 Kylie Jenner has a history of posting provocative photos online, and on Monday (January 23), she did it again by channeling her inner Madonna at Paris Fashion Week.
Although the 25-year-old beauty mogul's 379 million followers regularly swoon over her photos, her most recent has clearly struck a chord, as fans were quick to comment and like the images after they were posted.
The dark-haired beauty posted a pair of photos to her Instagram Story in which she flaunted her incredible figure in a skimpy set of nude underwear.
The mother-of-two was photographed wearing the latex set, complete with a classic cone-shaped bra, as she posed cheekily for the sultry photo in the dressing room.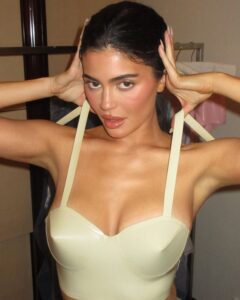 As she flaunted her famous body online, her tan probably looked like it was made of gold against her cream underwear.
The star of Keeping Up with the Kardashians was also seen wearing a light blue silk minidress with an oversized blue coat with dramatic tassel trim.
She glammed up her look with a full face of makeup that highlighted her dewy complexion and a pair of silver high heels with a camel toe design.
Kylie wrote in the caption, " "Gorgeous show @maisonmargiela love you guyssssss"
Her devoted following quickly began lavishing her with praise.
A commenter wrote: "You are wearing everything like a queen!!!!!!" as another echoed: "You look fantastic [three white heart emojis]."
Third person added: "No one does it better [three fire emojis]" while another added: "Lookin sexy [fire emoji]."
It follows the successful businesswoman's announcement of her youngest son's name and a slew of sweet photos of the family on social media.
Kylie and her boyfriend, rapper Travis Scott, have revealed that they have renamed their son from Wolf to Aire.