Kylie Jenner's recent Instagram post, a picture of herself sitting nude in the shower, sent chills down fans' spines on Sunday night.
Kylie Jenner shocks the internet by posting a series of images of herself in which she poses nude in the shower, with only a bouquet of flowers for cover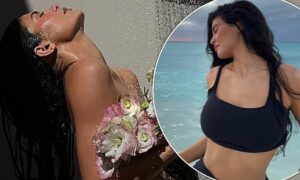 The 25-year-old beauty industry mogul took a shower outside, only partially covering herself with two bouquets of flowers.
During the steamy photo shoot, the mother of two flung her head back as she stood under the shower's water source, which she then uploaded and shared with her millions of fans.
One of the jaw-dropping photos featured her posing by the ocean in a black crop top and leggings while on vacation.
Likely photographed during the Kardashians star's recent vacation to the Turks and Caicos Islands, where the picture-perfect sunset was captured.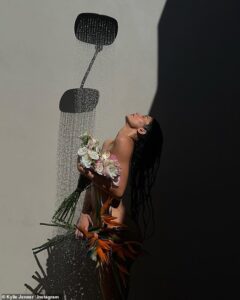 She also posed for a mirror selfie while trying on a plunging PVC bodysuit, which showed off her big assets.
Kylie also showed off a backless top in another photo, turning to show off the slinky piece she wore with red silk pants.
The photo was taken on Friday on board her personal 'Kylie Air' jet.
In other photos, Kylie gave her model sister Kendall a run for her money while wearing a succession of neutral-toned sequin tops.
Last week, the mother was spotted doting on her newborn son Aire, and now these photos have surfaced.
After celebrating her son's first birthday last week, the mother and son posed for a touching video in which they adorably looked into the camera while she kissed him.
Another video shows her swaying and dancing with the youngster to Stephen Sanchez's "Until I found you."
The beauty mogul's two children, Stormi (who turned five on February 1) and Aire (who turned one on February 2), recently celebrated their birthdays, prompting the adorable videos.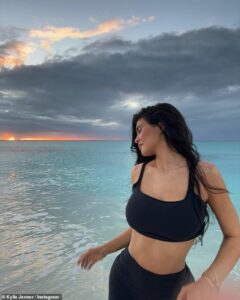 The reality actress and the Sicko Mode rapper, both 30, have joint custody of their children after their January breakup.
The youngest Kardashian/Jenner sister seemed to be in a great mood, as she was overheard singing to herself while holding baby Aire.
Despite her recent split from Travis, the celebrity made sure that both Stormi and Aire's birthdays were memorable and special.
The Kylie Cosmetics creator spared no money for her son's extravagant first birthday party, which included a gigantic inflatable gray 'Astroworld' tunnel of his skull.
Stormi's dad, Travis, was the inspiration for both the tunnel and the inflatable head she wore to celebrate her first birthday.
It was reported in early January that Kylie and Travis had broken up again after getting back together in 2020.
Us Weekly was told by an insider that "Kylie and Travis are off again," despite the fact that the couple "were meant to spend the Christmas together."
Us Weekly was told by a source that despite their frequent on/off relationship, the couple is always friendly and makes terrific co-parents.
Kylie has been posting a slew of new sexy photos to her social media after the breakup.