Chris Brown apparently wanted to congratulate Rihanna on her mind-blowing Super Bowl performance by posting a story on Instagram with a love heart and a prayer emoji.
Chris Brown updates his Instagram while Rihanna performs at the Super Bowl halftime show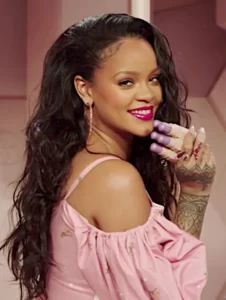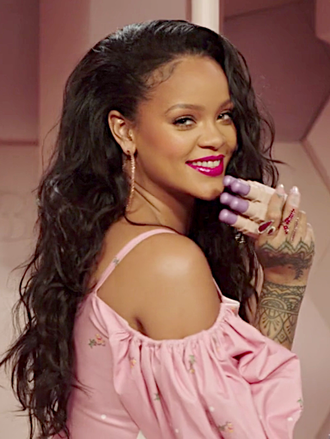 A few hours after the Fenty Beauty founder performed a decades-spanning medley of her hits and announced she is expecting her second child, the "Go Crazy" singer took to Instagram Stories.
Brown allegedly left her'spitting blood' in an assault in 2009, putting a damper on their infamous relationship from more than a decade ago.
To avoid having to perform at that year's Grammys, he admitted to beating Rihanna and pled guilty to felony assault.
Despite their history together, Brown has consistently shown public support for Rihanna, who was the talk of the halftime show in Arizona on Sunday night.
The 33-year-old singer shared a story on his social media accounts, writing 'Go girl' alongside a red heart and a prayer emoji.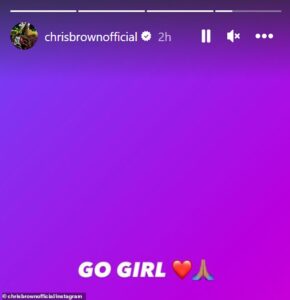 Fans with keen eyesight noticed that he may have been alluding to Rihanna's show-stopping scarlet outfit when he used the red emoji.
The rapper's 2017 documentary Chris Brown: Welcome To My Life details how things went downhill after he admitted to having a sexual relationship with a former employee.
Chris said the 34-year-old singer from Barbados was taken aback by the news, especially since he had previously told her they were never romantically involved, which he said led to a violent escalation in their relationship.
Chris spoke frankly about the incident that made headlines around the world, revealing: 'She hated me. After that, I tried everything. She didn't care, she just didn't trust me after that.
'From there, it just went downhill because it would be fights, it would be verbal fights, physical fights as well. Mutual sides, it is the first time I get to say anything.'
He continued: 'I still love Rihanna, but I'm just going to be honest – we would fight each other, she would hit me, I would hit her, but it never was OK. It was always a point to where we talk about it like, 'What the f**k are we doing?"
In addition, the Forever singer said: 'If I go on stage, I got a scratch on my face, and I've got to explain it, like 'Oh I fell', or if you got a scar or a bruise, you got to put make up on.
'Sh*t, I'm not ever trying to put my hands on any female,' Chris continued. 'I felt like a f**king monster,'
The singer has previously posted an Instagram story with no explanation in honor of an ex-girlfriend.
In 2022, after she had the baby, he sent a message of congratulations, complete with an emoji of a pregnant woman, crossed fingers, and a heart.
Brown has made it a habit over the years to use social media to wish his ex-girlfriend a happy birthday on her special day.
Chris and Rihanna got back together and went on a short-lived date in 2012, but they broke up again the following year.