Kylie Jenner and Travis Scott ditched their baby's original name last year and eventually settled on Aire as his new moniker…
Kylie Jenner and boyfriend Travis Scott have officially changed their son's name to 'Aire'
TMZ reports that the former couple wants their son's name changed from Wolfe Jacques Webster to Aire Webster.
The news organization claims Kylie and Travis have mutually agreed to the name change and signed the petition.
In the legal docs, the duo explained that they 'regret the initial name choice of Wolf Jacques Webster' and that Aire is a 'better fit' for their baby.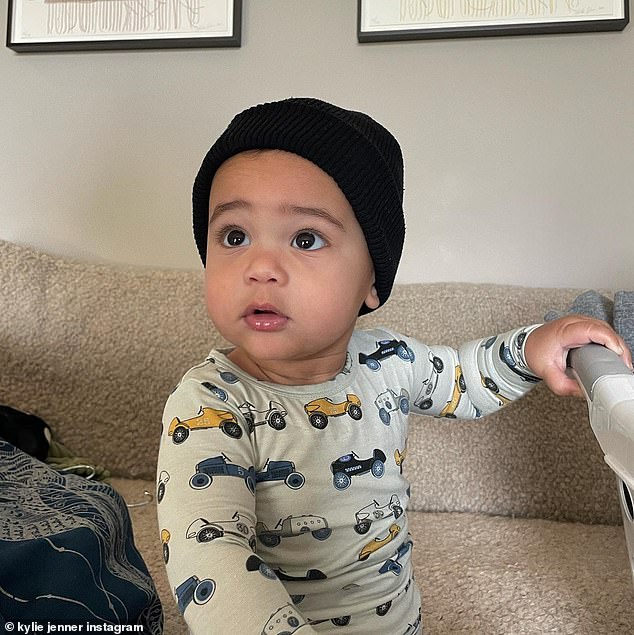 'Now that Petitioners have had the chance to spend time with their baby, they believe the name Aire Webster is a better fit.'
Aire was born on February 2, 2022 and is the second child of Kylie Jenner and Travis Scott.
Kylie and Travis's on-and-off relationship began in 2017 when they met at the Coachella Valley Music and Arts Festival, where the rapper was making his festival debut.
Their daughter Stormi was born on February 1, 2018, less than a year later.
They first broke up in October 2019, but they were still committed to raising Stormi together.
Kylie later called the hitmaker her "best friend" in a 2020 interview with Harper's Bazaar.
After getting back in touch during the COVID-19 quarantine, the two began dating again in May of 2021.
In 2020, there were rumors that they reconciled; however, Kylie's nephew Mason Disick put an end to the rumors during an Instagram Live broadcast.
Kylie and Travis announced the pregnancy of their second child in September 2021.
She did this by posting a video on YouTube in which she showed off her growing baby bump and also showed the moment they learned she was expecting.
Kylie also invited her followers to her first ultrasound appointment, where she revealed a sneak peek of her unborn child.
Unlike her discreet pregnancy with Stormi, she began posting photos of her growing belly on Instagram.
Kylie announced via Instagram on February 6, 2022, that she had given birth to a son.
She wrote his birthdate, 2/2/22, in the post's caption, along with the blue heart that signified the gender of her second child.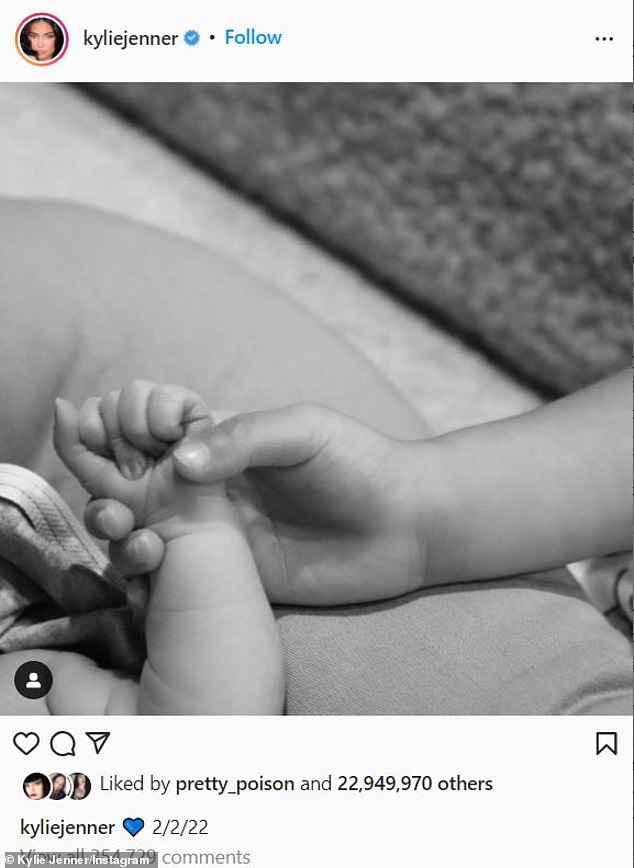 Kylie then revealed a few days later that they had settled on the name Wolf for their newborn son. However, a month and a half later, she shocked fans by saying they were dropping the name.
'FYI our [son's] name isn't Wolf anymore,' the Los Angeles-born makeup mogul wrote. 'We just didn't feel like it was him. Just wanted to share because I keep seeing Wolf everywhere.'
After several months passed without an announcement, rumors began to circulate that Kylie and Travis were "having trouble" deciding on a new name. When posting photos of their child on social media, they covered up their kid's face.
On the November season finale of The Kardashians, Kylie insisted that Wolf was still her son's name: 'My baby's name is still Wolf. I'll let you guys know when I change it. Maybe I'll tell you guys in Season 3,'
It wasn't until January 2023 that the Kylie Baby founder showed the world her son's face for the first time, along with his new name.
Kylie shared a series of photographs on Instagram with the simple caption, "Aire," to let her 378 million followers and fans know that her son's name had changed.
Read also :