In recent pictures, Kourtney Kardashian can be seen completely without pants. She used her social media posts about Super Bowl and snacking to promote her own company, Lemme.
Posing in nothing but an oversized hoodie, Kourtney Kardashian has just released a racy new photoshoot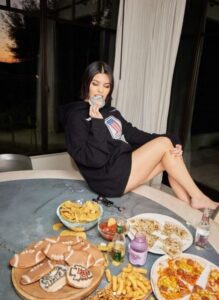 Kourtney posted a photo to Lemme's Instagram on Sunday, baring her legs and chest while wearing a Harley Davidson hoodie.
She plonked herself down at the table and munched on an NFL cookie.
There were many different kinds of snacks all around her, including chips, pizza, football-shaped cookies, french fries, salsa, and more.
The second image shows the Hulu actress perched atop her couch while drinking Lemme and munching on french fries.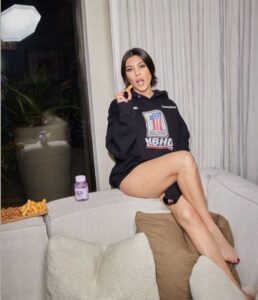 A Lemme bottle was the subject of the third and final picture, which also featured a spread of game day munchies.
The mother of three is promoting her company, but her audience may have thought she was referring to the Super Bowl.
Kourtney, seated on a pile of cushions and surrounded by snacks, put one hand between her legs and popped a crisp into her mouth.
The Kardashian sister wore a full face of glamorous smokey makeup and a sleek spiky bob haircut.
Kourtney's nose scrunched as she bit down on a slice of pizza for a game day snack in another stunning photo.
The Lemme wellness brand that Kourtney founded posted the photo and a comment about the big game.
They said: "Over 8 million pounds of tortilla chips and 13 million pizzas will be eaten on Super Bowl Sunday. But when our eyes say yes and our stomach says 'slow down' – Lemme Debloat arrives."
"Using two clinically-studied probiotics and a prebiotic, Debloat provided bloat relief after 1 hour based on a recent blind consumer study. Say yes to the nachos."
The comment section was flooded with fans of the Keeping Up with the Kardashians star praising her for her recent photoshoot.
Someone wrote: "Excellent marketing".
Someone else chimed in: "She's so beautiful."
People flocked to use words like "beautiful" and "hot" to describe her.
Kourtney is also preparing for Valentine's Day, she updated her Saturday post with a few saucy new photos of her in lingerie.
Kourtney uploaded a slideshow of recent photographs to her Instagram account. The TV star sat in front of the fireplace, his martini almost overflowing from a tiny, see-through red slip.
The post featured a photo of her wearing a skintight, figure-hugging dress in addition to the sexy lingerie cover photo.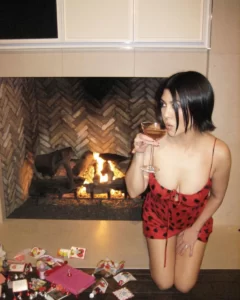 The Hulu star sat on the ground on her knees, wearing a red rose on her chest and a tight lace catsuit with a cutout over her stomach.
Kourtney ended by posting a photo of the early Valentine's Day card her kids had given her: "Happy V-Day, Love you, mom."