On Friday morning, Kim Kardashian updated her social media with a series of revealing bikini photos.
Kendall Jenner's photos of Kim Kardashian in a white bikini show off her curves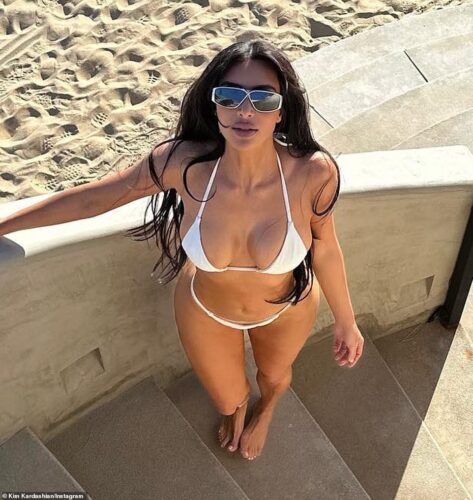 The 42-year-old reality TV star wore a two-piece swimsuit from her own line, SKIMS SWIM, that was extremely revealing thanks to its white string detailing.
The star of "Keeping Up With The Kardashians" was seen wearing white-framed sunglasses and letting her long black hair blow in the wind as she climbed a concrete staircase on the beach.
After releasing her highly anticipated second collection of SKIMS SWIM, Kim K has spent the past week promoting her new line.
The Selfish author wore a tiny swimsuit that flaunted her toned abs and thighs, making it seem like she was in the best shape of her life.
Sunglasses, a belly chain, and an anklet bracelet completed her stylish ensemble.
The mother of four revealed in the caption that her half-sister Kendall Jenner was the photographer.
Kim wrote: 'Long handed @kendalljenner on the lense,' alluding to recent complaints about how prominent Kendall's hand appears in photographs.
A set of concrete steps led up from a sandy beach with incised lines.
Plus, Kim posted an extremely vintage throwback photo of herself as a child in a park to her Insta Stories. She then penned, atop the picture, 'Same Baby K! Same!'
This follows allegations that Kim made an effort to copy Megan Fox's appearance.
Kim's face looked very different in the new SKIMS ad campaign. Her lips looked even fuller and her nose appeared smaller.
Fans, who have long suspected the model of having plastic surgery, flocked to the comments section to wonder what had changed about her appearance.
What they wrote was: '@kimkardashian can barely recognize you here. Still love you though! I love your brain the most xoxo!'; 'Looking 10 years younger with the dark hair'; 'Her face looks so different….'; '@meganfox is that you?'


The photos were uploaded to the SKIMS Instagram page with the following captions: 'Dressed to rest. Sexy, new silhouettes made from our comfy, coveted Cotton Jersey fabric drop tomorrow,' it read in the caption.
'Join the waitlist for early access to shop Cotton Sleep. @KimKardashian wears the Cotton Sleep Scoop Dress, size XS, in Onyx. Photo: @vitali_gelwich.'
In addition, she has posed in other pieces from the newest SKIMS collection.
She modeled several of the company's newest products on Wednesday, flaunting her toned body in the process.
During the photo shoot, the businesswoman also showed off her curvy thighs by wearing a pair of drawstring shorts.
In the second part of the shoot, the ex-wife of Kanye West changed into a black mock neck t-shirt that showed off her toned stomach.
She matched her top with a pair of high-waisted pants that exposed nearly all of her toned hips.
Kardashian also posted multiple videos to her Instagram Story showcasing both of her outfits.
Since the rebranding, the model has been featured in multiple ad campaigns for her company.
In addition to herself, her sisters Khloe and Kourtney and half-sister Kendall have all been models for SKIMS campaigns.
In a past interview with Marie Claire, Kardashian mentioned her involvement in the creation of her company's products.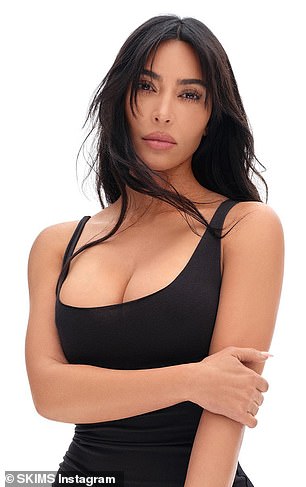 'I have to figure out how thick I want the fabric to be, how stretchy it is, how sheer I want [the material to be], whether I want a high-waist [style] or not.
'Our material is also all custom woven just for us,' she said.
The social media star also said that she preferred to take things into her own hands when establishing her brand.
'I have learned from my own experience that if you want to get things done, you have to do it yourself,' she stated.