Kevin Durant (born September 29, 1988), also known by his initials KD, is an American professional basketball player for the NBA's Phoenix Suns (NBA).
Latest Injury Reports for Suns star Kevin Durant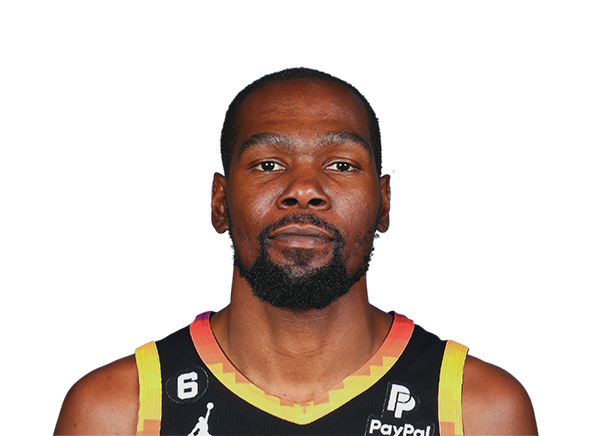 Injury:
Injury status: Active
Updated (May. 11): 
Kevin Durant is ready for Thursday's game against the Nuggets.
Updated (Apr. 20): 
Kevin Durant has gradually regained his form, he finished with 25 points (10-19 FG, 0-4 3Pt, 5-6 FT), six rebounds, five assists, two blocks, and one steal in 44 minutes on Tuesday.
Durant's shot was noticeably more confident in Game 2's victory.
Updated (Apr. 18): 
Kevin Durant is ready for Tuesday's game against the Clippers.
Updated (Apr. 16): 
Kevin Durant (ankle) isn't on the injury report for Sunday's Game 1 of the Western Conference First Round versus the Clippers.
Updated (Apr. 09): 
Kevin Durant (ankle) is out for Sunday's regular-season finale against the Clippers.
UPDATE (Apr. 07):
The Phoenix Suns won their season-best seventh game in a row, holding off the short-handed Denver Nuggets 119-115 on Thursday night.
Kevin Durant led the Suns with 29 points and seven rebounds in 40 minutes, as the Suns improved to 8-0 with the 13-time All-Star in the lineup.
It should come as no surprise that Durant will continue lead the Suns against the mighty Lakers tonight.
UPDATE (Apr. 04):
The Suns showed their strength on the road against the Thunder on Sunday, winning 128-118 behind 35 points from Kevin Durant.
Durant scored 30 points for the third time in a Suns uniform and for the second game in a row.
Durant, who missed three weeks due to an ankle sprain, looked rusty in his comeback last Wednesday, but has since regained his top form and is primed for a strong end to the regular season and the Suns' upcoming postseason run.
UPDATE (Mar. 31):
Kevin Durant will play on Friday's game against the Nuggets.
UPDATE (Mar. 29):
When the Suns host the Wolves, Kevin Durant will make his return.
On Wednesday against the visiting Minnesota Timberwolves, the Phoenix Suns should have their star player, Kevin Durant, back in the lineup.
UPDATE (Mar. 27):
There is some uncertainty around Kevin Durant's availability for Monday's game against the Jazz.
UPDATE (Mar. 25):
With a potential return on Saturday against the Philadelphia 76ers, Durant (ankle) could play.
Durant has missed the last seven games after twisting his left ankle during pregame warmups on March 8.
Charania reports that the great forward will miss at least three more contests due to injury. Durant will play in his third game since being sick three weeks and twenty days ago on Wednesday.
In only three games played for Phoenix, Durant has been a major contributor. In his limited time with the Suns, he has averaged 26.7 points, 7.3 rebounds, 3.7 assists, and 1.3 blocks per game.