Kevin Durant (born September 29, 1988), also known by his initials KD, is an American professional basketball player for the NBA's Phoenix Suns (NBA).
Latest Injury Reports for Suns star Kevin Durant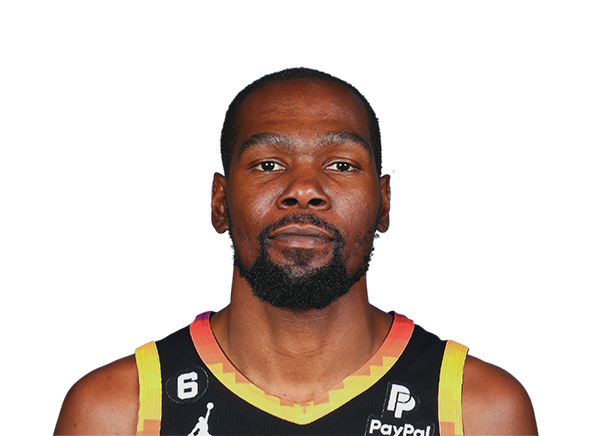 Injury: Ankle
Injury status: Expected to be out until at least Mar. 31
UPDATE (Mar. 14):
According to a press release from the Suns, Kevin Durant's (ankle) status will be reassessed in three weeks.
Before now, it was reported by Shams Charania of The Athletic that Durant would be reevaluated in two weeks. In any case, the Suns have issued an official update saying that the superstar forward will be out for at least three weeks.
If Durant is immediately cleared after his reevaluation on March 30, he could play in the Suns' final six games.
UPDATE (Mar. 11):
The Phoenix Suns' midseason acquisition Kevin Durant will miss the rest of the month due to an ankle injury that prevented him from making his much-anticipated home debut on Wednesday.
This means that Durant will be sitting on the bench for Saturday's Western Conference matchup between the Suns and the Sacramento Kings.
There has been speculation that Durant may not play again this season after the Suns announced Thursday that he will be re-evaluated in three weeks. On April 9th, the Suns will play their last regular season game against the Clippers.
UPDATE (Mar. 05):
Kevin Durant is ready on Sunday's game against the Mavericks.
Update (Mar. 03): 
Kevin Durant had 23 points (10-15 FG, 2-4 3Pt, 1-1 FT), six rebounds, two assists, and two blocks in 27 minutes during Wednesday's 105-91 win over the Hornets.
Durant played on the court for the first time in about seven weeks and for the first time as a Phoenix Sun. He looked at ease playing with his new teammates and put up a solid line in almost 27 minutes.
UPDATE (Feb. 26):
According to Shams Charania of The Athletic, Phoenix Suns star Kevin Durant (knee) plans to make his season debut on March 1 against the Charlotte Hornets.
KD will be out for both Friday's matchup with the Thunder and Sunday's matchup with the Bucks due to his MCL sprain, but he is close to making a comeback.
As Durant hasn't played since January 12th, his minutes will likely be limited in his return game, but he should be available for the fantasy playoffs.
If he does return, Chris Paul and Deandre Ayton will see their playing time and shot attempts reduced, while Josh Okogie and Torrey Craig will see theirs as well.