Kendall Jenner flaunted her toned tummy in a series of Instagram photos on Sunday.
Kendall Jenner ups the ante with a sultry lingerie shoot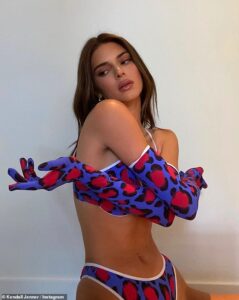 The model, 27, was dressed in a blue and red patterned underwear set with matching elbow-length gloves. As she posed for several sultry photos, her light brown hair was parted in the middle and brushed the top of her tanned back. She sat on the couch, one hand resting on her head. Her plump lips were lightly tinted pink.
Read more: Who are the Highest-Paid Models in the World?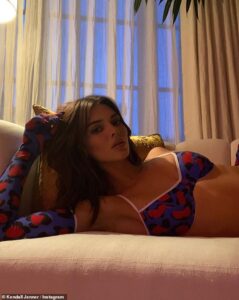 Kendall's social media post followed her lengthy winter vacation in Aspen, Colorado.
The founder of 818 Tequila recently rang in the New Year with Justin and Hailey Bieber during a snowy getaway to Aspen. Kylie Jenner and Stassie Karanikolaou were also present.
They all uploaded a slew of photos and videos to their social media accounts to commemorate special moments during the extravagant trip.
Kendall, who began horseback riding as a child, posted an Instagram photo series of herself riding a horse against a snowy backdrop.
Hailey's Instagram account was also filled with memorable moments, such as an adorable black and white photo of her posing for a picture with Justin near a slope while sitting on his lap.
Later that day, Hailey posted an Instagram photo series titled "cozy fuzzy things" to her 49.9 million followers.
The first photo showed the model with her back to the camera, displaying the colorful Pink Panther design on the back of her leather, cropped jacket.
Read also: Lucie Donlan of Love Island flaunts her washboard abs in a black crop top as she poses for hot Instagram photos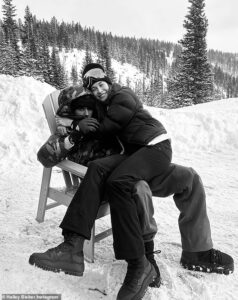 Hailey's head was slightly turned to look over her shoulder for the stylish pose, and she wore black sunglasses and eye-catching gold earrings. The model also shared a close-up photo and a video of herself wearing a 'fuzzy' red cap.
The beauty mogul also shared a photo of herself enjoying a delicious plate of creamy, freshly made pasta.