The "Kardashians" star has been accused of Photoshopping a picture she posted on Instagram on Saturday because of the size of her "wild" hands.
Fans who look closely have said that Kendall Jenner's latest Instagram post was badly photoshopped
Over the weekend, the tall brunette model posted a slew of photos to her social media accounts, including several shots of herself in a revealing black bikini.
The photos were stunning, but one in particular caught the attention of Kendall's fan.
In her skimpy swimwear, Kendall could be seen crouching on her tiptoes, her body turned toward the beautiful coastal landscape in front of her, and her eyes cast back toward the camera.
Kendall's fans were convinced she had photoshopped the image because of her very long-looking fingers, even though the picture showed off her pert bottom.
Although Kendall's naturally slim build and towering 5ft10″ height are undeniable, it appears that some of her fans are overlooking these facts.
One fan was quick to call attention to the perceived change by saying: "Babe you're amazing… but what in the world is going on with your hand in the 4th photo?"
Second author: "Edits gone wrong in the fourth pic."
Although her most recent upload was met with some backlash, she still received over five million likes from her dedicated fan base.
In the comments section, the reality star's fans expressed their appreciation for the post.
"You are perfect," Kris Jenner wrote.
As for Addison Rae, the actress added, "My favorite post of yours ever."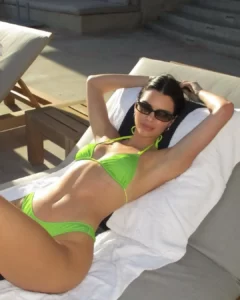 After posting a photo of her feet in a pair of black sandals, Kendall joked that she was going to "block all toe comments" because of their length.
She paired them with a maxi dress that featured a split down the middle and captioned the photo: "I'm blocking all toe comments."
In a 2015 interview with Elle, Kendall also talked about her digits.
When asked about her unusually long toes, she proudly told the magazine, "I have the longest toes in the world."
She said: "They're spider toes. They are. I have spider fingers, too!"