Katy Perry has experimented with her hairstyles throughout the years, trying everything from pixie cuts to red highlights.
Choose your favorite hairdo from Katie's look book down below if you're seeking to switch up your appearance this season and want some major inspiration from one of the most adaptable beauty icons in pop.
List 12 of Katy Perry's favorite hairstyles
Medium wavy purple hairstyle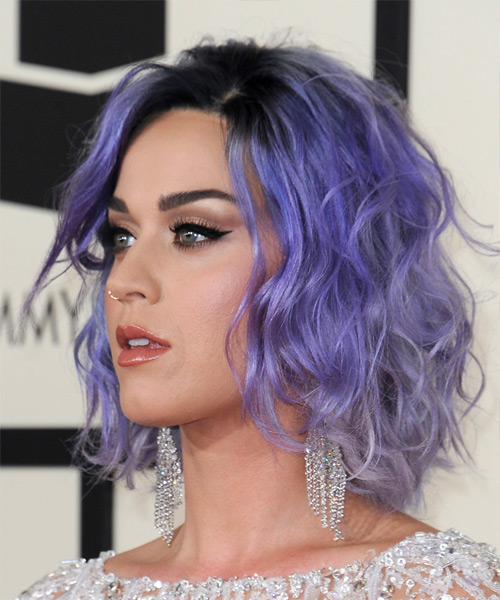 Katy Perry's hairdo isn't shockingly radical; in fact, it's a great haircut. However, all eyes are on her fluorescent hair. Katy isn't opting for a subdued lavender or a deep purple, but rather a vibrant electric violet.
Katy's overall image is one of confidence and coolness, and this outrageous hairstyle is just one part of it. Opinions on Katy's new purple hair?
Medium wavy black ash hairstyle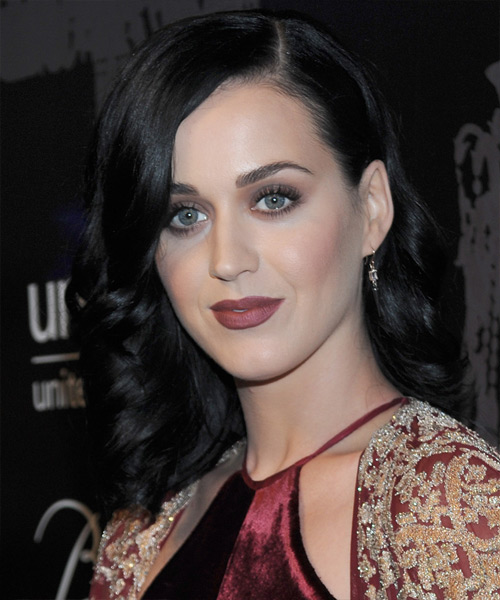 This formal style has long, glossy black locks that have been curled to create huge, eye-catching waves through the sides and back. The long face is complemented by the deep side part, which requires product for hold and shine.
Long straight black updo hairstyle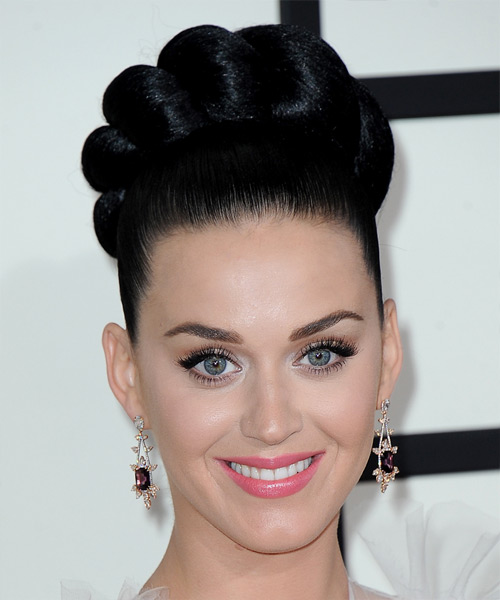 This show-stopping updo is the perfect way to frame a round face: glossy black tresses are done up, braided or twisted, and pinned to the crown. This elegant hairdo is perfect for formal events, and it requires a product with a strong hold to keep it in place all day long.
Medium straight black hairstyle with blunt cut bangs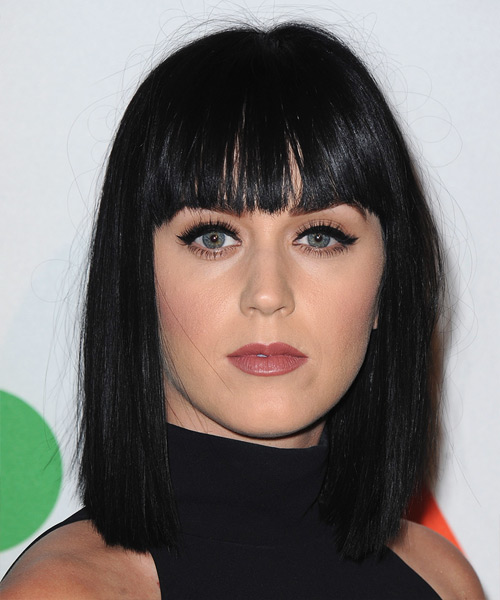 This sleek and uncomplicated black mane is what it's all about. In order to achieve a low-maintenance, straight look, the ends of the 'do are blunt-cut and then blow-waved.
The bangs are sleeked down, too, so they neatly frame the top of the face and cap off the stylish new style. Every 4 to 6 weeks, you should have a trim to avoid split ends.
Medium wavy light blonde bob haircut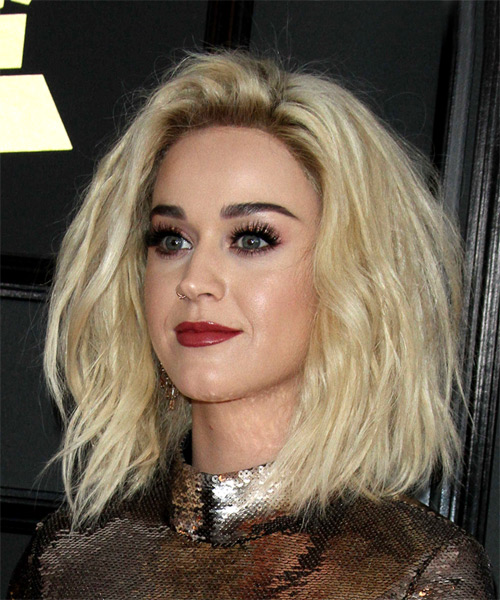 Katy Perry is stunning in a shoulder-grazing bob with layers all the way through and a teased style.
This blonde mane has been waved to provide texture and bounce all around, while the roots have been blow-dried for extra volume. The grown-out bangs are arranged to the side in a way that softens the face and beautifully rounds out the overall image.
Medium straight light platinum blonde bob haircut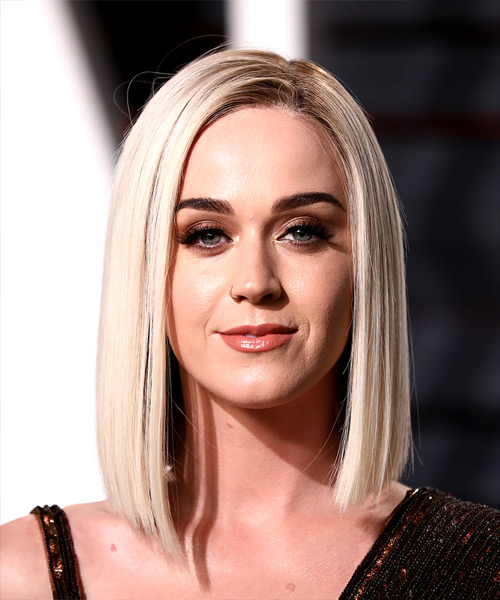 Katy Perry is picture perfect with her new stylish and timeless hairdo.
This bob gets a wonderful finish thanks to a blowout that smoothes the top and turns the ends under just a little. The worn-down, grown-out bangs beautifully frame the sides of the face and round off the style. Maintaining this cut requires frequent cuts.
Short straight light blonde and brunette two-tone asymmetrical hairstyle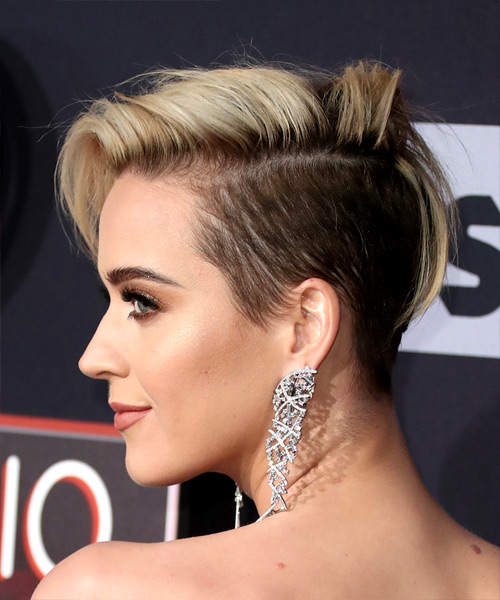 Katy Perry's new short hairstyle is really on-trend and stylish.
This short, sassy 'do is shaped and styled by lengthier top layers that are swept to one side. The back and sides are tapered into the skull. The front is flipped over and away from the forehead, which both softens the appearance of the face and magnificently rounds out the overall style.
To maintain this look, you'll need to use product and get frequent trims every 4 to 6 weeks.
Light blonde pixie haircut with razor cut bangs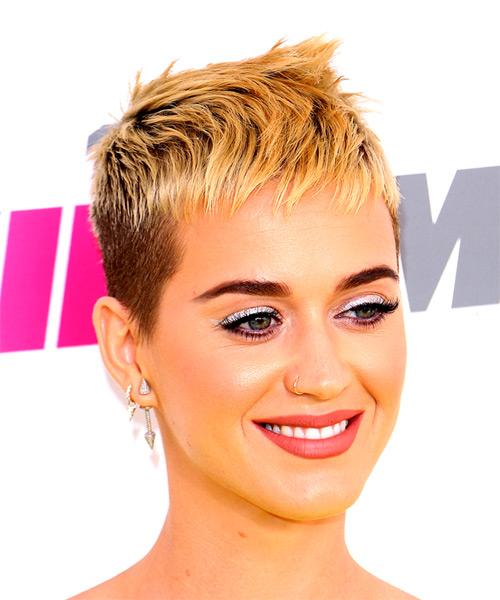 This short hairstyle is textured all over thanks to the tapered sides and back and the jagged top. Subtly sweeping the bangs to the side softens the face and is a fantastic finishing touch to this hairdo. Maintaining this form requires regular trims every 4 to 6 weeks.
Light platinum blonde pixie haircut with blunt cut bangs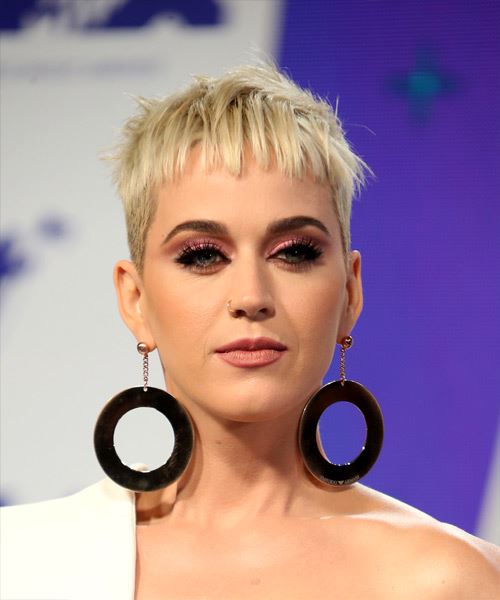 Katy Perry turns heads with her new, edgy pixie cut. This pixie has short, closely clipped sides and back, with a longer, jagged top for textural contrast. The swept-forward bangs complement the rest of the haircut and draw attention to the eyes. Maintaining this style requires regular trims every 3–4 weeks.
Short straight light golden blonde hairstyle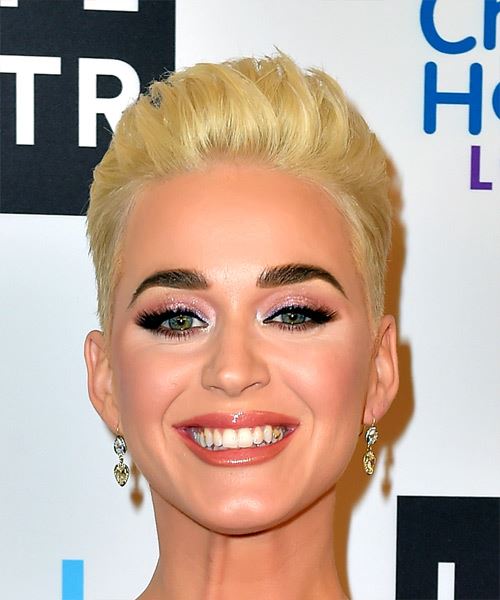 Katy Perry's signature blonde hair is swept up and behind her ears, with the top section backcombed and pushed up high for volume.
If your face is oval, this style will really make you stand out. This style may be replicated at home with the correct products and equipment.
Blonde pixie haircut with blunt cut bangs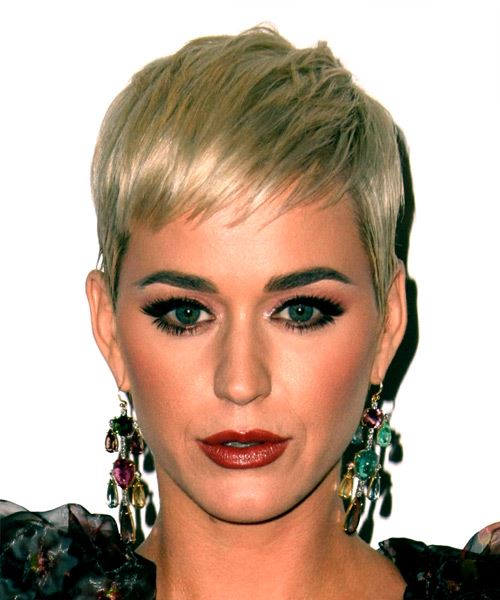 Katy Perry's new short hairstyle is perfect. Her short, side-swept bangs give her a lovely profile. While this sleek, straight hairdo will save you time in the morning, you will still need to apply products to keep the pieces in place and prevent any stray strands from spoiling your otherwise well-executed morning routine.
Medium straight light blonde bob haircut with side swept bangs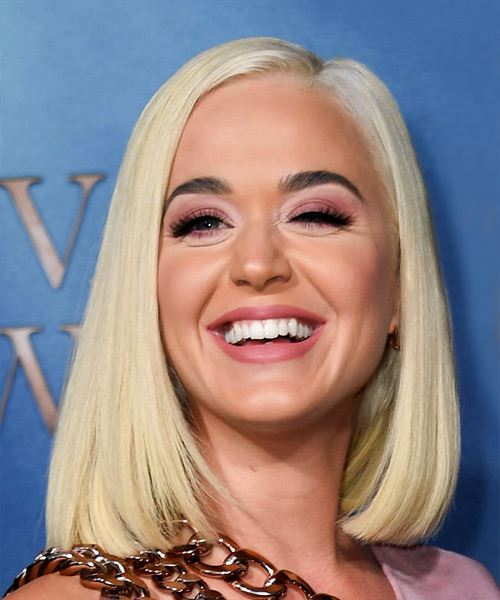 Katy Perry's bob cut is on point. This bob's blunt finish is one of its best features. It demonstrates confidence in your desires and the willingness to go after them. The blunt method also does a great job of highlighting your neck and face.
Maintaining the quality of your hair and the shape of your bob will require a trim around every four weeks.
RELATED: