According to an explosive open letter to Adidas executives, Kanye West used pornography to intimidate Adidas and Yeezy employees, including photos and videos of ex-wife Kim Kardashian.
Kanye West, the "porn addict," showed his Yeezy team explicit Kim Kardashian images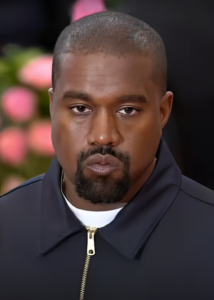 You can read also: Kady McDermott of Love Island shows off figure in red underwear
Former members of West's Yeezy fashion label also accuse Adidas executives of turning "their moral compass off" during the self-described porn addict's alleged spree of inappropriate behavior.
According to a Rolling Stone report, West culminated a "sexualized" environment in which pornography was a constant feature, and frequently made explicit remarks to female Yeezy and Adidas employees.
According to the report, West told a female Adidas employee in China,  "I want you to make me a shoe I can f*ck," and he regularly played porn videos to colleagues, including home-made videos of himself and former wife Kardashian.
Yeezy was a multibillion-dollar fashion collaboration between West and Adidas that ended in October after the musician went on a series of public anti-semantic rants.
Former Yeezy employees wrote an open letter to Adidas executives on Tuesday, accusing West of creating a 'toxic and chaotic' work environment, as well as a "very sick pattern of predacious behavior toward women," according to Rolling Stone.
The publishing also earned reports of incidents in which West appeared to use pornography to bully and intimidate employees, including instances in which he would play pornography during meetings.
"Steve Jobs or Elon Musk … they were responsible to shareholders; Kanye 100 percent owns his brands – he can do whatever he wants, and we're just there to serve at his pleasure," former Yeezy president Pete Fox told Rolling Stone.
West admitted to being a porn addict in 2019, saying, "For me, Playboy was my gateway into full on pornography addiction. My dad had a Playboy left out at age five and it's affected almost every choice I made for the rest of my life."
"From age five till now, having to kick the habit and it just presents itself in the open like it's OK and I stand up and say, 'No, it's not OK'."
West reportedly shared a porn video on his phone with Adidas executives in a video posted last month.
The rapper meets with Adidas executives whose faces are blurred out in the 30-minute video, titled Last Week.
West can be seen meeting in a plain room surrounded by men on stools, all of whom show up to be wearing Adidas sneakers and looking at something on his phone.
Eventually, one of the men inquires, "Is this a porn movie?" to which West responds, "Yeah."
Soon after, the executive tries to take Kanye's hand and goes on to tell him to "come on."
West may lose his billionaire status as a result of the termination of his Yeezy partnership, as well as being dropped by a number of other partners, including Gap and Balenciaga.
His contract with Adidas was worth approximately $1.5 billion per year, netting the star approximately $220 million per year.