The rapper has sparked outrage on the internet after publicly slamming his ex-wife and claiming she cheated on him with a Phoenix Suns basketball player.
Kanye West has publicly criticized his ex-wife once more
The accusation was made by the American rapper in a tweet on Friday (December 2).
Kanye tweeted a photo of basketball player Chris Paul, who plays for the Phoenix Suns, and claimed to have "caught this guy" with his ex-wife.
According to the rapper's tweet: "Let's break one last window before we get out here. I caught this guy with Kim Good night."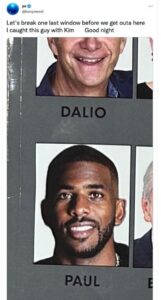 The tweet received thousands of retweets and likes almost immediately, with many followers leaving mixed reactions in the comments section.
One enraged fan captioned a photo of Kanye standing next to former German dictator Adolf Hitler in front of the Eiffel Tower, "Führers in Paris."
Other fans chastised him for publicly slamming his children's mother, with one writing: "Some things should be dealt with in private."
While another enraged fan wrote: "Kanye, please, this isn't fair on Kim. Think of the kids, Kanye. They'll be the only ones hurt in all this."
Kanye's shocking admission comes just days after the former married couple's divorce was finalized.
On Wednesday (November 30), it was determined that the parents will have joint custody with "equal access" to their four children, North, Saint, Chicago, and Psalm.
Kim, on the other hand, will receive £200,000 per month in child support from the rapper as the former couple has settled their child custody issues.
In addition, the Yeezy founder will be responsible for 50% of the children's educational expenses, including tuition and security costs.
Kim filed for divorce after seven years of marriage in February 2021.
The couple first married in May 2014, and after months of public attempts by Ye to win back his ex-wife, a judge declared Kim legally single in March 2022.