Jimmy Butler III (born September 14, 1989) is an American professional basketball player for the National Basketball Association's Miami Heat (NBA). He attended Tyler Junior College for one year before transferring to Marquette University.
Injury Reports Heat' Jimmy Butler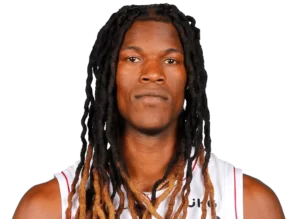 Injury:
Injury status: Active
UPDATE (Feb. 04):
Jimmy Butler is scheduled to suit up for the Heat against the Bucks tonight.
UPDATE (Feb. 02):
Butler finished Tuesday's 100-97 win over the Cavaliers with 23 points (6-16 FG, 1-4 3Pt, 10-15 FT), one rebound, five assists, one block, and three steals in 34 minutes.
Despite being listed as questionable with a right quadriceps contusion, Butler will play in his third straight game after being a late scratch with a lower back injury.
Butler led the team in scoring, free throw percentage, and assists on Tuesday's victorious team effort. In 12 games so far this season, Butler has recorded at least 20 points and five assists.
UPDATE (Jan. 31):
Butler is considered to have a "questionable" status for the game against the Cavaliers on Tuesday due to a right quadriceps contusion.
The availability of Butler for Miami's game on Tuesday against Cleveland is in question due to the fact that he has played 33 minutes in each of the team's previous two contests. In the event that the star forward is unable to participate in the game, his next opportunity to play will be on Thursday against the Knicks.
UPDATE (Jan. 29):
In 33 minutes of action against the Magic on Friday, Butler scored 29 points (10-17 FG, 0-2 3Pt, 9-12 FT), grabbed six boards, dished out six assists, and swiped two steals.
On Friday, Butler was back in the lineup and was a key factor in the Heat's come-from-behind victory. Managers' frustration with players missing games is likely to persist for the rest of the year. His per-game value is exactly where it should be, giving coaches some peace of mind. Those who have Butler on their rosters will likely have to cross their fingers in the event that he misses any games due to injury, as no team is likely to accept a trade request.
UPDATE (Jan. 24):
Jimmy Butler finished Sunday's 100-96 win over the Pelicans with 18 points (5-7 FG, 0-1 3Pt, 8-10 FT), five steals, four rebounds, and two assists. He did all this in 34 minutes.
The most interesting thing about Butler's game is that he had five steals, even though he only played 15.4% of the time while point guard Kyle Lowry (17 points in 30 minutes) took on more responsibility.
Butler's offensive output has slowed down recently, with five of his last six games scoring less than 20 points. However, he is still making 55.7 percent of his shots from the field and 90 percent of his free throws during that time.
UPDATE (Jan. 20):
Jimmy Butler will continue to play for the Heat.
He is playing at a high level right now. Over the last seven games, he has averaged 25.0 points, 6.0 rebounds, 3.0 assists, and 1.9 steals while trying to keep the Heat's roster from falling apart due to injuries.
UPDATE (Jan. 02):
Butler (knee) is listed probable for Monday's game against the Clippers.
Butler had nine points (2-8 FG, 0-2 3Pt, 5-8 FT), two rebounds, six assists, and two steals in 32 minutes against the Clippers on Monday.
Butler missed Miami's previous game due to knee injury management, but the rest didn't seem to help his shooting stroke.
UPDATE (Dec. 31):
Jimmy Butler (ankle) will suit up for Saturday's game against the Utah Jazz.
UPDATE (Dec. 30):
Jimmy Butler (ankle) is probable for Friday's game against the Nuggets.
UPDATE (Dec. 28):
Butler (ankle) is considered questionable for Wednesday's contest versus the Lakers.
UPDATE (Dec. 26):
Jimmy Butler (ankle) is questionable for Monday's game against the Timberwolves.
UPDATE (Dec. 23):
Butler (knee/illness) is probable for Friday's game against the Pacers.
About Jimmy Butler
No. 22 – Miami Heat
Position
Small forward
League
NBA
Personal information
Born
September 14, 1989
Houston, Texas, U.S.
Listed height
6 ft 7 in (2.01 m)
Listed weight
230 lb (104 kg)
Career information
High school
Tomball (Tomball, Texas)
College

Tyler JC (2007–2008)
Marquette (2008–2011)

NBA draft
2011 / Round: 1 / Pick: 30th overall
Selected by the Chicago Bulls
Playing career
2011–present
Career history
2011–2017
Chicago Bulls
2017–2018
Minnesota Timberwolves
2018–2019
Philadelphia 76ers
2019–present
Miami Heat