Jessica Alba is feeling the holiday spirit. On Friday, the actress and entrepreneur shared a behind-the-scenes video of her family during a photoshoot in which they hoped to capture the perfect family portrait for Christmas 2022.
Jessica Alba and her family pose in their Christmas pajamas in front of their Los Angeles home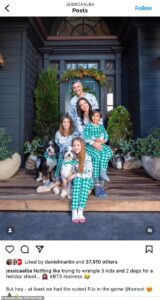 You can read also: Kim Kardashian Discusses How Kris Jenner Inspired Her Divorce From Kanye West
Alba, husband Cash Warren, daughters Honor, 14, Haven, 11, and son Hayes, four, all wore green and white pajamas for the shoot, as did the two four-legged family members, who wore matching scarves.
The family of five, or seven if you add up pet pooches Lucy and Dolly, seated on the front stoop of their Los Angeles home.
But, as with any family, it took some self control and wrangling to get everyone to sit still for a few photos.
"Nothing like trying to wrangle 3 kids and 2 dogs for a holiday shoot… #BTS realness,' the actress and co-founder of The Honest Co. wrote in the caption, adding, 'But hey – at least we had the cutest PJs in the game @honest."
Their dogs ended up playing an important role in the photoshoot, as they were shifted from one location to another until Haven and Hayes declared they had the right arrangement.
"Lucy right here and Dolly right here,' Haven announced to the family and organizers, which Hayes mimicked just seconds later in agreement."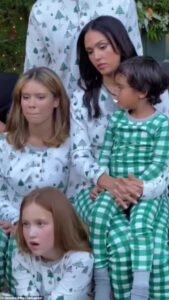 Read more: Ekin-Su from Love Island is worried about 'bad luck' after a yellow bean bag "follows her home"
Warren was eventually chosen to stand back and center, just feet from the front door and straight behind his wife.
The 43-year-old producer and co-founder of lifestyle brand Pair of Thieves chose to wear white pjs with green Christmas tree images all over it.
The Fantastic Four actress, 41, wore the same pajama top but paired it with green and white checkered bottoms. which is exactly what Honor, 14, and Haven, 11, chose to wear.
Hayes eventually sat on his mother's lap wearing those green and white-checkered pjs.
With Haven in the center, the family's two dogs sat to her right, just in front of Honor, who is a doppelganger for her famous mother.
Alba appears to have captured the perfect family portrait for the holidays after a few rounds of photos.