Helen Flanagan responds to cruel trolls who called her 'tacky and unclassy' for wearing a bustier red dress in a passionate post.
Helen Flanagan posted an angry response to cruel trolls who made fun of her for wearing a bustier red dress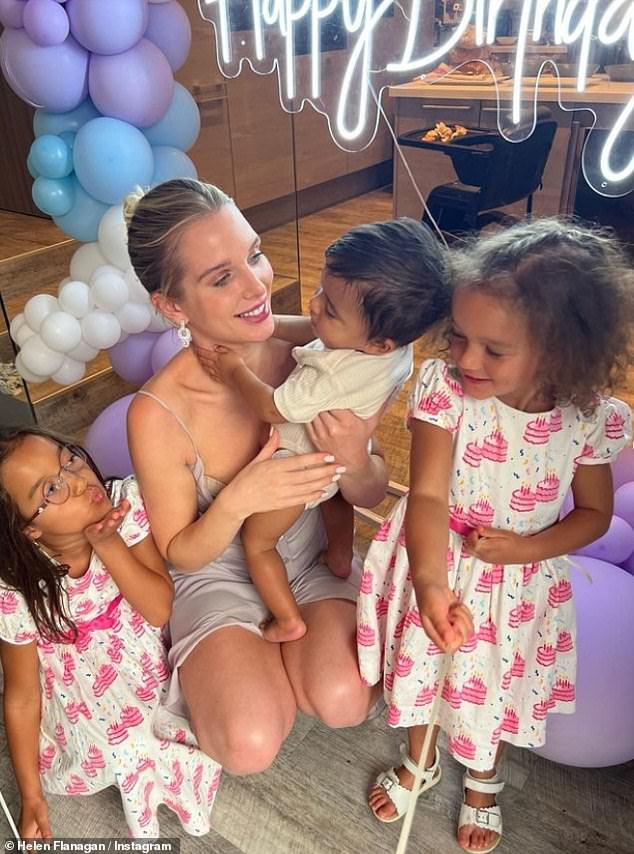 The former Coronation Street star posted a collection of the cruel replies she received to her fashion reel on Instagram on Wednesday.
After breaking up with ex-boyfriend Scott Sinclair, she posted a video of herself last week in a very glamorous Valentine's Day outfit.
However, Helen has recently disclosed that cruel trolls had labeled her as 'tacky and unclassy' in a series of "vile" comments, the majority of which were sent to her by females.
Some people, she said, even went so far as to say she was a bad example for her two daughters, Matilda and Delilah.
Helen showed off a selection of the nasty comments that had been superimposed on her initial post and said that, in her opinion, no one has the right to make judgments about a woman's appearance.
She encouraged people to have each other's backs on social media by posting a graphic with the words 'empowered women empower women' and the supportive comments she received in response to the trolling.
The extremely detailed caption she wrote read as follows:
'So I shared a fashion reel a few days ago and I was a bit taken back from the not so nice comments I got on the post. I was more shocked that the majority of them were from women.
'I'm a girls girl and very much for other women and I always have another womens back. I don't believe women should comment negatively about other women.
'I enjoy seeing women feeling glamorous and feeling empowered and dressing how they want to dress.
'Sometimes I see outfits that I wouldn't wear as maybe they are too revealing for me but I just think good on the girl that has the confidence to wear what she wants to wear.
'I had some comments from other women about being 'tacky' or 'unclassy' well to me being a woman and speaking so badly of another woman's appearance is 'tacky and unclassy'.
'I never speak badly about how another women looks as it's just vile. I had comments about not being a good role model to my daughters. I will bring up my daughters to be kind, beautiful women that support other women with good morals and girl code.
'Or you can just scroll past…. On social media you don't like something you don't have to comment. I love my account I feel like I really connect with others women and mothers and yeah basically I support other women, I don't drag them down.
'As women we need each other. Thank you @ashleylouisejames for helping me with this and listening to my voice notes xxx'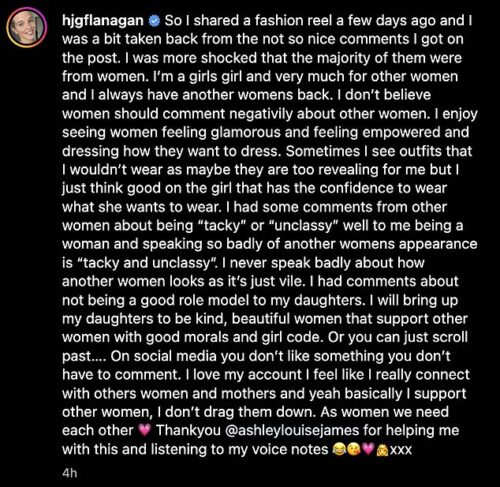 She received an outpouring of love and encouragement from famous people who follow her, and her best friend Ashley James had spoken out against the cruel trolls on the original post last week.
The 35-year-old actor and former Made in Chelsea star penned at the time:
'Women being vile to you should honestly be ashamed of themselves. They're showing their true colours for real.
'People are so entitled to share their opinion on a woman's looks and appearance, yet the fact they even think that way tells me the levels of insecurity they have for themselves.
'Imagine seeing the world and other women through such critical eyes. You look absolutely amazing.'
Supporter Michelle Keegan added her voice to the chorus on her most recent post, which read: 'Well said girl! Unfortunately some people haven't got a good moral compass. When they say negative comments it says more about them than you. F**k em. Keep doing you darling!'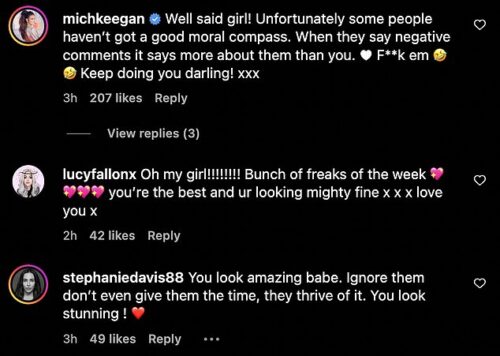 When Lucy Fallon was speaking: 'Oh my girl!!!!!!!! Bunch of freaks of the week. you're the best and ur looking mighty fine x x x love you.'
Stephanie Davis also said: 'You look amazing babe. Ignore them don't even give them the time, they thrive of it. You look stunning!'
Giovanna Fletcher commented: 'Love love love love love you!!!!! YOU ARE LOVED! F**k the keyboard warriors.'