Apex Legends players have been plagued by the "UI Images ran out of room" error and are wondering if there is a fix for it.
Is there a fix for Apex Legends "UI ran out of room" error? 
Unfortunately, there is no fix for this error in Apex Legends at the time of writing. One EA respondent stated in October 2022 that this error was not frequently encountered.
The "UI ran out of room" error has been plaguing the game in Season 15, with PC players reporting an increasing number of crashes. Its message doesn't show up until after a game has crashed and the player has been returned to their PC desktop.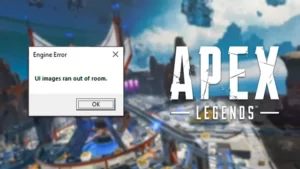 The phrase "ran out of room" may imply that your PC lacks sufficient resources to run the game properly. It could be related to your computer's RAM or having too many processes running while playing Apex Legends. Several players have suggested closing your browser and checking to see if anything is consuming resources while you play.
However, this is not guaranteed to work, as players have still encountered this message. This error appears to be limited to PC players at the moment, so it shouldn't be an issue on PlayStation and Xbox consoles, as well as the Nintendo Switch.
About Apex Legends
Apex Legends
Developer(s)
Respawn Entertainment
Publisher(s)
Electronic Arts
Director(s)
Steven Ferreira
Producer(s)
Ben Brinkman
Designer(s)
Jason McCord
Artist(s)

Robert Taube
Kaelan De Niese
Ryan Lastimosa
Benjamin Bisson
Jung Park

Writer(s)
Mohammad Alavi
Composer(s)
Stephen Barton
Series
Titanfall
Engine

Source
Unreal Engine 4 (Mobile)

Platform(s)

PlayStation 4
Windows
Xbox One
Nintendo Switch
PlayStation 5
Xbox Series X/S
Android
iOS

Release

PS4, Windows, Xbox One
February 4, 2019
Nintendo Switch
March 9, 2021
PS5, Xbox Series X/S
March 29, 2022
Android, iOS
May 17, 2022

Genre(s)
Battle royale, first-person hero shooter
Mode(s)
Multiplayer