On Saturday, the Las Vegas Raiders will host the Kansas City Chiefs at Allegiant Stadium in a crucial AFC matchup.
Mecole Hardman QUESTIONABLE, Skyy Moore OUT for Chiefs – Raiders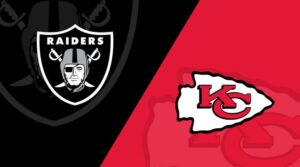 You can read also: The NFL has canceled the Bills – Bengals game due to Damar Hamlin's cardiac arrest
With the top seed in the AFC still in reach, the Chiefs hit the road for this one. Last week's unfortunate Bills-Bengals game still casts a shadow on how the season will end, but Kansas City knows that a win on Saturday will give them a shot at the top seed.
While the victories haven't come easily this season, Kansas City is still 13-3 and, with four wins in a row, has momentum moving in the right direction.
Kansas City has dominated this series over the years, winning nine of the last ten meetings, but they'll need to be sharper than when these two first met in October.
Kansas City fell behind early in that one, and they needed to hit the gas from the start on the road on Saturday.
Injury Report
The Chiefs don't have many injuries, but they do have some significant ones.
Mecole Hardman (abdominal) is still listed as questionable, but his presence would be a huge boost to the offense, especially with Sky Moore (hand) also listed as questionable.
On defense, L'Jarius Sneed (hip) is also questionable, though they expect nearly all of their other starters to play in this one.
MORE: Joe Burrow discusses his conversations with Josh Allen following the Damar Hamlin tragedy
The Raiders have struggled far more than most expected this season, but they would love nothing more than to be a thorn in the side of Kansas City.
Given how their first meeting this season went, vengeance is likely on their minds as well. However, there are still questions about how this group will play with nothing but pride on the line. Some teams can build on that, while others fold and effectively abandon the season.
There's no doubt that Las Vegas will want to get some momentum going into the offseason, and this could be a great opportunity to see what weapons or talents they might want to bring back, as well as who they might want to let go of. With a winning road record, that could be the deciding factor as well.
Injury Report
The Raiders' injury list is significantly longer than Kansas City's, though many of those players are expected to play.
Most fans are probably keeping an eye on Jarrett Stidham (elbow), while Davante Adams (illness) is listed as probable.
The defense is the source of many concerns, with ten players already ruled out for the weekend game. With their defense being thin, competing against Kansas City's elite defense will be difficult.