Unlike the always-open map Al-Mazrah, Building 21 in MW2 DMZ is only active for brief intervals. Is it currently available? Continue reading to learn more.
Is Building 21 active in MW2 DMZ ?
At the time of this writing, Building 21 in MW2 DMZ is active, so players with a keycard can immediately enter the map and begin taking advantage of its high-tier loot potential.
New intel has arrived from the DMZ… Building 21 is open again for those with access cards. Remember to use extreme caution while in the research facility, as competing Operators and high-tier enemies will be weapons free. Successful exfil is critical.

— Infinity Ward (@InfinityWard) January 6, 2023
Since the release of Building 21 into MW2 DMZ in mid-December 2022 the map has been periodically deactivated, meaning that even those with a keycard cannot access it. This is presumably to prevent it from becoming an easy farm, but also to increase hype for when it is open.
The map was last deactivated on January 3 before being reactivated three days later on January 6. Despite the fact that it was only three days, it created a desire among the fanbase to return, making the loot inside even more exciting.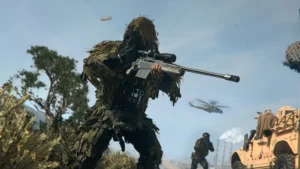 While it has not been deactivated as of yet, that could change at any time. Always refer back to this guide for the most recent info regarding Building 21 in MW2 DMZ.
Of course it's fine if Building 21 is operational at the moment; the problem arises when you try to enter without a key. If you're interested in learning more about where and how to get it, follow this link.
About Modern Warfare 2
Call of Duty: Modern Warfare II is a first-person shooter game released in 2022 by Activision and developed by Infinity Ward. It is the nineteenth installment in the Call of Duty series and the sequel to the 2019 reboot. It was released for the PlayStation 4, PlayStation 5, Windows, Xbox One, and Xbox Series X/S on October 27, 2022.
Call of Duty: Modern Warfare II
Developer(s)
Infinity Ward
Publisher(s)
Activision
Writer(s)

Brian Bloom
Eric Anderson
Justin Harris
Matthew Haraza Davis

Composer(s)
Sarah Schachner
Series
Call of Duty
Engine
IW 9.0
Platform(s)

PlayStation 4
PlayStation 5
Windows
Xbox One
Xbox Series X/S

Release
October 27, 2022
Genre(s)
First-person shooter
Mode(s)
Single-player, multiplayer