D'Angelo Russell (born February 23, 1996) is an American professional basketball player for the Los Angeles Lakers of the National Basketball Association (NBA).
Latest News Injury Report on D'Angelo Russell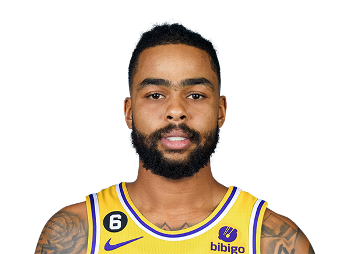 Injury:
Injury status: Active
Updated (Mar. 22): 
D'Angelo Russell is ready on Wednesday's game against the Suns.
Updated (Mar. 19): 
D'Angelo Russell played a total of 36 minutes Friday in a 111-110 loss to Dallas and recorded 11 points (5-17 FG, 0-6 3Pt, 1-2 FT), 2 rebounds, 11 assists, and 1 steal.
Russell averaged 30.5 points and shot 63.9 percent from the field in his first two games back from a six-game absence due to an ankle injury. However, in his subsequent three games, he averaged 15.3 points and shot 30.6 percent from the field.
Updated (Mar. 17): 
D'Angelo Russell is ready on Friday's game against the Mavericks.
Updated (Mar. 14): 
D'Angelo Russell accumulated 33 points (13-19 FG, 6-11 3Pt, 1-1 FT), 8 assists, 5 rebounds and 1 block across 35 minutes during Sunday's 112-108 loss to the Knicks.
UPDATE (Mar. 12):
Russell (ankle) played all 31 minutes of Friday's 122-112 victory over the Raptors and contributed 28 points (10-17 FG, 5-8 3Pt, 3-3 FT), 9 assists, 5 rebounds, and 1 steal.
Russell had missed the previous six games for the Lakers because of a sprained right ankle, but he came back strong in his first game action.
The veteran point guard led the Lakers with 28 points, 9 assists, and a 5-for-8 shooting performance from deep in 31 minutes. Russell performed brilliantly down the stretch, scoring 16 points and draining all four of his three-point attempts.
With LeBron James's (foot) recovery from surgery still weeks away. The Lakers, who have been on a tear lately, are hoping to keep climbing the Western Conference standings, and they'll be counting on Russell to share the offensive load with Anthony Davis.
UPDATE (Mar. 10):
Russell is "very much a full go," Lakers head coach Darvin Harris told reporters on Thursday.
Unless something drastic happens in the next day, Russell will likely replace Dennis Schroder as the starting point guard.
UPDATE (Mar. 07):
D'Angelo Russell (ankle) is questionable for Tuesday's game against the Grizzlies, Mike Bresnahan of Spectrum SportsNet reports.
UPDATE (Mar. 05):
D'Angelo Russell won't be able to play against the Warriors on Sunday because of an ankle injury, says Broderick Turner of the Los Angeles Times.
Russell has had a sprained right ankle for a while, and Sunday will be the fifth game he has missed because of it. Dennis Schroder will be asked to make more plays for the Lakers. Austin Reaves, Lonnie Walker, and Troy Brown should also have bigger roles.
Russell will next have a chance to play on Tuesday, when the Grizzlies are in town.
UPDATE (Mar. 03):
D'Angelo Russell, the Lakers' point guard, has been out with a sprained right ankle and won't play for a fourth straight game.
For the time being, the Lakers will rely on Dennis Schroder, Austin Reaves, Lonnie Walker, and Troy Brown to fill in for LeBron James (foot). On Sunday, the Warriors will be in town, and Russell will get another shot to play.