Devin Booker (born October 30, 1996) is an American professional basketball player for the Phoenix Suns of the NBA. He is the son of former basketball player Melvin Booker.
Latest Injury Status of Devin Booker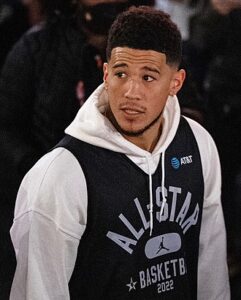 Injury:
Injury status: Active
Updated (Mar. 25): 
Devin Booker will play against the 76ers on Saturday.
Updated (Mar. 22): 
The Phoenix Suns (38-33, 37-33-1 ATS) lost to the Oklahoma City Thunder on Sunday, 124-120.
Devin Booker led the team with 46 points (18-28 FG, 3-7 3Pt, 7-8 FT), three rebounds, one assist and one steal over 36 minutes.
Booker scored more than 40 points for the second time in the last six games, but it wasn't enough to lift the Suns to victory.
Phoenix should continue to rely heavily on Booker until the return of Kevin Durant (ankle), who has missed all six of those games.
Booker is leading the team in scoring while Durant is out, averaging 33.2 points, 3.7 rebounds, 3.2 assists, 2.3 threes, and 1.5 steals on 58.2 percent shooting from the field and 42.4 percent from deep.
UPDATE (Mar. 16):
During Tuesday's 116-104 loss to Milwaukee, Devin Booker played 43 minutes and contributed 30 points (13-27 FG, 1-3 3Pt, 3-3 FT), 4 rebounds, 3 assists, and 2 steals.
Booker was the team's offensive catalyst once again, but the Suns fell short against the Bucks in a potential preview of the NBA Finals.
Booker has been one of the most productive players in March. The All-Star has averaged 34.6 points, 5.6 assists, and 4.3 rebounds over his team's last seven games.
UPDATE (Mar. 14):
In a 123-112 loss to Golden State on Monday, Devin Booker scored 32 points (12-20 FG, 0-2 3Pt, 8-10 FT), added 4 rebounds, 1 assist, and 2 steals in 35 minutes of action.
Next up for the Suns is a matchup with the Milwaukee Bucks, and Booker will have to keep carrying the load.
UPDATE (Mar. 13):
Saturday's 128-119 loss to the Kings was despite Devin Booker's 28 points (11-19 FG, 2-6 3Pt, 4-4 FT), 8 assists, 3 rebounds, and 3 steals in 38 minutes.
Even though Booker's Saturday performance was not as impressive as the 44 points he scored in just 28 minutes during the blowout win over the Thunder on Wednesday, he still led the team in scoring and shot well from the field.
Kevin Durant's (ankle) absence will leave Booker as the Suns' undisputed top scorer for at least the next three weeks.
UPDATE (Mar. 11):
Devin Booker scored 44 points on 17-of-23 shooting and has scored at least 35 points in each of the last four games. He has scored 38 points per game on average recently.
UPDATE (Mar. 05):
Devin Booker is ready on Sunday's game against the Mavericks.