Ime's situation is becoming increasingly difficult. His scandal with a female Celtics employee was allegedly found after her husband overheard a private conversation on a home doorbell camera.
A female Celtics staffer's husband overheard a private conversation on a home doorbell camera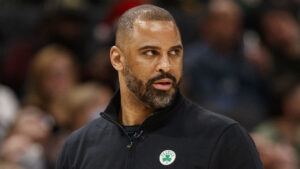 For a long time, the NBA hasn't witnessed a decline in fortune as quick and sudden as Ime Udoka's. Udoka had led the Celtics to their first NBA Finals in over a decade, bringing the very best out of a team that had been having problems to improve before he arrived.
But all of his achievements as a coach have come crashing down in the last week, with reports of an affair resulting in a year-long suspension.
When the reports emerged, many people came out in support of Udoka, claiming that the punishment was far harsher than required. The initial reports all stated that the relationship was mutual, and as a result, people assumed that the suspension was excessively long.
However, as more facts have emerged, the situation appears to be far more complicated than predicted, with Matt Barnes among those withdrawing his support for Udoka after learning some of the details.
This has sparked wishful thinking among NBA fans, with many debating which Celtics employee it could have been. Brad Stevens condemned the speculation, but the story's popularity is unlikely to fade anytime soon, and recent reports suggest that the employee in question handled travel arrangements for Udoka and his fiancée, Nia Long.
One of the theories about why the situation is so complicated is that the employee in question is also married to someone in the Celtics organization.
And now, as more reports surface, Kevin Frazier of ET Now reports that the scandal was explored by the woman's husband after he overheard a conversation on their home's doorbell camera.
multiple sources confirm , #Celtics female staffer's affair w/ Celtics Coach #ImeUdoka was uncovered by her husband when he overheard a private conversation on a home doorbell camera.

— Kevin Frazier (@KevinFrazier) September 25, 2022
If the story is true, the man must have been shocked to find out of his wife's affair in that manner. The case appears to be extremely complex and difficult, and there is more to it than meets the eye. While information continues to emerge, the hope is that those affected by the situation will be able to deal with it and emerge unscathed.
About Ime Udoka
Position
Head coach (suspended)
League
NBA
Personal information
Born
August 9, 1977
Portland, Oregon
Nationality
American / Nigerian
Listed height
6 ft 5 in (1.96 m)
Listed weight
220 lb (100 kg)
Career information
High school
Jefferson (Portland, Oregon)
College

Utah State Eastern (1995–1997)
San Francisco (1997–1998)
Portland State (1999–2000)

NBA draft
2000 / Undrafted
Playing career
2000–2012
Position
Small forward
Number
5, 8, 3
Coaching career
2012–present