Many believe that Iggy Azalea is making a fortune off of OnlyFans, where she is selling pornographic images and videos of herself to her legion of devoted fans.
After making millions on OnlyFans, Iggy Azalea says her primary ambition is to "become even richer" and spends her profits on "cars, boats and diamonds"
Since joining OnlyFans in January, the Australian beauty has undoubtedly been living large.
She was snapped last month hamming it up on a yacht in the Bahamas.
The rapper had to respond to online troll who questioned her wealth when she posted photos of herself standing in a luxurious vehicle.
In the past month, she has also invested in a brand-new home and a Rolls-Royce Phantom, each of which cost her a cool $AUD1 million.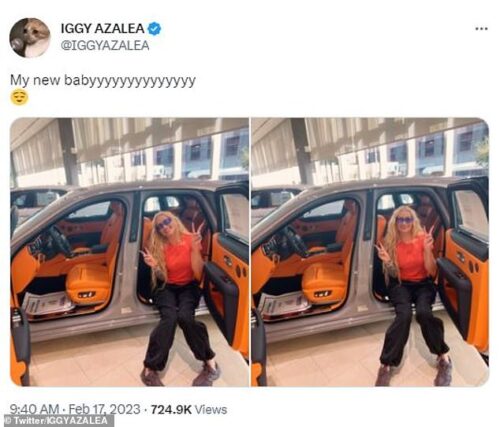 The rapper has recently opened up about her aspirations for the money she has earned from OnlyFans.
The 32-year-old artist responded to a gossip Twitter account by saying she had no plans to invest the money in her music career.
The Fancy hitmaker replied, "Stop trying to justify what I do with my own body by making this about music."
"I'm spending the money on cars and boats and diamonds. And I don't feel badly about it either."
Also, she claimed that "me getting richer" is her "sole plan" at the moment.
"Probably not a smart financial purchase if you're a rapper that has to start an OnlyFans to supplement your non-existent music income. But hey congratulations!" they tweeted.
Hitting back, Iggy wrote: "I've done 70 sold-out arena shows with Pitbull in the last two years. I sold a portion of my masters for eight figures less than three months ago."
"I have the same wealth manager as George Clooney." she continued.  And yes, an OnlyFans. You're boring!"
After being accused of "dropping off" after her most recent album tanked in the charts, Iggy has recently been more forthcoming about her staggering wealth.
In November of 2016, the Black Widow star parted ways with Domain Capital for an eight-figure payment, selling the rights to her music and publishing repertoire.
Included were such hits as "Fancy," "Kream," and "Problem," a collaboration with Ariana Grande.
After getting outrage from followers on social media for the sale, Iggy clapped back: "I sold a portion of my catalogue to who I wanted, for an amount that means I don't have to work another day in my life."
"I love y'all down but the masters conversation is a little beyond most of your understanding of business."
She added: "It means that a portion of songs I sold to a company who now owns them. In exchange, they paid me what they would have earned in my lifetime, upfront in one lump sum."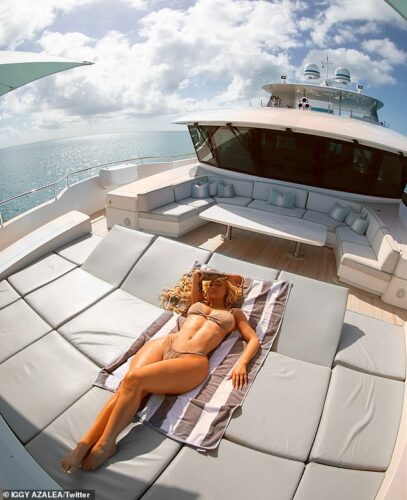 She joined OnlyFans less than two months after the sale and is expected to gain millions of dollars.
Subscribers pay $25 a month at the moment, but there are upsells for even sexier content.
For a higher price, Iggy will send a customer a sexually explicit voice mail in which she insults the size of the recipient's manhood.
"Men pay me to tell them that they're a piece of s**t,"  she bragged on Andy Cohen's Watch What Happens Live.
"They'll send me like six hundred dollars just to send a voice note like, "I'd never suck your disgusting little f***ing d**k! Is that even a d**k? I wouldn't even let my dog lick that d**k."
"And they're like, "Ugh. $200. $300." And I'm like, I like this game! I like to sit in bed at night and tell men how [inaudible] and they pay me for it."