Kylie Jenner's legion of fans think the reality star and her best friend are dating after seeing them in a bed together in a photoshoot.
Kylie Jenner and her pal Anastasia Karanikolaou shocked their followers with a steamy new bedroom photoshoot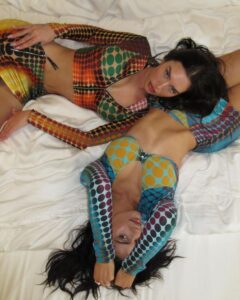 After seeing photos on Instagram of the influencers posing on a bed in matching skimpy outfits, fans were outraged.
Kylie lay on the white sheets next to her friend, covering her face with her arms as she stared at the camera. Her long brunette hair was spread out above her head as she posed for the photo in a brightly colored, revealing outfit.
This long-sleeved top was spotted in bright colors and had a low cut neckline that showed off her bust as she raised her arms. Jenner's low rise miniskirt matched the pattern of the crop top, revealing her washboard abs.
Her tanned, luminous skin stood out against the crisp white sheets thanks to the teeny skirt that ended just below her hips.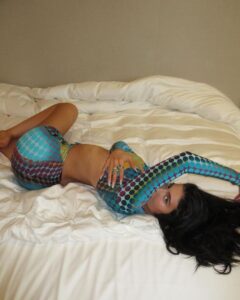 Anastasia leaned against Kylie's legs as he looked up and smiled coyly for the camera. She matched him down to the last detail, donning an identical outfit and crossing her arms over her legs to display her six-pack.
Kylie then shared a photo of herself lying on her side with her arms around her chest, and another selfie in which the star was holding the camera in an inverted position.
Kylie captioned the photo, writing: "I can't lose when I'm [with you]."
The photoshoot had a huge impact on the audience, and they voiced their approval or disapproval in the comments.
Someone wrote: "You're so hot, mamas," with a flame emoji.
Fans have speculated that Kylie and Anastasia may be dating, however, because they are convinced that the two are romantically involved.
According to a follower: "I'm convinced y'all are in lesbians with each other."
One more person chimed in: "Girlfriends for life."
Others claimed to "know a gay woman when they see one" while urging the couple to "date already" or wondering if the photoshoot was a "soft launch" for the couple's relationship. But Kylie and Anastasia haven't said anything to back up the rumors.