Sportswear has been given a luxurious spin on the catwalk for the last few seasons, and the trend all began with Alexander Wang – the designer fused sporty styling with modern cuts, creating a new aesthetic that has captured the fashion world's attention and feels very 'of the moment'. With Kanye West's Adidas collection being the most viewed collection on Style.com – it seems clear that the meeting of fashion with luxurious sportswear is the perfect fusion of style and function that has begun a huge trend and shift in the industry.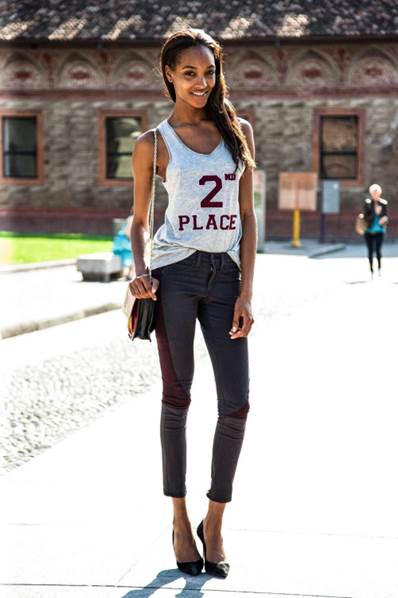 There are plenty of ways to subtly try out this trend for Spring/Summer  without looking as though you're heading to the gym – it's all about balance. The best way to give it a go is by selecting one sporty inspired piece to mix into an otherwise simple outfit. A silky bomber jacket gives jeans and a t-shirt a new edge, while a halter-neck style crop top gives an otherwise simple ensemble a sporty look. Mesh finishes and number motifs all give a subtle nod to this trend without looking too obvious, and are easily integrated into any wardrobe. Why not dress a jersey style top up with shorts and heels? Adding a clutch and elegant accessories is what this trend is all about: luxury blended with sportswear.
Look no further than British model Jourdan Dunn for outfit inspiration: she knows how to blend functionality with style and give it a sporty kick. From basketball vests to the coolest trainers, Jourdan mixes her chosen sporty pieces with wardrobe basics and adds a pair of designer sunglasses or a great bag to finish off the ensemble with style.