Posted by tuan

on August 27th, 2018


Is there a girl who doesn't dream of a fair and perfectly even complexion? Show me that girl! I haven't met her yet. However, I do know that there are so many reasons a woman's facial skin tone can change over a lifetime. Teenage years sometimes leave us with acne scars. Pregnancy might also bring melasma (brown face patches). Aging may come with liver spots or wrinkles, or maybe you were just born with too many freckles. That's why it is time to address a controversial wonder beauty product and learn how to use hydroquinone cream safely.
Hydroquinone is a bleaching agent that has repeatedly changed its status from a miracle discovery to a banned controversy. There is no proof that it harms our health. Many celebrities reportedly use it behind closed doors, but very few of them publicly admit it. Some of the stars who likely bleached their skin are Rihanna, Lil Kim, retired baseball player Sammy Sosa, late Michael Jackson, Jamaican dancehall artist Vybz Kartel, and Diana Ross.

These are the five essential aspects to consider if you want to use hydroquinone cream safely and enjoy its benefits!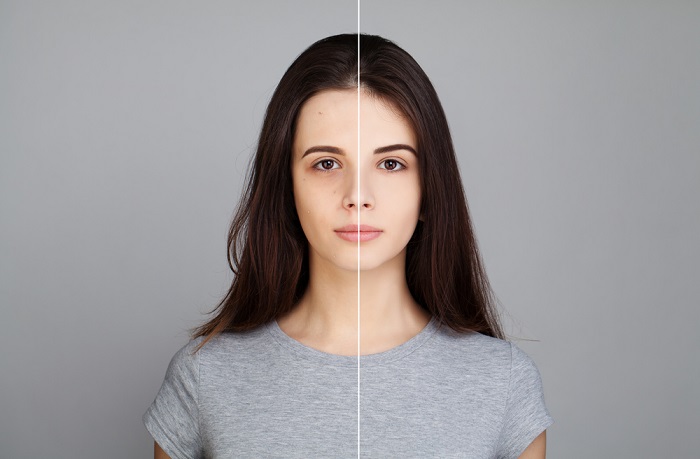 Answer all your questions
Learning how to use hydroquinone cream is more about what to buy than where to purchase it from. To clear this aspect, you can find a list of the best FDA-approved over-the-counter skin lightening hydroquinone cream in the linked article. Reviews such as those can help you make an informed decision as you will know what to expect in terms of effectiveness, ingredients, and contraindications.
What do I buy it for? Hydroquinone cream are therapeutic products that work on a local level. You can apply the cream to your body (in the case of birthmarks) or face. The face is typically affected by age and liver spots, acne scars, freckles, and wrinkles. However, don't use a beaching cream to obtain a lighter appearance if you are unsatisfied with your natural tone. Makeup can fix that.
What should I expect? There are rarely severe side effects of hydroquinone. If you have dry or sensitive skin, you might experience irritation, redness, and a higher risk of contact dermatitis. Any symptom you might additionally experience will stop along with the treatment. Otherwise, expect gradual results that will typically show after three to four weeks of use.
How much cream do I need to buy? Hydroquinone temporarily stops your skin's natural of melanin. Even after the skin gets lighter, the production continues after you halt the treatment. The cream should not be used in the long run as your skin needs to produce melanin to remain healthy.
When should I use it? Hydroquinone might not be safe during pregnancy. So, don't use it after conceiving a baby. Moreover, the chemical compound interferes with medication such as benzoyl peroxide, hydrogen peroxide, phenol, and salicylic acid.
Check before using
You might think that you have just found the perfect cream for your skin. Before you start using it, there are three essential things to check:
FDA compliance: If you have managed to get a hydroquinone cream with a 4% concentration from a former dermatology patient, you are doing it wrong. FDA regulations state that any OTC cream should have a concentration of hydroquinone of below 2%. Prescription-based creams might reach 4%. However, they are recommended by a dermatologist based on a patient's skin type.
Dermatologist approval: Check with your dermatologist if your skin can handle an agent such as hydroquinone. Most skin types typically do. But you should be looking for an answer for your own skin type.
Potential allergies: No one knows if he or she is allergic to hydroquinone. So, check with the dermatologist to see if your skin is not sensitive to hydroquinone or other ingredients. Also, apply a patch to a small area and observe how your skin reacts.
Trust your cream
Hydroquinone creams contain ingredients that keep your skin hydrated and moisturized. Most of these products include vitamin C which keeps your skin glowing and energized. Don't use a bleaching cream with your typical daily cream, as some ingredients might interfere with one other. Also, consider eliminating additional products such as the moisturizer, lotions, or serums.
Don't trust the sun
You might be exposed to the sun on a daily basis. But keep in mind that the skin becomes sensitive to UVA and UVB rays during a hydroquinone-based treatment. If you need to go out during the treatment, wear long sleeves, gloves, and a wide brim hat to protect your body and face. Also, use a high SPF cream and refrain from trips or and outings to the beache while you undergo the treatment.
Adjust your routine
The best way to make sure that you use the cream correctly is to adjust your morning and evening skin care routines to apply the cream instead of your regular products. Using a hydroquinone-based product only involves a little rubbing, so it shouldn't take a lot of your time.
Avoid applying the cream around your eyes. It might harm the delicate area around your eyes and lead to complications. Also, never use it while wearing makeup. Get a dermatologist's approval if you want to wear makeup during the treatment.
Final thoughts
Every woman wants to keep her skin healthy and glowing. Hydroquinone creams might take you there if you use them wisely and as directed. You can get your smooth skin back and enjoy some amazing results. Just don't forget to take before and after pictures.
Category:
Uncategorized