Playing Modern Warfare 2 these days may be one of the most vexing experiences, as errors continue to crop up and ruin your Friday night. Disc read error is one of the most irritating of them all, as it kicks players out of Modern Warfare 2 before forcing them to queue up and enter again. In this article, we will provide a workaround that may assist you in avoiding the disc read error in MW2.
How to fix disc read error in MW2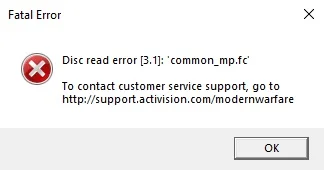 Avoid playing in parties
Unfortunately, it appears that the primary source of this problem is partying with your friends and playing online. Following the match, you may encounter a disc read error, forcing you to restart the game. For the time being, you should avoid playing with friends online because this error only occurred in our tests when doing so.
Infinity Ward has reached out to its social media community and confirmed issues with players crashing when partying up. An update is scheduled for October 30th, so it may be best to wait until then.
Thank you for your patience. We will be deploying a mitigation for party related crashes tomorrow morning (PDT). Update to follow. https://t.co/w9ab6BGk8h

— Infinity Ward (@InfinityWard) October 29, 2022
Ensure all components of Modern Warfare 2 are installed
Again, based on our own personal experience, the problem only affected one player, whereas everyone else had the full set of games installed. As a result, ensure that you have installed every component of Modern Warfare 2.
If you continue to receive this error, you should install each component of Modern Warfare 2. This is accomplished by managing your game and add-ons on your system and ensuring that each part of the installation is ticked and installed. If not, simply check the box and it should install automatically.
It's probably best to wait until the next patch comes out and see how things go.
How to unclock Slimline Pro Optic in MW2 ?
What is the Slimline Pro Optic ?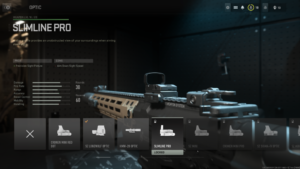 In MW2, the Slimline Pro is an optic that can be attached to the M4 assault rifle. It improves Precision Sight Picture but slows Aim Down Sight Speed. While it isn't the best Optic in MW2, it has its benefits and is ideal for newcomers. It's a shame that players can't use it in real-time multiplayer matches right now.
How to unclock Slimline Pro Optic
Unfortunately, there is no way to unlock the Slimline Pro Optic in standard multiplayer modes at the moment. The reason is still unknown, and no official statement has been issued.
While the majority of attachments in the game have a clear level unlock path attached to them, which you can view by mousing over it in the Gunsmith menu, the Slimline Pro does not. There is no description of how to unlock it when you select it from the Custom Loadouts section. The same goes for its branching weapons.
But there is a way to get the Slimline Pro Optic: play Private Multiplayer matches in Modern Warfare 2. Everything is unlocked from the start in Private Matches, and players can try out any weapon or attachment they want.
Here is how you can use the Slimline Pro Optic in Private mode:
Open Modern Warfare 2.
Select Multiplayer > Private Match.
Create or join a Private Match.
Select the game mode.
Head to the Weapons > Loadouts tab and equip the M4 assault rifle.
Under the Optics attachment, you can select the Slimline Pro Optic.
When will Slimline Pro Optic become available ?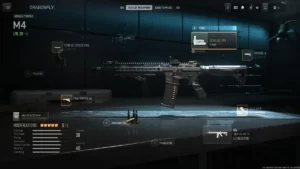 It's unclear when the Slimline Pro Optic will be available in MW2. Hopefully, this is just a bug and it will be fixed soon.  Given that much of the game content will be available with the game's Season 1 launch, you can expect the Slimline Pro Optic to be available by then.
Slimline Pro Optic alternatives
If you want to use something similar to the Slimline Pro Optic on their M4, you should try out the following weapons:
SZ Mini: It is nearly identical to Slimline Pro Optic and has the same stat pros and cons. You can unlock it by leveling up the Lachmann Sub to level 11.
Cronen Mini Pro: In terms of size and stat changes, it is mostly the same. The only difference between the two is that the Cronen Mini Pro has a red dot sight. This Optic can be obtained by leveling up the Expedite 12 to 7.
Cronen Mini Red Dot:  The Cronen Mini Red Dot, like the Cronen Mini Pro, provides players with an unobstructed view while also including a red dot sight. This Optic is unlocked by leveling up the FSS Hurricane to level 3.
SZ Sigma-IV Optic: An improved version of the SZ Mini, the SZ Sigma-IV Optic has a red dot sight. By raising the X12 to level 4, users can access this Optic.
That brings us to the end of our guide on how to resolve the disc read error and unlock Slimline Pro Optic in MW2.