In this guide, we will go over the steps that need to be taken in order to become a Big Games Partner in Pet Simulator X.
How to become a Big Games Partner in Pet Simulator X
Having a sizable following on a social media platform that regularly discusses Roblox and Big Games' experiences is a prerequisite to being accepted as a Big Games Partner. This includes platforms such as YouTube, Twitch, and TikTok. Once you've amassed a following, you'll need to attract the attention of someone involved with Big Games and hope they'll accept you as a partner!
Here are the requirements listed on the official Discord website. However, just because you may meet these individuals does not guarantee that you will get a partner:
We hand-pick each Partner so there is no guarantee you will be accepted. Here are some good outliers:

YouTube channel with 15k+ subs and/or 10k+ views a video
Twitch channel with 1k+ followers and/or 30+ average viewers

(Keep in mind these numbers are arbitrary and don't necessarily guarantee a Partnership)
In the past, you could apply for the program by filling out a form, but for unknown reasons, this form has been removed. Currently, all you can do is hope to catch the attention of someone connected with Big Games. You can do this by creating content for one of their games or by contributing to their Discord server.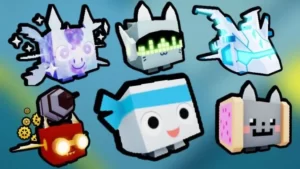 Players' interest in becoming a partner has been increasing since the introduction of Signature Pets in Roblox Pet Simulator X. These in-game pets can be personalized with a player's name and given to other users. This feature was introduced in the December 2022 Shiny Pets update.
That is everything you need to know to become a Big Games Partner in Pet Simulator X.
About Pet Simulator X
Pet Simulator X, also known as PSX, is the third installment in the Pet Simulator franchise. The objective of the game is to collect coins and gems to unlock powerful pets. You can use coins to purchase new biomes and hatch pets from eggs. As the player advances, new worlds will be unlocked, some of which will introduce new game mechanics and features.