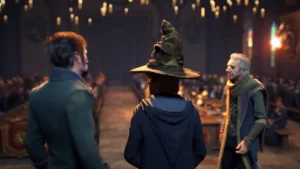 Learn the differences between the Standard and Deluxe versions of Hogwarts Legacy and the leaked review embargo date below.
Hogwarts Legacy review embargo date
Hogwarts Legacy's review embargo begins on February 6 at 04:00 PST, 07:00 EDT, and 12:00 GMT, according to PlayStationSize. If this leak is accurate, the Deluxe edition's early access release is one day away, while the Standard edition's release is four days away.
Although no final verdicts have been published as of this writing, there are many exciting elements to look forward to. You'll be able to preload it on PS5 very soon, and the PC system requirements have been revealed.
Friend or foe? #HogwartsLegacy pic.twitter.com/Sceha1W2PT

— Hogwarts Legacy (@HogwartsLegacy) January 26, 2023
 Differences between Deluxe and Standard editions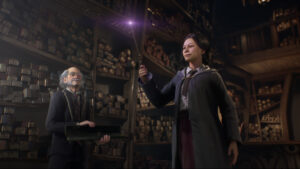 The Hogwarts Legacy Standard and Deluxe editions are otherwise identical, with the exception of a 72-hour early access bonus included in the latter.
If you purchase the Deluxe edition, you can begin playing on February 7th; the Standard package will be available on February 10th. According to the PSN store, the Standard edition for PS5 and Xbox Series X/S is £64.99/$69.99, while the Deluxe edition is £74.99/$79.99.
In addition to three days of early access, the DE includes the following exclusives:
Dark Arts Pack
Dark Arts Garrison Hat
PS4 and PS5/Xbox One and Series X/S versions
You will receive the following pre-order items regardless of which edition you purchase:
Onyx Hippogriff Mount
Felix Felicis Potion Recipe
There are numerous other rewards available in addition to the ones listed above. PlayStation users can participate in the free House Cup to earn digital avatars, while everyone can link their Wizarding World account to receive in-game rewards.
About Hogwarts Legacy
Hogwarts Legacy
Developer(s)
Avalanche Software
Publisher(s)
Warner Bros. Games
Director(s)
Alan Tew
Producer(s)
James Cabrera
Artist(s)
Jeff Bunker
Writer(s)
Moira Squier
Composer(s)
Alexander Horowitz
Series
Wizarding World
Engine
Unreal Engine
Platform(s)

PlayStation 5
Windows
Xbox Series X/S
PlayStation 4
Xbox One
Nintendo Switch

Release

PS5, Windows, Xbox X/S
February 10, 2023
PS4, Xbox One
April 4, 2023
Nintendo Switch
July 25, 2023

Genre(s)
Action role-playing
Mode(s)
Single-player
Related: